SonoVTS, which long ago took over the Penta broadcast monitor business in Munich was showing a wide range of monitoring applications, especially some developed for OB vans, where the company told us it has a solid business. One of the firm's advantages in this application is that it balances and calibrates monitors so that it is easy to replace one if there is a problem, with the image matching the previous unit.
Some years ago, Penta told this reporter all the details of the weakness of OLED that the firm had found in testing and the company remains 100% LCD. One of the reasons for this is that it believes that as its users often spend many hours per day staring at the displays, it is better to use a single technology so that they get used to the look of one technology. As the company has a range from 17″ to 65″, the technology of choice is IPS LCD and the company optimises performance at quite low levels of brightness as this is often popular in production environments.
The company has been working with the Hochschule Rhein Main to develop live processing to deal with HDR content including HLG. The company told us that to avoid too much contrast, it has found some graders doing separate grading processes for highlights and shadows.
There were some new features at the show including an option board that can take direct ip to show on the monitor. There is also a new app to make remote management possible, which starts to be essential once systems are connected via ip. The app is also useful in a confined space such as an OB van. The app works on PCs or smartphones.
The company also had a videowall system based on 3 x 8 55″ Pro Series FullHD monitors with a 0.9mm bezel width.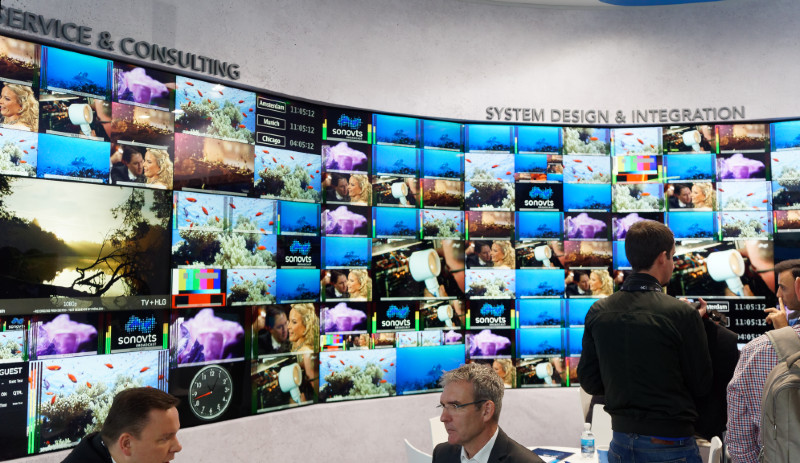 SonoVTS had a monitor wall with a lot of images. Image:Meko
Analyst Comment
IP delivery has become a hot topic at IBC and SMPTE said at the show that it had approved SMPTE 2110 which is a standard for ip delivery of video, an important step.