As a follow up to last week's article SID Display Week 2020: QD Review Part 1 where I covered the business conference, this article will dive deeper into the technical progress I saw at the conference, specifically around QD technology. The following summarizes the important progress I saw at the technical symposium and by perusing the show "floor."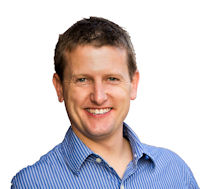 In any other year I would have been hard-pressed to attend every talk I wanted to attend at the technical symposium. But given the virtual nature of the event this year I could attend any talk that caught my interest, and skip those that did not. So now I'm on the hook to not miss anything, so I hope I don't disappoint. As an up-and-coming technology for the past few years, I think it's appropriate to spend some time discussing perovskites.
Perovskites are nearly here
Back in 2018 I was mentioning perovskites as an up-and-coming QD technology (Display Week 2018 detailed coverage and QD Forum 2018). This year there were at least four companies highlighting their green perovskite films for use as a replacement to InP or CdSe QD films widely in use today. For those of you not familiar with perovskites, they act much the same as other QDs with very high down-conversion efficiency, but have a more narrow emission spectrum, especially in the green region (peak width of ~20 nm compared to CdSe 25-30, and InP 35-40 nm). This of course means wider color gamut. The challenge has been creating a perovskite material that is stable enough to withstand the "harsh" conditions inside a display.
Nanolumi presented a (prototype) 32 inch mini-LED monitor during their unboxing video. The performance is quite impressive and seems to be targeted at content creators and creatives. The displays uses KSF-containing magenta LEDs for blue and red color, and a green-perovskite film provided by Nanolumi. While only a prototype, this demonstration gives me hope that we will see this technology in the near future. (Editor's Note – GE also mentioned Nanolumi as one of a number of interesting material developers when it spoke about its magenta LEDs GE Updates on its Phosphor Technologies)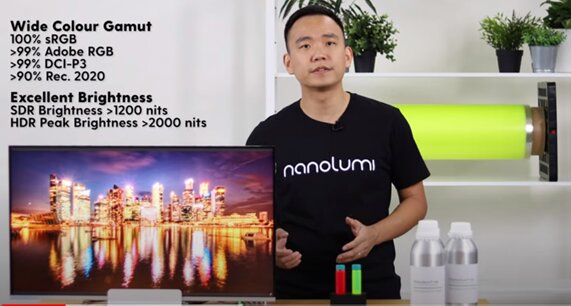 Screen capture from Nanolumi's unboxing video showing impressive specs (Image credit: Nanolumi, SID-DW 2020)
Zhijing Nanotech was one of the first companies to show a demonstration of a perovskite film in a display back in 2018 at SID and CES. They continue to develop the technology and shared their progress on both red and green perovskite materials. They used a layered approach when using red and green together (compared to the more traditional mixed QD approach). I expect this allows for a different formulation to protect the more sensitive red QDs, and perhaps even reduces the light flux and temperature if it is placed in front of the green film in a display.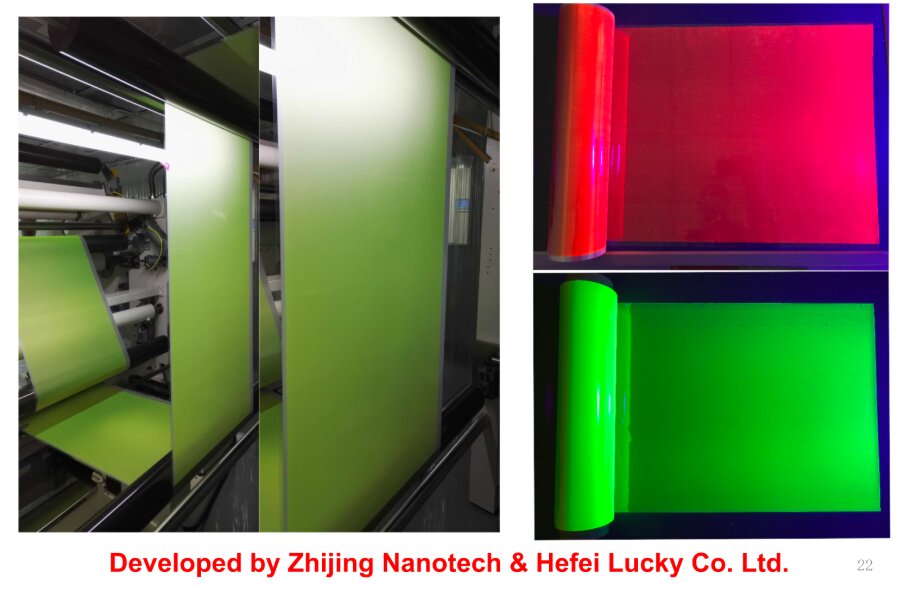 It is pleasing to me to see such brightly colored QD films. In monochrome "Christmas" colors they just look so much more impressive than mixed – even if this strategy may have drawbacks (Image credit: Zhijing Nanotech, SID-DW 2020)
Quantum Solutions, who have maintained a presence at QD and display conferences for the past few years, shared their progress in reducing perovskite degradation by protecting the material with customized coatings and matrix formulations (a common practice in QD technology). The result is a material that retains most of its emission when stressed with blue light – will it be enough to compete? Time will tell.
Avantama shared their progress and highlighted the business case for perovskite QD films and color converters (think QD-OLED). With enhanced absorptions compared to InP, and reliability that apparently meets the needs of display makers with the same barrier films used by the rest of the QD industry (~10-1 OTR/WVTR), they anticipate passing the remaining tests with customers in October.
But what about lead?
The use of perovskites brings us back to the discussion of heavy metals since these materials contain lead as a key ingredient (seriously, it will not work without the lead). It seems these companies are not concerned with meeting the RoHS limit of <1000 ppm lead in a film product (and I agree), as lead content will be below 1000 ppm in a film so RoHS Compliance will be easy to achieve. However they may see some resistance from companies who have worked so hard to eliminate lead in their products. (Apple & Samsung both have a 'no cadmium' policy, irrespective of RoHS – Editor) The consensus is that we will see products containing perovskites in 2021.
Most likely they will take the form of a "magenta" LED (containing KSF/PFS for the red component) paired with a green-only perovskite film. This implementation strategy provides excellent gamut and efficiency that exceeds InP and perhaps is on par with CdSe QD technology. Of course so much of this depends on the other display components like color filters, LC, LEDs, etc, so it's difficult to predict which technology will provide the best performance (and of course cost and marketing value are important considerations too).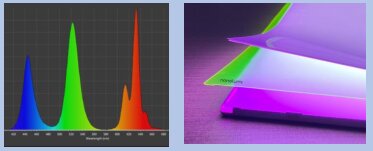 Most likely implementation of perovskites will be with a magenta LED (KSF/PFS on blue LED) with a green perovskite film (Image credit: GE, SID-DW 2020)
Perovskite also holds promise for next-generation displays using QDs to replace color filters (QD-OLED for example). The advantage perovskite brings here is an increase in absorption compared to InP. However, the development of red perovskite QDs lags behind green for reasons I won't get into today (unless you want to dive into the topic of ionic diffusion in ABX3 crystal lattices). Additionally, the use of perovskites at high concentrations – which is required to get full blue absorption – may push the lead content beyond the RoHS limit and either require an exemption or be a non-starter.
I've been hearing "next year" for a while now from the perovskite enthusiasts, and it has taken longer than expected (surprise surprise), but now I am a little more convinced that 2021 will be the year we see perovskites in a display.
Other strategies for color conversion (aka competition)
Organic fluorophores existed way before quantum dots. And it is no surprise they are also being considered for down-conversions in displays. In fact earlier this year Toray Industries received an SID award for their "Spectrum Conversion by Organic Phosphor Sheet" (SCO).

SCO materials created by Toray looks an awful lot like QD emission, doesn't it! But apparently, it's organic (Image credit: Toray Industries).
As mentioned in Part 1, GE has been developing KSF-containing films which would function much like a QD film. In theory one could add QDs (green) and KSF (red) into these films. One drawback I can see is that this would require much more KSF than is currently used on chip (on a per m² basis). KSF is known to have lower absorption than other phosphors and QDs, so the loading is likely high, and cost may be an important consideration.
Another paper worth mentioning is one about a QD diffuser plate that was presented by TCL. The idea is to include QDs directly in the PMMA diffuser, instead of adding a QD film after the light has already been distributed. This could lead to lower costs so it may be appropriate for the lower end models as it would not require a barrier film apparently. An interesting approach, and I cannot wait to see if it catches on!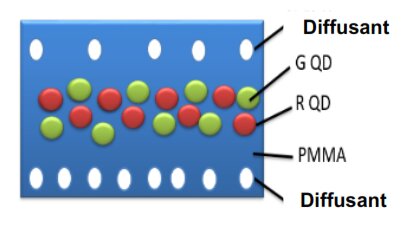 The general structure of a diffuser plate (image credit: TCL, SID-DW 2020).
I was going to include EL-QLED and micro LEDs and QD-OLED in this article, but it seems I have run out of words (exceeding 1200 already, sorry!). So, I guess this sequel is going to turn into a trilogy (at least)! (PP)
Peter Palomaki is the owner and chief scientist at Palomaki Consulting, a firm specializing in helping companies solve big problems at the nanoscale. His utilizes his expertise in quantum dots and materials chemistry to solve challenging problems with clients large and small.