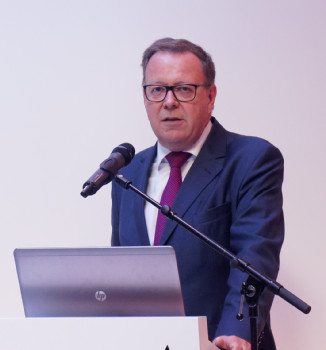 Ferdinand Kaiser is the CEO of SES and his talk was called 'Meeting the exponential demand for content'. There is a forecast of 3% CAGR in the use of bandwidth for video. 70% of internet is video and 50% of that is Youtube. Enterprise is also a growth market at 3% CAGR. Kaiser said that mobile use is forecast to continue to grow at more than 50%.
This year has been a strategic year for SES which has been working to develop more verticals and market-specific end to end turnkey solutions. The first networks in SES Plus have been launched and SES completed an acquisition of RR Media and the creation of MX1 (RR + SES Broadcast Services [SBS]) and then, in August the move to completely own 03B which has a fleet of low level satellites intended to meet the needs of the 'Other 3 Billion' (hence the name).
RR Media has more extensive back end capabilities for storage and playout and was a good match for SES. SES went to 100% ownership of O3B because this is critical to delivering bandwidth for enterprise and government markets.
SES has over 50 main satellites now plus 12 O3B MEO satellites, now. In TV, the firm now has 500 TV channel operators and 50 TV platform operators – most in pay TV and the technical reach from the company's satellites is 317 million households. In the 'Enterprise segment', Kaiser said, the company offers over 1 million fixed connections. It is serving three of the top five companies in aircraft internet and is also strong in providing marine connections. The O3B network allows the beam from a satellite to be steered and this is very helpful to focus bandwidth where it is needed, a big advantage in marine applications. SES deals with 57 governments and 13 US government agencies.
Reach Increases and SES Transmitting 26 UltraHD Channels
Since 2011, the technical reach has increased from 256 to 317 million and from 5210 to 7463 channels. The proportion of channels in 32.7% in HD in 2016, up from 23.1%. In the US, HD is 60% to 70%, but Europe is still only at around 28% to 30% so there is plenty of room to grow and SES has the capacity to enable this. The company is carrying 120 VOD platforms, from none in 2011 and there are now 26 UltraHD channels. Globally there are 57 UHD channels, so SES is 'over-represented' with 26.
TV households in the emerging markets continue to grow, SES thinks that in 2016, there are 920 million but these will grow to 1126 million by 2023 – an increase of 22%. Channels in the emerging regions will grow from 25,310 in 2015 to 34,194 in 2024 – up 35%.
The transition to HD and UltraHD is going to keep improving and accelerating. Emerging markets will have more UHD channels than developed markets by 2024.
There has been an increase in OTT viewing time. The average times spent in linear viewing is stable in developed markets and the emerging regions. OTT is still <10% in time all over the world which means that hybrid solutions will continue to be very important. That was the logic of the RR Media acquisition so that SES can support both DTH and OTT. The SES ambition is to be the first choice globally for delivery of video content, by satellite or by IP, or via its cable customers who use the back end technology. SES is providing content to 127 million homes by DTH, but it also enables the content to 148m cable households and 42 million IPTV homes.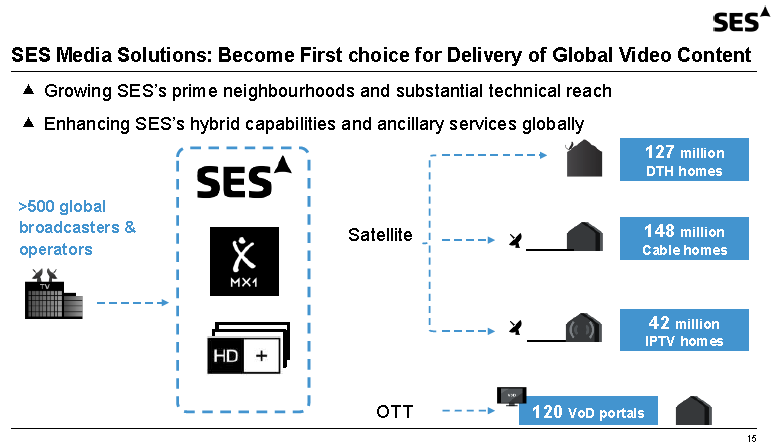 MX1 Wants to Provide Services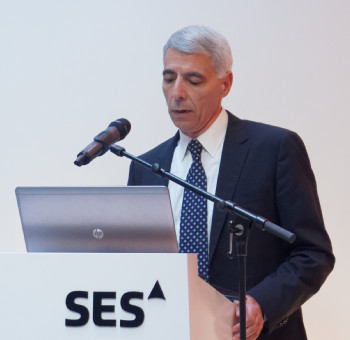 Kaiser handed over to Abi Cohen, who is the new leader of the MX1 business. He wants to be able to take any content and deliver it to "any screen, anywhere in the world". The company is working with media businesses and wants to to innovate and lead this segment.
SES is now a combination of a media services company and an infrastructure provider. The group has a hybrid netowrk, with satellite, fibre and internet. It can take content from any content provider in any form and optimise the content solutions for delivery. The company can customise and modify the content for use in any market and is developing new ways to monetise content and give completely global reach.
More people watch more video in more ways than ever, but just showing video is not enough – as time goes on, there is more need to offer the full ecosystem of experiences. RR Media was developed around digital video concepts and so, Cohen, said is able to merge the video with internet technology. Every day, the firm has 2500 TV channels for which it manages playout of 500+. The company works with 120 VOD platforms and supports 8,000 hours of streaming media and 500 hours of sports every day.
It has many customers, from sports clubs to broadcasters and news networks.
At IBC – MX1 a new platform MX1 360 is a complete service that is 'end to end' once content is created. This gives maximum ROI for minimum investment to content creators and owners. MX1 sees its approach being based on three core components – transforming content to optimise it for multiple uses and monetisation options, accelerating the time to market and globalisation to get content to the widest possible audience.
Some recent case studies are the Premier League, where MX1 works with IMG, the production partner of the Premier League and handles all the distribution of soccer content from the IMG production facility in London. Vubiquity is a media partnership that has its own content which is delivered over 750 channels and MX1 organises playout and content distribution.
SES is Still Developing HD+
Wilfried Urner from SES is responsible for the video strategy and his position is CEO of SES Media Solutions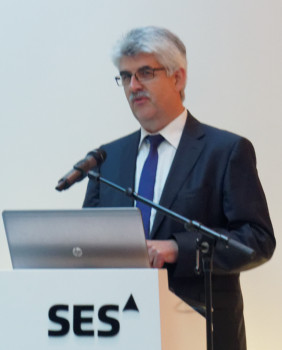 Umer explained how MX1 adds services to the SES service core. Increasingly, its the full experience of accessing the content that's important and SES has HD+ as a platform that it runs in Germany. He explained 'bobbles' – a pan-european TV broadcast and VOD OTT platform that can deliver via iOS, Android and by a web player. The same content is accessible via DTH or OTT and the consumer can decide how to get it,
In West Africa, SES has also set up a DTH platform. To help with analogue switch off (ASO). SES has worked with local companies to help develop local and ground services partners.
Looking at the HD+ platform, Umer said that there are now more than 2 million paying households and the platform has been developed over six years. Now, Umer wants to add UltraHD and multiscreen as well as the Sat>IP technology that SES has been developing for a number of years. There are challenges to finding the right commercial solution. SES tried developing catch up services for HD+, but it didn't work well, so SES has reviewed it and is coming back with a better service to provide OTT to customers.
Looking at UltraHD, Umer said that set sales are already at 25% in Germany . There is a HD+ compatible STB from Humax that is ready for launch and supports UHD and UHD channels are available for retailers to demo. SES can support HDR Playout and Umer said that ViaSat and Sky in the UK are developing that technology.
At IBC, SES was still showing the Technicolor and Philips HDR solution as well as HLG (with Samsung and LG). Umer said that technology developments now mean that VOD can be delivered via satellite and this is now possible without an HDD in the STB which can save a lot of cost for MSOs. SES was also demonstrating 360 degree video with 20 million pixel resolution.
Although satellite dishes are ubiquitous, they "need some love" as people are becoming more design literate. SES sponsored a design competition with design schools and the winners were announced at the event. The next stage is to develop practical versions for testing.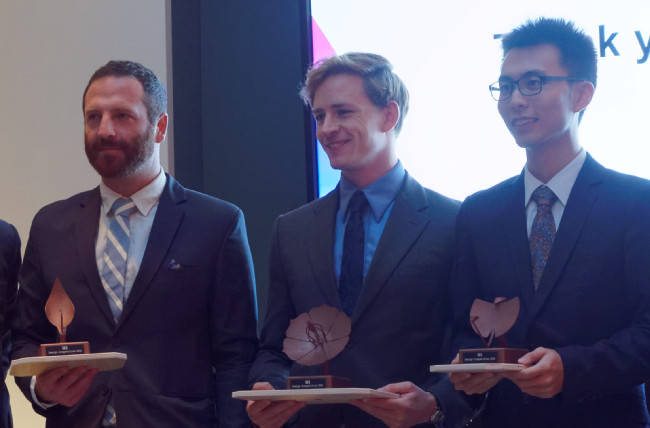 Booth Tour
SES drew a crowd to watch a live UltraHD broadcast of the Manchester Utd vs Manchester City 'derby' match.
SES was also showing a test transmission of a 10K x 2160 panoramic image of an orchestra that was very good quality and was intended for 360º video. There was no stitching in the image and we heard that it was being transmitted at just 22 Mbps. However, part of the reason for the (relatively) low bit rate was that the image was basically static and staff told us that a realistic bit rate for something with more motion would probably be around 40-50Mbps, which would take up a complete satellite transponder.