Ericsson held a press event and briefing on the day before IBC.
Stella Medlicott, CMO of Ericsson Broadcast and Media Services was the first speaker and she started by explaining that Ericsson has over 19 million subscribers using Ericsson platforms. It delivers 500 channels and has won six technical emmys and is operating in more than 30 countries around the world. The company focuses on media enrichment, processing and delivery. This time last year the company acquired Envivio to add virtual encoding of video in the cloud. Last year Channel 5 and this year BT Sport will start in UltraHD. In Augutst, AB Groupe in France said it will also have UltraHD, with playout from Ericsson.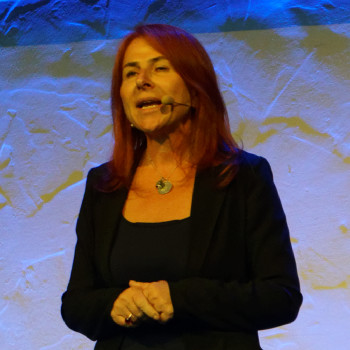 Elisabetta Romano is Head of TV and Media and she joined a year ago. She said that she is used to transformation, but TV is seeing a transformation as a complete industry. In the future, in contrast to the previous technology, the screen will be decoupled from the experience. It will have scale and high quality, but will not just be live. Ericsson wants to help players to navigate this change.
Media, the cloud and mobility are converging and this changes the qualities that you need to succeed, Romano said. Openness, intelligence and agility are features of the internet and these traits need to be adopted by the industry.
Trait 1: Openness
In Silicon Valley there is a spirit of openness to new ideas, so Ericsson wants to adopt this idea. Last week there was an announcement about support for RDK to allow support hybrid TV on a cable platform. Many companies are involved in this development.
Ericsson is also collaborating with Google to integrate the MediaFirst TV platform with Google Android TV. That will allow access for operators to Android TV equipment as a hardware and software platform for services and products that form part of MediaFirst. The firm has already been working with some clients for more than a year on this integration. Romano introduced to the stage, Sascha Prueter who is Head of Android TV from Google.
Google, of course, has a lot of experience on the mobile side and has seen a lot of expectation shift to the TV. Convergence is desired, but users don't understand that they can't do on their TV what they need to do on the phone or tablet. Google has to work with partners to enable consumers to get access to content on this platform, Prueter said.
Ericsson is also working with Intel to create a cloud-centric architecture to allow software-defined processing for delivering consumer experiences. There is alignment of the Intel CPU roadmap with Ericsson compression technology and a roadmap to develop services and content over 5G networks.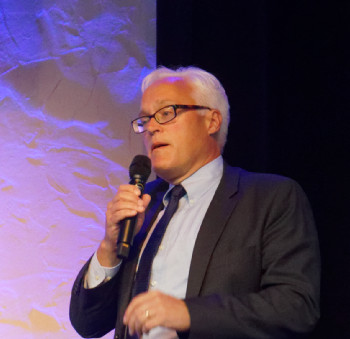 'A lot of things are cooking' with Intel and next to be introduced was Jim Blakley of Intel who said that Intel is keen on open architectures. It has been working a lot on network virtualisation and other cloud developments. The work in the future will be around software-defined video and Intel was an early investor in Envivio to help to develop this. There are big demands on the infrastructure in networks in terms of bandwidth and users are demanding of high quality from their video service. Intel will work to develop video from the data centre with Ericsson, Blakley said.
Trait 2: Intelligence
The second principle is intelligence, and when you have mobility, media and cloud, you need intelligence to make them work together.
TV and agility, the third principle, have not been seen together in the past, but this has to change for the future to better exploit the development of the market. For example, Pokemon Go has seen a big impact on the public consciousness in a very short time. Romano said several sites quickly added Pokemon Go to their offerings. For example, a US search site for restaurants etc. added a filter quickly a Pokemon lookup. This happened in days and weeks.
Thorsten Sauer, who is President, Ericsson Broadcast and Media Services, said that each year Ericsson does a lot of consumer research and it's amazing how users have changed how they want to consume video. This year, Ericsson is offering 'TV as a service' delivering personalised and immersive TV content to any screen at any time. Ericsson has the assets to support this vision.
The company captures hundreds of programmes each day, with and has 12,000 TV channels in its EPG and in total has 10s of millions of assets. Access to the content means the company has a good idea of what consumers want and can say that it has the means to supply it. For consumers, an immersive experience is important and UHD and HDR are considered significant technologies for the future and the company has done a lot of work on AR and VR. Seamless delivery is also critical to viewers and Sauer said that probably half of all network traffic on mobile goes through Ericsson equipment.
Ercisson sits between content and service providers and can help with the connections between them. The company believes that 5G technologies will give big new opportunities.
There are different approaches wanted in the market and while some clients want a licence, some want to buy a service and others want to build a partnership, so the company is happy to work in different ways. The company spends $5 billion on R&D and is very involved in virtualisation and other technologies.
UKTV & T Mobile are Ericsson Clients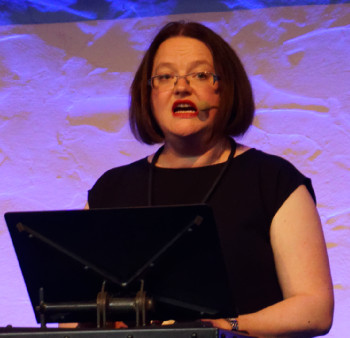 UKTV is live event broadcaster and Ericsson is working with the company on playout. Sauer introduced Sinead Greenaway from UKTV, who is Director of Technology and Operations, which means from apps to business systems and everything to do with playout. The company has 11 brands (Dave, Gold, UKTV Play) and accounts for around 10% of all UK commercial TV and has a range of curated content. The company works in the free and Pay TV spaces. It's 23 years old and is a joint venture between the BBC Worldwide and Scripps Networks. The company works with Sky, BT and many others.
The company has worked with Ericsson for 20 years and was one of the first to work with Ericsson, which undertakes the play out of live services and media management of VOD content for the firm. The companies have recently signed deals for more VOD work between the companies. Innovation, security and reliability as well as access to intelligence at the firm are key advantages that UKTV sees in dealing with Ericsson.
For live event streaming, a joint team was set up between Ericsson and UKTV to develop the service. Greenaway said that Ericsson is launching virtualised live playout, allowing the rental of live capacity as needed. It's more than just the virtualisation of the backend. There is a clear trend for this to be the norm in the long term, but UKTV has been able to take advantage of short term opportunities using the technology. Greenaway said that the highest rated shows using this virtualisation in the last year have been boxing matches. The company's existing infrastructure was not really suitable for this kind of one off event. Payment is only made when you use the service and that can mean the chance to show more live events. In the long term, everything could move to this architecture.
Events such as festivals and sports will become much easier to support and will give opportunities for growth.
T-Mobile is also working with Ericssson. The firms have taken the components for an OTT model and Ericsson manages this as a whole, looking after all the consumer-facing aspects including running the content management system (CMS) along with billing, metadata collection and content distribution.
Ericsson Enabled Knippr Launch in the Netherlands
Tisha van Lammeren, Director Consumer Market of T-Mobile Netherlands, is respnsible for Knippr, a new service in the Netherlands. The country has very strong mobile networks – claimed to be the best in the world and that allows consumers to change their lifestyles to exploit the network and it changes how TV is consumed. van Lammeren said that her children consume TV all the time digitally and individually – in a way that is total different from her way of consuming TV. Customers in the Netherlands also 'speak up' and are very demanding. They want to decide where, when, what and on what device they want to watch.
Bundling is a big trend in the TV service market, but there is a trend to cord cutting and 'cord nevers' among consumers. Knippr is a new product that is aimed at the people that want to be cord cutters or are cord nevers and is intended to break the idea of bundling. It's open both to T-Mobile clients or non-customers. It can be accessed via mobile or fixed connections and with many features. It's intended to be fully "a la carte". All customers can choose all of their own channels. Normally, viewers watch 15 out of a typical number of 70 channels available. For Knippr, each channel is one € per month in cost. It's positioned very much against the incumbents with their bundles.
Getting access to the content was very challenging because T-Mobile has no legacy in broadcasting, but also has no stakes to worry about if they want to 'break the rules'. The company needed a strong partner to deliver TV as a service, so that T-Mobile could focus on the sales and marketing of the new service.
Of course, T-Mobile has a lot of relationships with Ericsson, but they saw an open attitude to innovation in a real partnership. van Lammeren said. The time to market plan was just three months, but it took nine months in the end. However, van Lammeren said that that was amazingly quick and an endorsement of the Ericsson approach. Of course, there are sometimes disputes between the companies, "like any marriage", she added. This kind of innovation needs a very flexible supplier and van Lammeren was very surprised by the complexity of developing the service. Consumers are more demanding of video quality than they are of mobile network performance.
Knippr has very quickly got 20% brand recognition in the market. Most customers are young and may keep swapping with Knippr or Netflix, and that's fine for T-Mobile.

Ericsson is Innovating Still
BT Sport is a big customer for Ericsson in a number of ways and has collaborated to develop sports graphics for its programmes, using augmented reality. BT has invested heavily in sport and wants to exploit that investment. It has used Ericsson's Piero Sports Graphics suite for graphics and is the first customer for the Augmented Reality module of Piero. The companies undertook the world's first 4K broadcast delivered via a live HEVC contribution link.
Ericsson said that Japan Digital Serve Corporation has selected the MediaFirst platform for content processing, storage and delivery. The company supplies more than 200 channels to more than 200 cable operators in Japan and has 6 million subscribers. This extends MediaFirst into Japan for the first time.
In questions, Ericsson was asked if any suppliers with RDK are ready to announce products? Ericsson said that nothing is yet finalised. "Could you take RDK outside cable into satellite or elsewhere?" was the follow up question. Mediafirst is STB middleware agnostic – iOS, Android or RDK is fine. Ericsson believes that RDK has done a great job of working on the video and that is good.
Analyst Comment
The development of the end-to-end service that Ericsson delivered for Knippr is impressive given that it took only nine months from the appointment of Ericsson to the start of marketing. (BR)