Once again, Samsung Display showed a couple of light field displays which we have reported on in a separate article (3D Display Round up). As in recent years, Samsung did not give interviews to the press at the event.
One technology on view was a force sensor that can detect forces above 150gmf and the display was shown under water, highlighting the robustness of the sensor technology. Previous waterproof phones from Samsung Electronics had touch, but not with force detection. The force detection means that functions such as taking a picture can still be performed underwater.
The company also responded to LG's integrated audio in TV panels by showing a system for producing audio in smartphones, which it calls "Sound on Display" or SoD (who's going to be the one to tell them? Man. Ed.). Obviously, integrating the audio into the display is a great advantage for smartphone makers in avoiding the need for a hole to accomodate a speaker.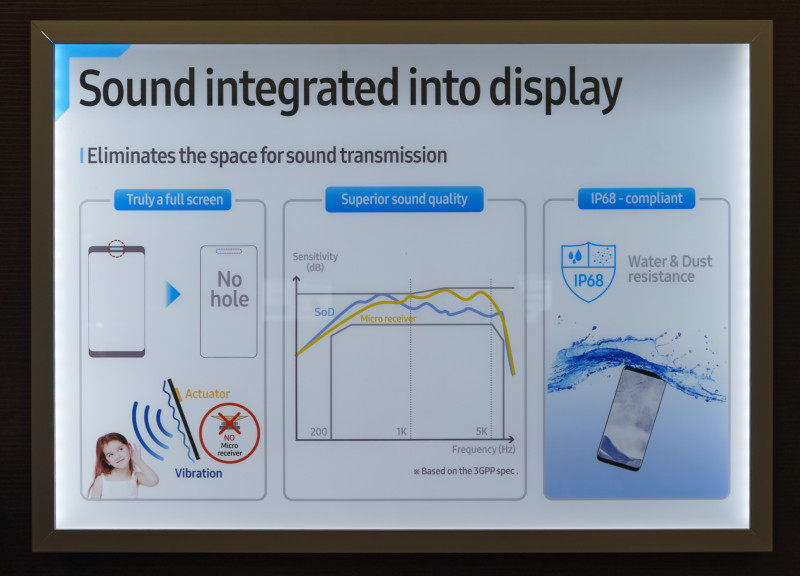 Samsung is looking at combining audio with the display. Image:Meko
We looked at a demonstration of different VR headset displays, behind VR lenses, in 3.5″ (616 ppi), 3.2″ (806 ppi) and 2.43″ (1200 ppi). The 2.43″ panel has 3840 x 2160 resolution and 250 cd/m² of output, but few details were available. We didn't think that there was much difference in the screen door effect from the higher density panel, and others looking at the same time also queried whether they were really different? Partly, it may have been that the image was more magnified, perhaps. (the display had more screen door effect than the demos by JDI),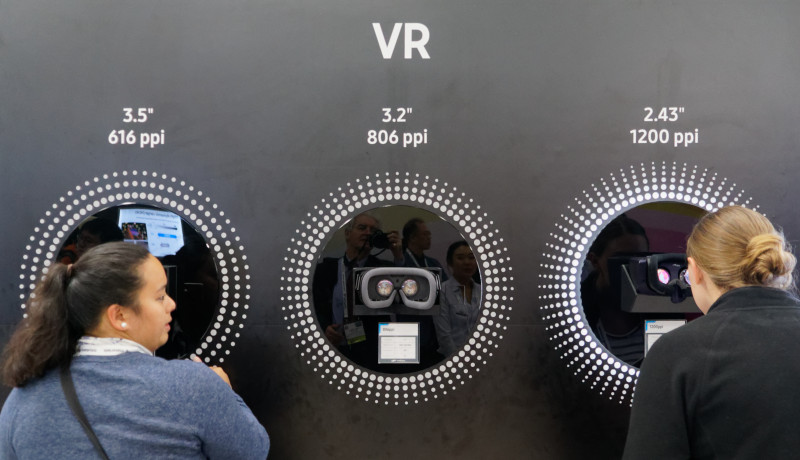 We thought the 1200ppi panel didn't have much less of a screen door effect than the 806pp unit. Image:Meko
Samsung showed a concept using a display in the centre of a steering wheel – a concept we saw from other companies and now becoming practical as displays move onto plastic substrates, rather than glass. The 6.22″ display is an OLED and the company said that it can survive a crash at 24.1 km/h. (Samsung described the display in a press release as weighing 6.8kg – perhaps that is the wheel as a whole?)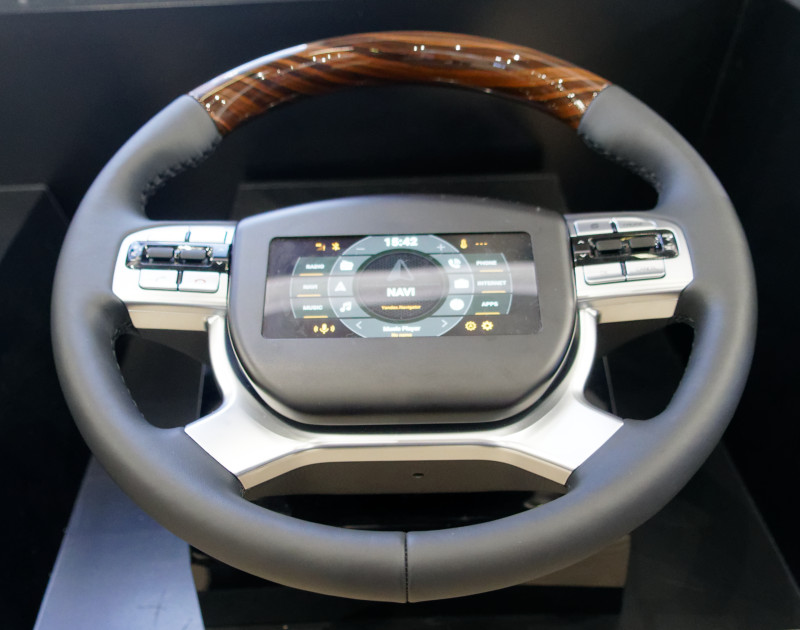 This flexible OLED is embedded in a steering wheel. Image:Meko
Still on the automotive theme, Samsung was showing a transparent OLED that could be used as a HUD. The size is 4.94″ and the resolution is 360 x 112 (76ppi) with brightness of 1,000 cd/m². The company said that the transparency is 44%, although 33% after the use of a contrast enhancement filter. Contrast is quoted as 1,000,000:1 and colour gamut from the RGB pixel architecture is 100% of NTSC. The company was highlighting that, unlike a projection HUD, no space in the instrument cluster is used.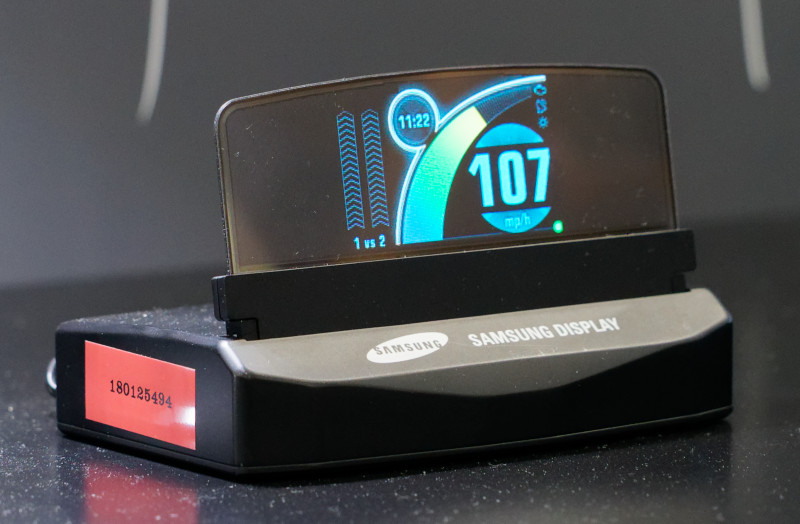 This HUD concept uses a transparent OLED. Image:Meko
Echoing the 'light field' topic, a 7″ automotive display 1280 x 800 based on an OLED was shown that could provide autostereo 3D and with 18 views to deliver a 3D experience to a driver sitting at an 18.9 º angle to the panel.
There was a 1000R curved display in the standard 12.3″ 1920 x 720 format with 400 cd/m² typical brightness (800 cd/m² in bright mode) and more than 500,000:1 contrast. Gamut coverage is 100% of NTSC and response time is quoted at <1ms from -30º C to + 85º C.
An S-curved centre console AMOLED was also shown based on a 1920 x 1200 version of the same panel and that can support an R100 convex curve or an R140 concave curve.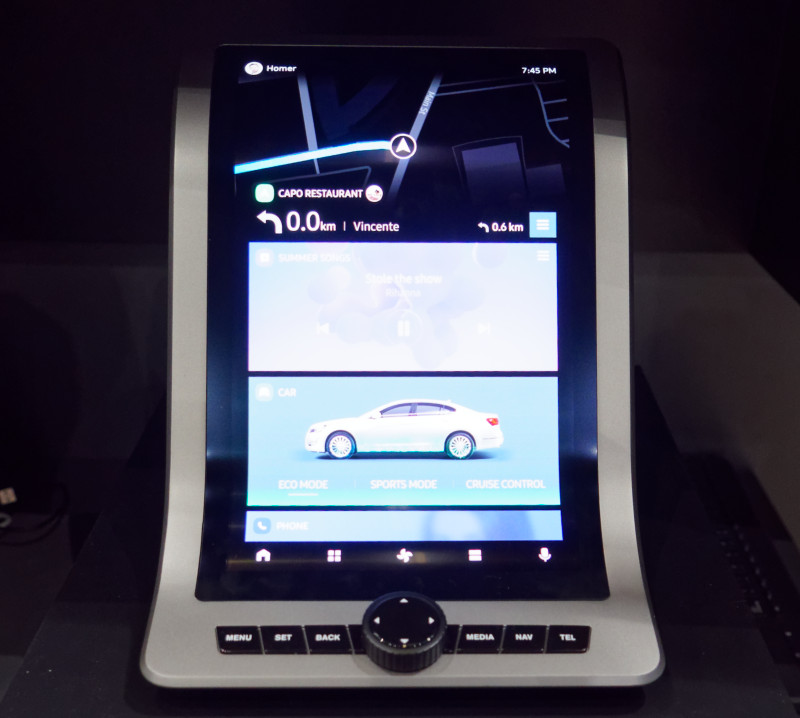 This OLED showed how an S curved centre console could be made. Image:Meko
Samsung has been showing rollable OLEDs privately for several years and had a demo of a 14″ 960 x 540 OLED with 350 cd/m² of output and bendable to a 10mm radius. The display rolled away into the top section, so could allow the space behind to be used for another purpose.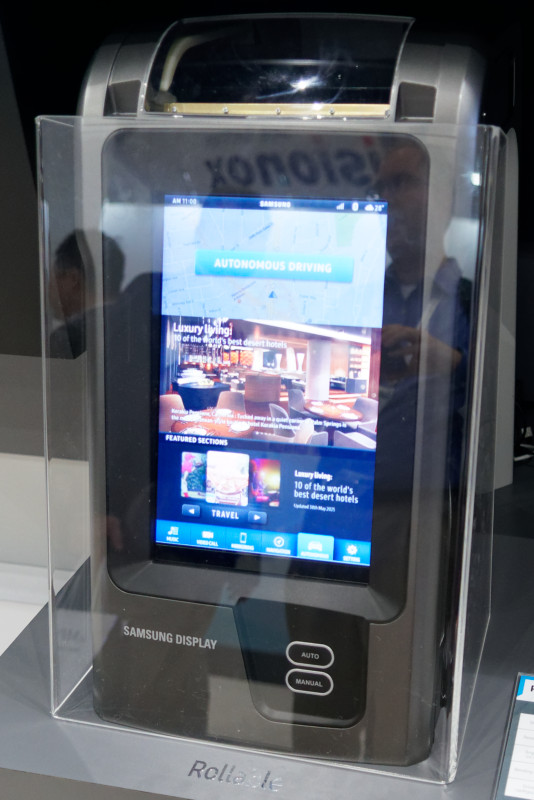 This Samsung OLED was shown being rolled up. Image:Meko
The company showed QD Glass, that is the use of quantum dots encapsulated by a glass LGP, at the ISE show in February. (Samsung To Develop QD Glass LCDs). At that event, the company was showing a 27″ QuadHD panel and a 65″ dual-sided public display. At SID, the size and resolution of the monitor panel shown was 31.5″ with UltraHD format. The colour gamut was 95% of DCI-P3 from the 500 cd/m² panel and contrast was quoted at 120,000:1. Thickness was 11.9mm, up a lot on the 27″ unit at ISE.
As well as the monitor panel, an 8K 65″ TV panel was shown. Brightness is 500:!, thickness is 15mm and contrast is quoted as more than 120,000:!. Colour coverage is 95% of DCI-P3.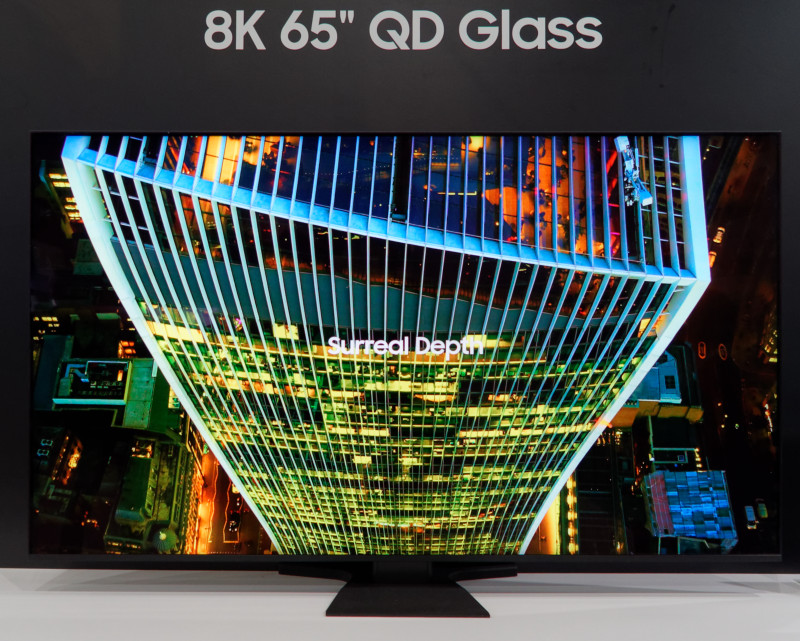 QDOG was represented by this 8K TV panel and a 31.5″ monitor panel. Image:Meko