Chinese OLED maker, Visionox, presented one of the keynotes at Display Week (KN01 Press Breakfast and Keynote – check it for more on the displays shown) and had a substantial display in Los Angeles. We started by looking at a 'concept' display showing how the firm's OLED technology could be used in automotive applicatons. We highlighted OLEDs in steering wheels in our report on Samsung, and Visionox went one better by having two displays in a steering wheel! The displays supplement the main information display and I must say that I wonder about the 'perceptual overload' that this kind of configuration could bring.
This concept display shows how automotive companies could buy five displays for each vehicle! Image:Meko. Click for higher resolution
Turning to shipping products, Visionox had a couple of current products for wearables, a 1.45″ square OLED and a 1.2″ circular device.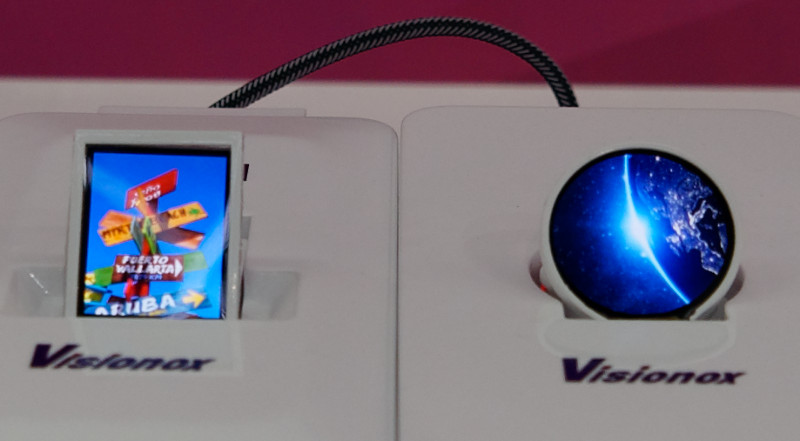 The next product we looked at was a 6.01″ flexible FullHD+ 18:9 1080 x 2160 resolution (403 ppi) which is already available for mass production. The display is designed for smartphones and can be supplied with on-cell touch. Contrast is 100,000:1 and the borders are 0.905mm on three sides and 4.988mm at the bottom. The company also has a dual curved edge 5.99″ display with the same aspect ratio. In this case, the touch is a third party add-on.
There was also a 6.2″ QHD+ (1440 x 2960 – 531ppi – 18.5:9) panel with borders of 1.5m on three sides and 9.6mm on the fourth. The flexible OLED his available with a notch and again touch is an add-on. The display is 1.35mm thick.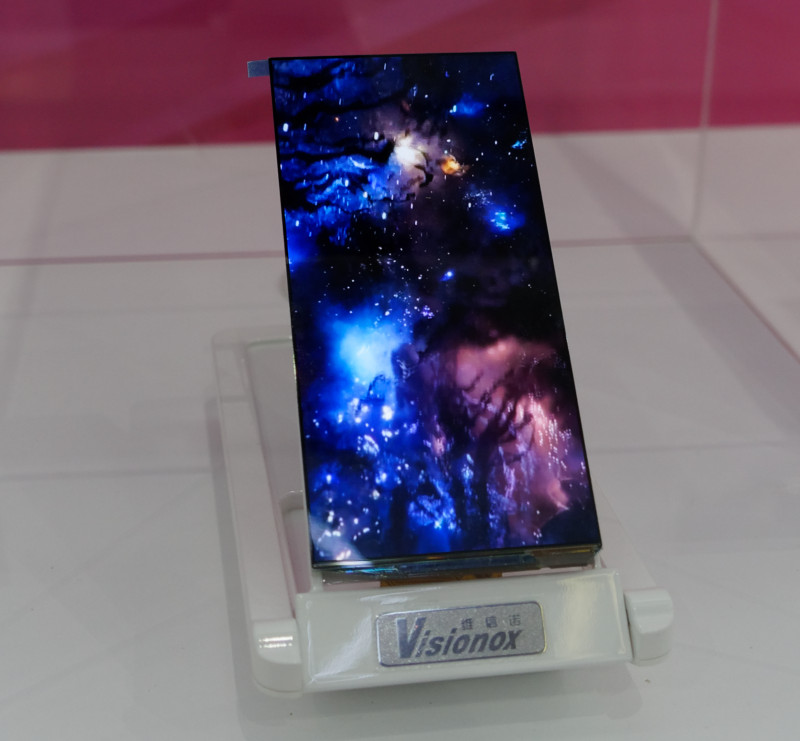 This 6.01″ flexible OLED is available with on-cell touch. Image:Meko
There were a number of different OLEDs that might be used to create foldable devices that can be designed to be inward or outward foldable or both, although each design has different limits on the radius of folding. One of the demos was of a 7.2″ outward folding display with 4:3 aspect ratio and 1440 x 1920 resolution (333 ppi). The contrast is 100,000:1 and borders are 2 mm on three sides and 9.8mm on the fourth. The thickness of the display is 0.2mm and touch comes from a partner.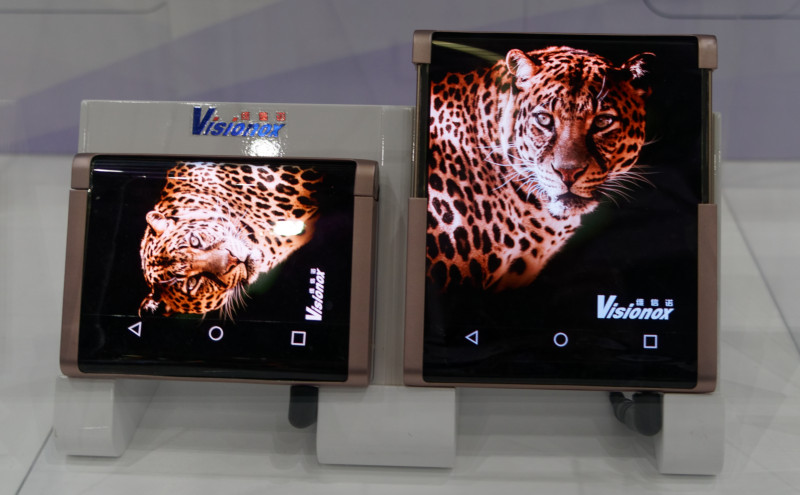 This 7.2″ display was shown folded and flattened out. Image:Meko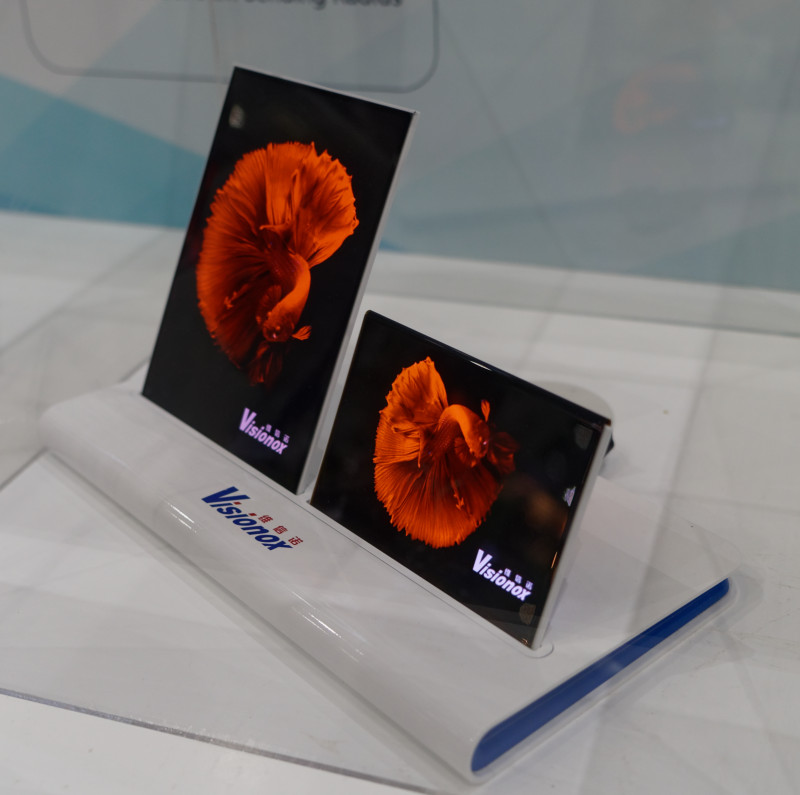 This was the second demo of the 7.2″ folded display. Image:Meko
As we heard from other vendors, smart speakers are a natural application for flexible, or at least conformable, displays.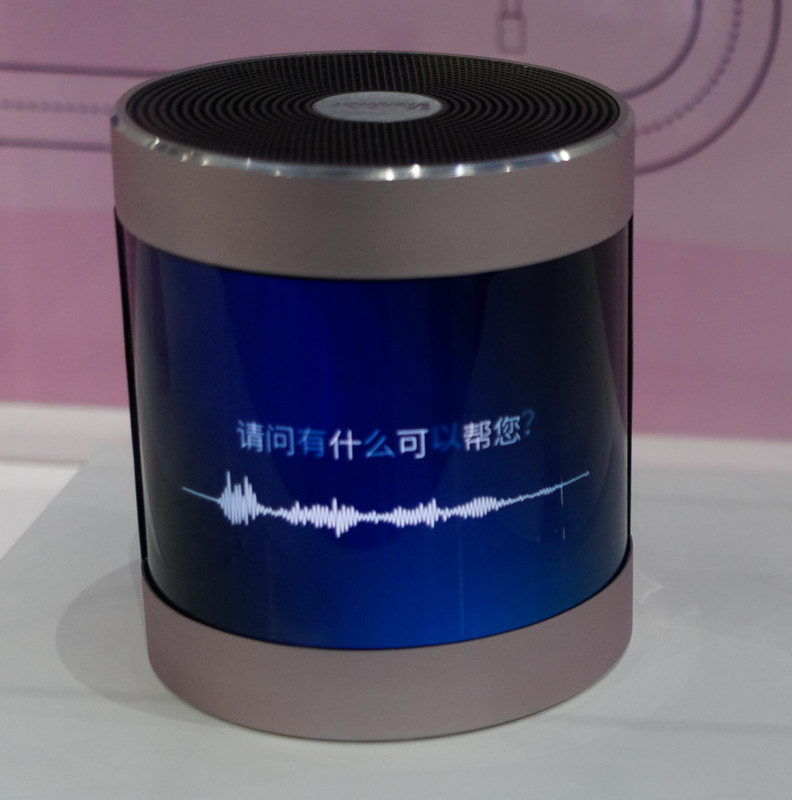 Smart speakers are a natural application for conformable displays. Image:Meko
RGB OLEDs have advantages over LEDs and 'colour by filter OLEDs' when it comes to transparency and Visionox was showing a prototype transparent display that had 60% transmittance.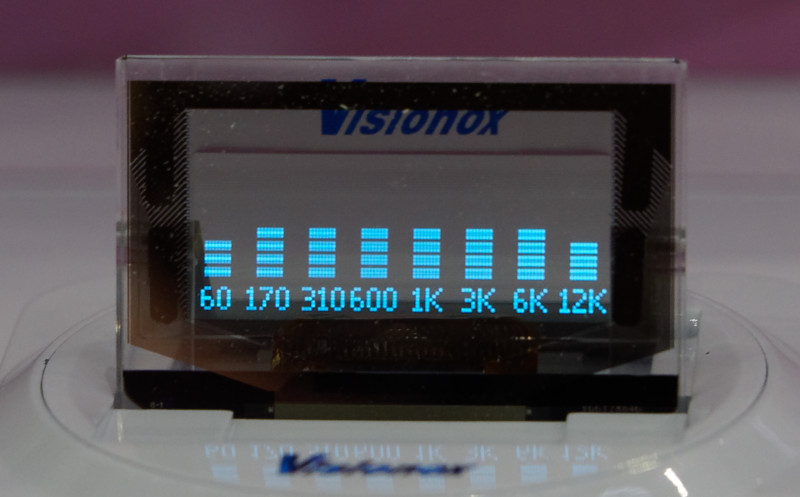 This prototype has 60% transparency. Image:Meko
Visionox is, of course, working on flexible displays that can be folded and it said that the latest folding displays that it has can go down to 1.6mm radius.
Like many companies at the show, Visionox is looking at microLED, but there were few details of the very tiny display that it was showing.