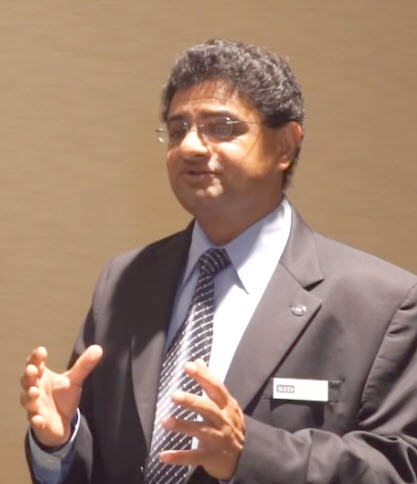 Sri Peruvemba is the head of marketing for SID and he presented the annual press breakfast event. We were up early to get there for you.
Pre-registration was looking very good and up 15% on the last time the event was in Los Angeles and more than last year's event. A new innovation, the CEO Forum had over 1000 pre-registrations, which had taken everybody by surprise. There were also more than twice the number of journalists at the event.
Peruvemba went through the Display of the Year awards
Displays of the year – Apple iPad Pro and Sharp 8K monitor
Displays applications – Apple's iPhoneX and LG Displays' Crystal Sound
Display components – Continental Automotive 3D Touch Surface – Kolon colourless Polyimide and Synaptics in display fingerprint sensor
The iZone has proved incredibly popular and this year not all applications were granted space. Even so, 47 were selected.
Next year the event will take place in San Jose, staying with the West Coast of the USA policy – a positive one for companies and visitors from Asia.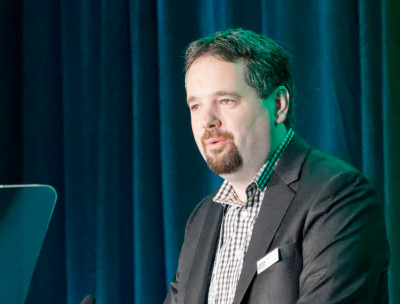 Helge Seetzen, a veteran of Brightside Technologies and Dolby among others, is now the President of SID and the organisation has a new HQ in China where it is trying to boost membership. SID has instituted the David Sarnoff award for commercialisation of display technologies.
Seetzen also opened the SID Business Conference, before the keynote sessions. when he stressed that he wants to open up the society to more women, to commercial people and young scientists to get them more involved in the society.
Visionox Expects Displays Everywhere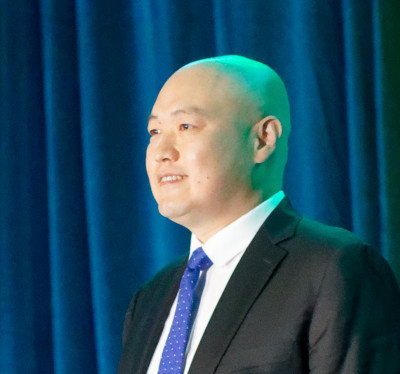 Dr Deqiang (Quintillion) Zhang is from Visionox and was the first keynote speaker He has personally been in OLED development for 22 years.
He started by looking back at technology evolution, as keynote speakers like to do.
In the 19th century, steam trains and printing meant access to information
at the end of the 19th century, the age of electricity brought movies with dynamic images
The 20th century was the age of information with TV and the
PC bringing the digital life
Now the 21st century will be the age of IoT. Non-living things will appear to be living and there will be ubiquitous displays.
There are more and more products that include displays and Zhang showed a "smart cup". Cars are the next big application for big displays which will transform them
Visionox held a contest for OLED applications. People suggested T Shirts with displays for those that cannot speak. A robot with a display as a face was another idea.
TV is a big application and in the future flexible TV displays will be possible,
Pads and notebooks have got smaller and lighter. Smartphones have bigger and bigger displays with more and more screen to body ratio. Mobile phone configurations have changed as the displays take more of the front surface. Smart wearables will get better as they get flexible and are supplied with better displays.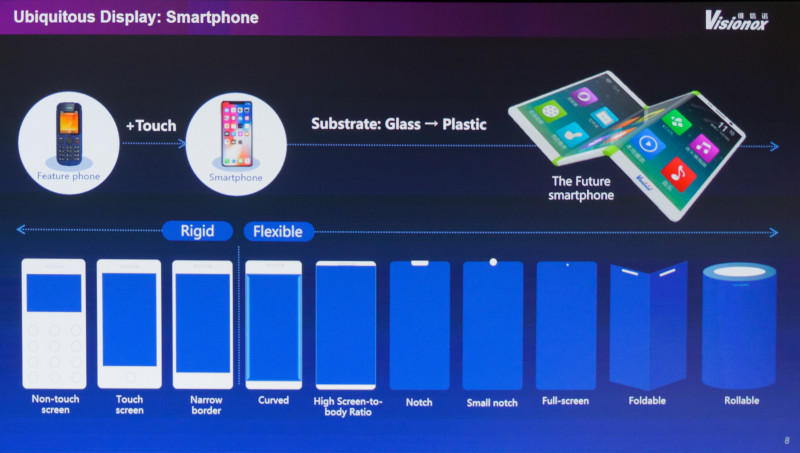 Visionox expects smartphone displays to have small holes, rather than notches, soon. Image:Meko
Driver assistance means that the way that interaction with the car changes and autonomous car technology may be very important in changing the perception of cars.
There will be a wide range of form factors including holographic and transparent displays. The display increasingly becomes the main Human/Machine Interface and will include more sensors.
There are a wide range of different technologies available and under development – there are four sessions on microLED at SID 2018, Zhang said. Each technology has its own advantages and stage of maturity, LCD is heading for a plateau in development.
OLED still has a long way to go and Korea is the key region for production. There are many fabs in Asia already, although more are coming.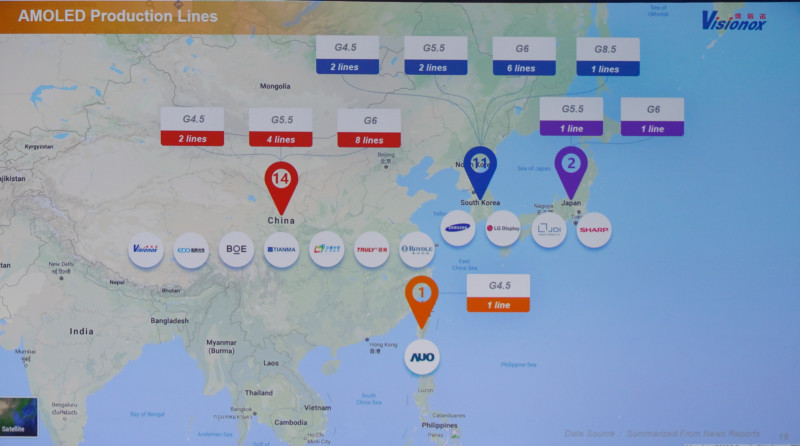 90% of OLED patents from Korea and Japan, so those countries have advantages and material suppliers come from many countries including Germany (Merck) and the US. Equipment makers mainly come from Japan, Korea and the US.
China started developing OLED technology and there are now many production plants being developed or in process.
Visionox was the top maker OLED in China (2017) with four factories and has 3400 patents. As well as production facilities, it also has development lines that can be used for material and process research.
Visionox has been working on flexible OLEDs for a while and has now got a 7.2″ AMOLED with 7H surface hardness and which is "in" or "out" foldable. However, there are still challenges to be solved for flexible OLEDs and also for making large sized displays.
Cost is a bog challenge and a lot of work needs to be done and Visionox has developed new machines that are much faster, in order to reduce cost. It has made15% profit since 2012 and the Visionox target is to reduce manufacturing cost by 50%.
For panel makers its important to collaborate with upstream and downstream partners,.
Analyst Comment
This was quite a well presented talk, but there was not much content that was either new or that we hadn't heard before, which is a shame and a bit of a waste of a keynote opportunity. (BR)