Peerless held a press event on its booth to update on its development – the company is keen to highlight that it is increasingly both a global company and also continues to develop to go beyond just being a supplier of frames and mounts to be a genuine supplier of displays. Keith Dutch, the Managing Director of Peerless in Europe, said that the company has new offices, an increased sales staff and new partners, including AG Multivision in Italy, MobilePro in Switzerland and Omega in Austria.
Keith Dutch of Peerless is happy with the progress of Peerless. Image:Meko
Dutch also highlighted that while some of the firm's competitors were now getting into LED mounts, 2018 is the third year that Peerless has shown its universal LED mounts (which are used in the Samsung Europe showroom in the UK). The company has a good relationship with Samsung and has a universal landscape or portrait mount or freestanding mount for the new Samsung Flip display. The company has also worked with Microsoft and has a trolley for the Surface Hub display that it is shipping in the Middle East and the EU.
Products highlighted at the event included the KIPICT555 which is a 55″ touch kiosk that supports six point touch and is intended to make a very simple solution. For wide compatibility, it is based on a Brightsign player.
New at ISE was the KIPC35, which is an ultra-slim portrait kiosk enclosure that can be used for displays from 40″ to 65″ and is usable with a wide range of displays that are less than 3.5″ (88mm) deep. The overall thickness depends on the display used but is between 17.0″ (431mm) and 20.5″ (521mm).
Peerless believes that its DS-VW775-QR quick release digital signage mount is the top selling video wall mount in Europe and claims 40% more adjustment range than competitive products. It is 25% lighter than previous Peerless mounts, making it easier to handle by a single installer or operator.
The PJR2350 is a large venue projector stand that can be used with projectors up to 113.4kg and can be ceiling or flush mounted. It has a range of fine adjustment and dedicated adaptor plates for all the major heavy-duty projector brands place the centre of gravity in the middle of the mount to reduce sag and simplify adjustments. The tilt (+15/-5°), roll (±5°) and swivel (360°) features are all lockable to prevent even the smallest shift to the image.
The Samsung LED mounts allow cabinets to mounted in 6 x 3, 8 x 4 and 10 x 5 configurations. They are being used in the Samsung showrooms in Chertsey, UK and Frankfurt, Germany.
As well as Samsung, Peerless is working with Unilumin and has multiple installations including a number of tier one customers in retail and banking.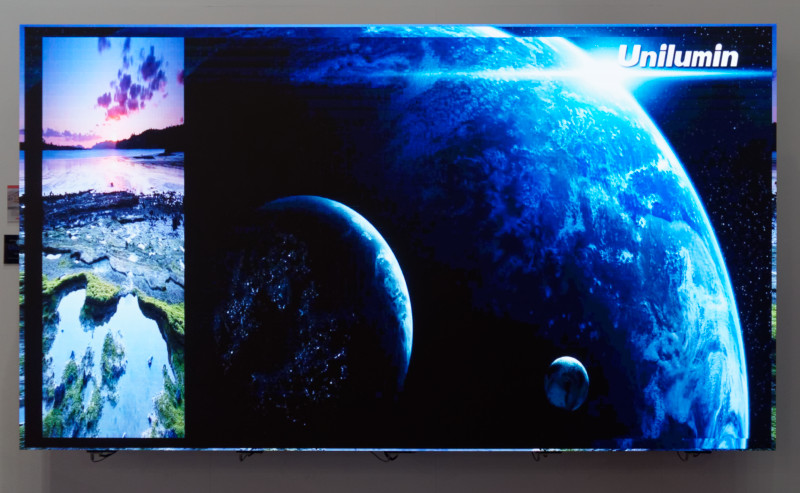 As well as Samsung, Peerless is working with Unilumin. Image:Meko