Peerless is making its kiosks less "square". Image: MekoPeerless had its usual booth in Hall 11 and we started by looking at kiosks. The company has been making enclosures for a range of displays, but Gordon Dutch of Peerless told us that the company thought that previous aesthetics had been very industrial and "square", so the company has been developing new designs that are designed to be more visually appealing. Other new features include allowing panels to be replaced and sourced from a range of suppliers. Other new features include a combination lock to solve the problem of lost keys in public or semi-public spaces. Fans and air conditioning can be installed appropriate to the panels being used.
The new enclosures will be available at the end of Q2.
Next we looked at new wall mounts for LED displays which can be used with modules from "current major players" and helps to avoid some of the disadvantages of current mounts, such as "huge feet". Peerless wouldn't let us photograph the new design but makes the modules "fully serviceable". LEDs are more of a challenge than LCDs and other displays that use standardised VESA mounts, Dutch said.
Peerless has further developed its "Supreme" video wall mount has a new quick release system that includes a small tab that can be used to help pull out a panel from the front. The mount supports displays from 46″ to 60″.
There is a new Ultra Slim Articulating Wall Mount system with dual arm construction that can work (four models) with displays from 32″ to 90″. Uniquely, Peerless is able to support displays up to 98″, where many competitors top out at around 65″. The new mounts will be available from 1st March.
Trolleys from the company have a new finish and the 50mm pole-based system that is popular in retail and window displays has now been modified to add "video wall" alignment features to allow accurate alignment.
Dutch told us that its 3 x 3 video wall mounting system has turned out to be very fast to fit as it has just 9 screws and he said that a complete 3 x 3 wall could be mounted and aligned in just 35 minutes. He told us that on one occasion, a fitter went to get tea from a location that wasn't close only to found by the time the fitter came back, his partner had assembled the wall completely!
The company's HDFlow wireless product has been replaced by a new system that can support video and graphics transmission up to 100m in clear air. Up to six receivers are supported.
Finally, we looked at new free-standing mounts for display arrays up to 3 x 3 or 4 x 3 using wheeled systems or with bolted bases. Finally, we looked at menu boards. Peerless has been successful with several major QSR suppliers and the company believes it is in a good position to make the most of roll outs of projects in this area.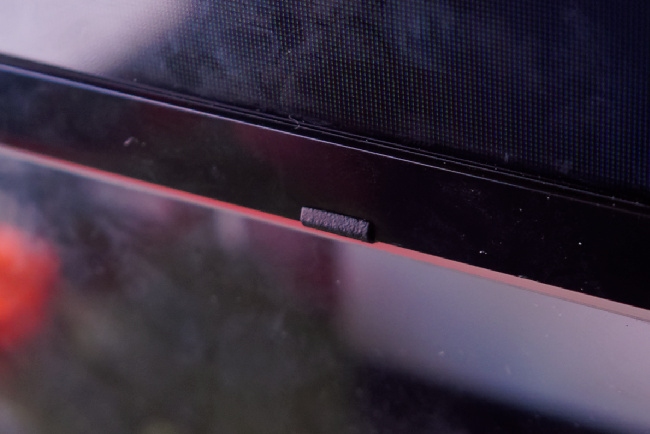 The Peerless clip makes it easier to pull out video wall displays for maintenance. Image:Meko