We're still adjusting to Peerless as a supplier of displays as well as its (at least to us) traditional business of mounts and stands. There was lots to see at ISE.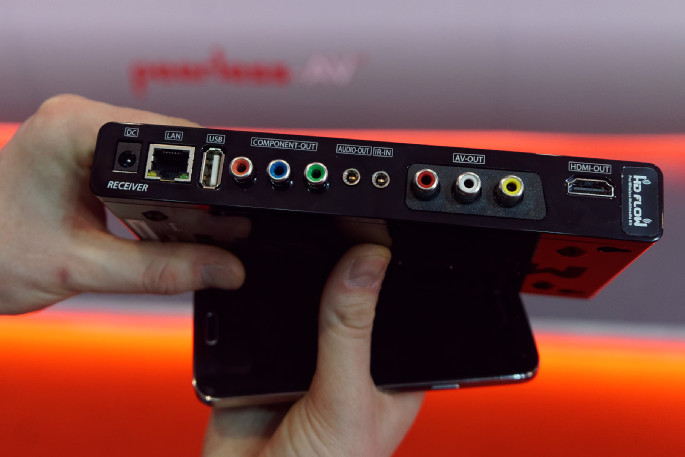 The Peerless Wireless sender supports HDMI and analogue videoWe started by looking at a wireless display controller, the HD Flow. The controller system can support up to six receivers in 1:1 or up to 1:4 configurations and the 5.86GHz technology can be used to send HDMI or legacy video from the analogue video inputs. The player can support dual 1080P 60 streams.
Moving round the booth, we looked at new 42″, 47″ and 55″ outdoor displays. These were originally developed in the US for consumer applications – watching the TV by the pool – but are being promoted in Europe for use in a range of applications including QSRs. They are designed for 24/7 use and conform to IP68, so there are no fans, can be submerged in water for 30 minutes and have 6mm cover glass. Brightness is 700 cd/m² (with a coming development to much higher at 2,000 cd/m² for outdoor QSRs). Peerless is supplying complete display systems including mounts.
Video wall mounts are important for Peerless (they used the term "bread and butter") and a range of mounts were on display to support 2 x 2, 3 x 2 and 4 x 2 configurations, while 4 x 3 will be available later. There is also a "trolley" version for moving displays around. One of the key aspects of video wall mounts is getting them aligned quickly in the field and Peerless has changed the mounts to make the display "slideable", making adjustment much quicker.
We reported on the Peerless "dual pole" mounting system at the NEC showcase. The design is the most popular for the firm and now comprises almost 50% of the professional stands that the firm sells.
Peerless sees applications for outdoor kiosks in QSRsPeerless has developed mounts for QSR menu applications and has X/Y and Z level mounts for 40″-42″ or 46″-48″ displays. The X range have basic "tilt and kick", the Y series adds height adjustment and Z models also allow corner to corner adjustment. The latest designs have open backs for easier installation – sometimes power outlets and other cabling can cause a problem with solid backs. As well as the standard wall mounts for QSRs, Peerless has 2 x 1 and 3 x 1 ceiling mounts.
Kiosks have been a market for Peerless for a year or so and now there are 40″, 42″, 46″, 47″ and 55″ units with single displays and back to back designs. The firm can supply standard painted kiosks or "wrapped" kiosks for special branding.
Finally, we had a quick look at the trolleys and carts which support up to 98″ displays. There are special variations for video conferencing that support the control and communication systems as well as the displays.