Yesterday and the day before we had the first parts (Peerless AV Event – London – Part 1 and Peerless AV Event – London – Part 2) of our report on the recent Peerless event in London that gave a chance for AV brands to meet their partners and resellers. Today we have the final part 3. (Note the three articles will count as just one if you have a free Display Daily registration).
LG had a very eye-catching 136″ 3rd generation monolithic direct view LED system that it has been promoting into corporates (at £28,500 they are the only ones that could afford it!). The display has 1.5mm pitch and 800 cd/m2 of output and can run WebOS. The system is intended to be quick to install, with build time quoted at 90 minutes. The system has 9 speakers and runs WebOS as well as being compatible with Crestron protocols. Features include PIP and PBP. Alternative options from 163″ to 217″ are also available if you want something larger, and there is a smaller 110″ unit in the range that is modular and can be moved in a flight case. LG told me that pricing in this kind of category has been very competitive and has more or less halved since the beginning of the year.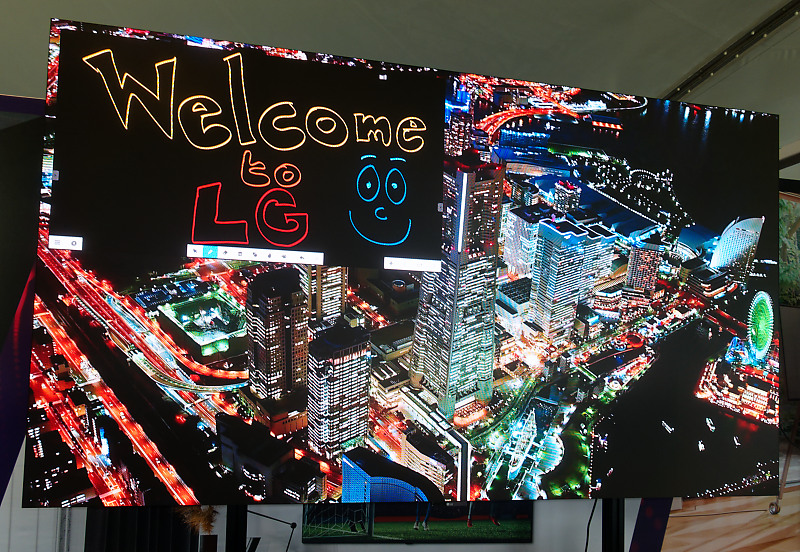 Under the One:Quick brand, LG has been developing its stand-alone conference room and BYOD displays. They were launched at ISE and arrived in July in 43″ and 55″ sizes with PCap touch. They are Windows based and can be used with an 'A Frame' stand'.
DTen started its business with displays that were optimised for Zoom and have previously told us that they have a close relationship with Zoom including an investment from the firm. However, at the Peerless event, the main new product was its 'On Board Companion'. The On IFPs are configured to be complete solutions for Zoom Rooms, but the Companion is designed to be used either as a second display or with an existing media system of camera and audio. It will be available in 55″ only initially.
The firm has also made its own media box that can connect to any display to make it Zoom enabled. Features include the ability to operate using PoE for reduced cabling.

Matrox has been well known for its H.264 Maevex boxes for moving video around networks. However, time moves on and it introduced earlier this year a range of boxes that support the IPMX protocol which is designed to use the industry-standardised ST2110 hardware technology with extra features for AV use. Matrox's Rob Moodey explained that the firm has developed boxes which will have the ability to connect HDBaseT signals and sources and transport the data directly over the network with very low latency. The system also has other features including fast switching speed and, with two data ports as well as a controller port, the option to build in cable redundancy for live and mission-critical events.
The system is optimised for 4K60p but in practice can support 8K although this is not in the specification. The core codec is JPEG/XS.
The Matrox boxes will initially support HDMI and be available very soon and then will be followed by SDI access in Q4 and HDBaseT 'before 2023'. As the firm has done before, it will develop a range of different solutions over time based around the core IPMX technology.

The three ethernet ports allow control + dual channels for signal redundancy. Image:Meko
Unilumin was at the event with what I thought were the best looking LED displays, although the relatively low ambient light near their stand probably helped! Industry veteran, Steve Scorse, was on hand to discuss the state of the industry. Unilumin (which is part of the same group as ROE and Lamp) tends to look after the installation side of the business. I mentioned some recent market data from Omdia on LED and Scorse told us that the firm reports Unilumin, ROE and Lamp separately which tends to make the firm's scale less obvious.
Scorse emphasised the work that the firm has done to make it easy and fast to align its modules. The quality of the displays at the event certainly evidenced that lines between modules and cabinets could be virtually invisible.
One of the features of the UPanel SII range (based on SMD technology from 0.9mm to 2.5mm) is a motorised ejection system for modules that need replacement. This reduces the physical handling and risk of damage during maintenance. The displays support dynamic contrast and up to 240Hz frame refresh and use common cathode technology.
The UMini range uses encapsulated COB technology and is available in 0.7mm, 0.9mm, 1.2mm and 1.5mm. The encapsulation makes the display very rugged and it can even be washed down. The UMini also has better black levels than SMD.
The T1 series is the firm's monolithic range in 108″ (1.2mm), 130″ (1.5/1.8mm) and 160″. The company is seeing good growth in applications such as board rooms where the depth of just 19mm is an attractive feature.
Unlike LG's comment about prices falling rapidly, Unilumin is seeing relatively stable pricing.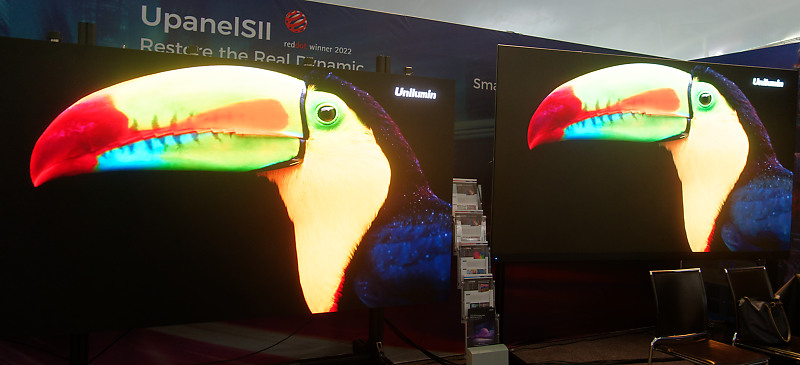 We thought Unilumin had the best looking LED displays in terms of contrast. Image:Meko
Finally, at the event, we spoke to Iiyama which has extended its range into IFPs based on LCD with particularly responsive infrared touch (I tried it and it seemed much better than some I have tried in the past). The company is developing a range of unified communication solutions as it continues its progress into more value-added systems. (BR)