Yesterday we had the first part (Peerless AV Event – London – Part 1) of our report on the recent Peerless event in London that gave a chance for AV brands to meet their partners and resellers. Today we have part 2. (Note the articles will count as just one if you have a free Display Daily registration).

A company that we have often seen at events over the last four years is Hypervsn. The firm has a display made of spinning LEDs that provides images by exploiting the persistence of the eye. The firm can control the timing of the illumination and colour of the different LEDs, creating an image that seems to float in the air. Combining multiple arrays and keeping them synchronised allows the development of large images – the firm can support, it told us, up to around 100 devices in a single image.
When we first saw the system, the image quality was not that great, but a couple of years ago there was a step change in the image quality becuase of better processing and since then the firm has focused on increasing brightness and told us that it can now reach 3,000 cd/m2 which is bright enough even for relatively high ambient light areas. It has also developed a range of cases so that they displays can be used where people might get close.
At the show, one of the new developments is the optimisation of a system intended to act as a life size 'virtual assistant'. A system was set up to greet visitors at the event.
The firm also had another system with multiple devices showing other images.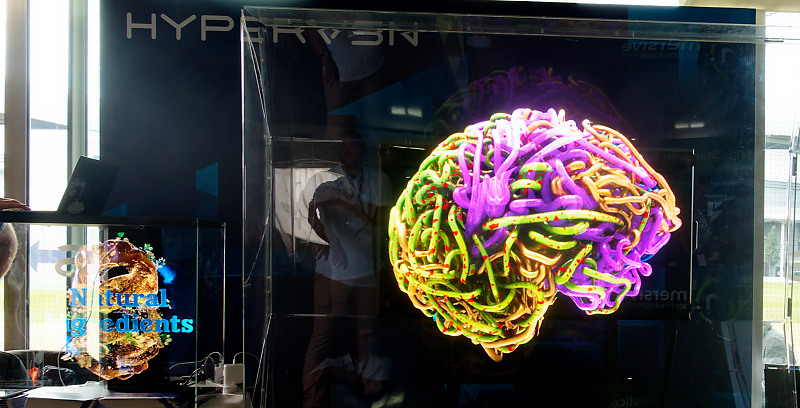 Sharp NEC Display Solutions had a number of its LFDs at the event and also had a sample of its most recent Smart Display Module. SDM is the latest modular standard, developed by Intel, to allow smaller modules to be developed than the older OPS slot as well as updating to include features such as support for 8K use. (I wrote an article about this for the 8K Association recently if you want more on the module)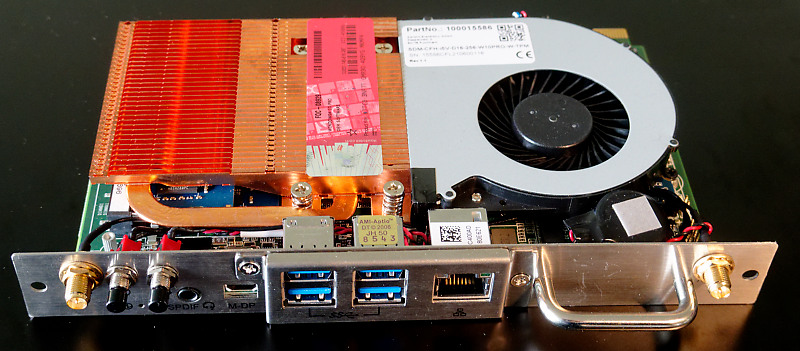 The Sharp NEC SDM unit. Image:Meko
Like a number of vendors at the event, Sharp NEC was making sure we knew that it has a collaboration solution for the post-Covid world and in this firm's case, it's the WD551, a Microsoft-certified 55″ UltraHD Windows Collaboration Display with optically-bonded PCap touch and intended for 'Bring your own device' applicatons. It has integrated speakers and camera. Brightness is 400 cd/m².
Sharp NEC also told us that it has seen a strong trend to dual display systems in 65″, 75″ and 86″ where one of the displays is touch-enabled while is not. This gives a lot more work space but keeps things simpler from an integration (and cost) point of view.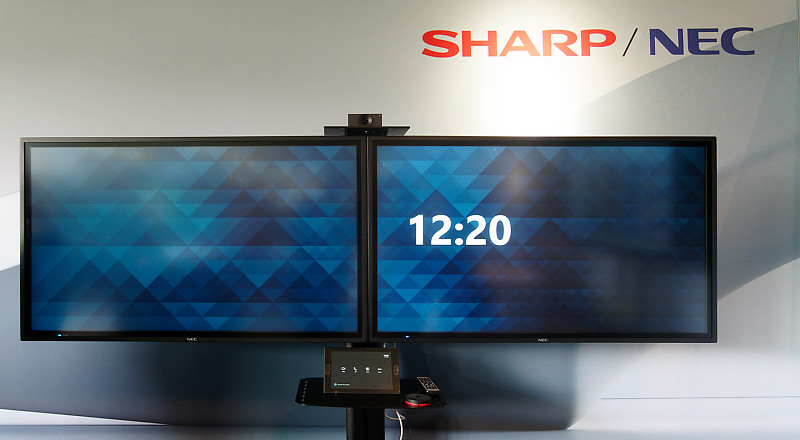 Sharp NEC is seeing a trend to dual displays, with just one being touch enabled. Image:Meko
The firm told us that it has seen a big uptick in the sales of direct view LED with the technology starting to be popular in fixed 'monolithic' configurations rather than as custom configured displays as was common in the past. The company is supporting pitches down to 1.2mm at the moment and said it has had a lot of interest because of its support for Microsoft's Front Row configurations.
Dutch company CTouch is a specialist in interactive flat panels (IFPs) with a well established market in the education area – I usually catch up with them at BETT early in the year. At this event they were explaining how the Riva displays (55″/65″/75″/86″) could also do well in commercial collaboration applications. One of the features is that the displays have support for Teams, but can be configured so that no content is captured locally at all. That means that in corporate environments, users can be confident when leaving a meeting where the displays have been used, that there is no data left behind. The company told us that it has won substantial business with Bank of Ireland, Santander and some large hotel groups.
As well as local content using Android, the IFPs can support wireless BYOD operation using Chromecast, Airplay and EShare. CTouch has been moving into Further Education and Higher Education with its 'Neo' products.
Sony was at the event to talk about applications and systems rather than devices but was showing its 100″ XR FALD LCD which looked very good. (BR)