At CES 2018 in Las Vegas, LG Electronics (LG) will introduce upgraded models to its monitor lineup featuring Nano IPS color reproduction technology. In response to consumer demand, the firm said, LG's 2018 monitors will support HDR 600 with a higher dynamic range and peak brightness and new connectivity options with Thunderbolt 3 compatibility.
LG's new 32-inch class UHD 4K monitor (model 32UK950) is the first to offer LG's advanced Nano IPS technology. Nano IPS technology involves the application of nanometer-sized particles to the screen's LED to absorb excess light wavelengths. This greatly enhances the intensity and purity of on-screen colors for a more accurate and life-like viewing experience. This LG monitor can display 98% of the DCI-P3 color spectrum. Ideal for media consumers seeking superb color reproduction, LG 32UK950's support for HDR600 means a peak brightness of 600 cd/m².
The monitor has Thunderbolt 3 and can offer UltraHD daisy-chaining and the unit supplies up to 60W to connected notebooks. The design is 'four side borderless'
In addition to the 32UK950, LG will unveil a new 34″ class UltraWide monitor (model 34WK95U) for 2018 with 5K resolution (5120 x 2160 pixels). LG's first 21:9 5K UltraWide monitor offers generous screen real estate and eye-popping colors. This 5K viewing experience is optimal for multitaskers such as programmers, developers and video editors.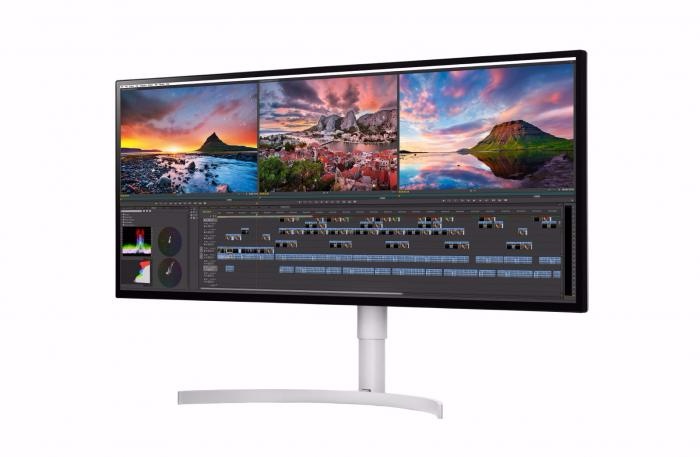 The LG 34WK95U monitor also supports Nano IPS technology and HDR 600. The monitor also features a Thunderbolt 3 port, which enables the transmission of 5K resolution images at 60Hz with a single cable. It supports charging and, again, has a four side borderless design.
At CES, LG is also set to debut its latest QHD gaming monitor (34-inch class model 34GK950G), which is said to offer 'premium' picture quality with Nano IPS technology and G-Sync technology.