Intel recently announced the Thunderbolt 5 standard with about three times the bandwidth of Thunderbolt 4 at 120 Gbps/s. The leap in display opportunities from Thunderbolt 4 to 5 is the equivalent of doing from support for two 4K monitors to support for multiple 8K displays. There are very few refresh rate trade-offs with the new standard which supports up to 540 Hz refresh, predominantly for gamers, and can support up to three 4K displays running at 144 Hz. With Thunderbolt 4, the limits of bandwidth meant you would get two 4K monitors at 60 Hz refresh rate maximum.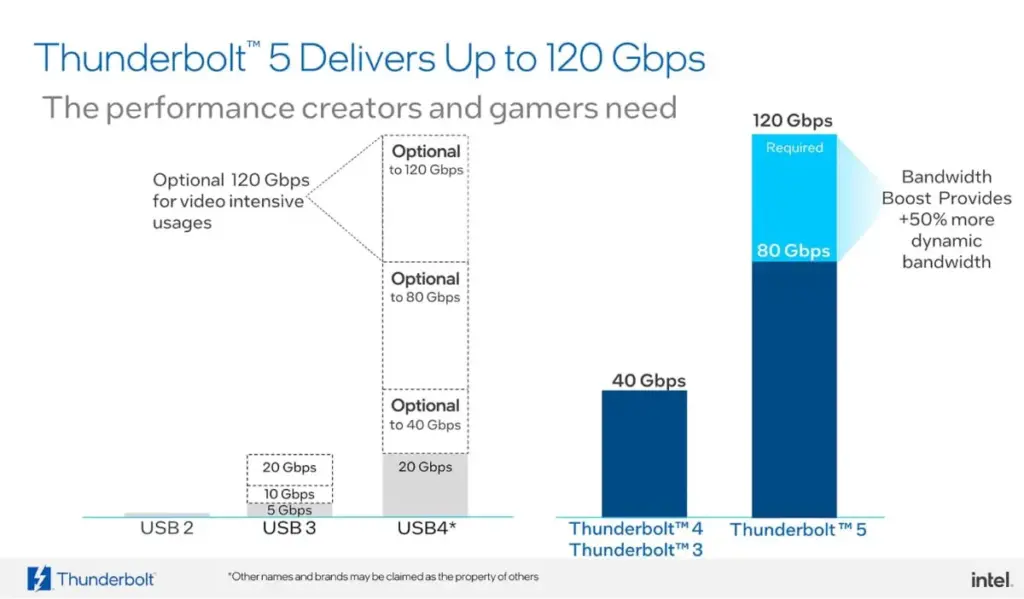 HDMI, DisplayPort, USB and Thunderbolt
Computer users have seemingly four different ways they can connect to a monitor or display: HDMI, DisplayPort, USB, or Thunderbolt. HDMI (high definition multimedia interface) was developed by a consortium of PC and consumer electronics companies. Its main goal is to transmit high-definition AV signals, especially in consumer electronics like TVs, Blu-ray players, and gaming consoles. DisplayPort was developed by VESA (video electronics standards association), primarily aimed at the computer industry for connecting displays to PCs and professional IT equipment. Developed by the USB (universal serial bus) Promoter Group (including Intel, the lost to history PC pioneer Compaq, Microsoft, and others). It first emerged in the mid-1990s. Thunderbolt was developed by Intel and Apple, initially for high-speed data transfer and later integrated with other functions including display capabilities.
HDMI and USB don't allow you to daisy-chain displays, but Thunderbolt and DisplayPort do. DisplayPort has multi-stream transport (MST) and, like HDMI, its cables can be up to 15 meters (50 feet) in length before needing some sort of repeater or amplifier to give the signal a boost. HDMI is often the go-to for consumer electronics, while DisplayPort is typically preferred for computer displays and professional setups. Thunderbolt's advantage lies in its ability to handle data, video, and power concurrently, making it particularly valuable for computer docks and professional workstations. USB is probably the most ubiquitous because it has so many devices that support it and it is a relatively inexpensive add-on to any system making it to most useful to have.
Gaming does have a significance for some of these connectors. HDMI 2.1, the latest standard, offers up to 8K resolution and has features that cater to gaming, like variable refresh rate (VRR), quick frame transport (QFT), and auto low latency mode (ALLM). DisplayPort 2.0 offers extremely high data bandwidth, supporting very high resolutions and refresh rates. It's ideal for professional monitors, high-refresh-rate gaming, and multi-monitor setups. It also supports adaptive sync which has been a foundation technology for Nvidia G-Sync and AMD's Freesync. In theory, Display supports resolutions up to 16K with display stream compression (DSC).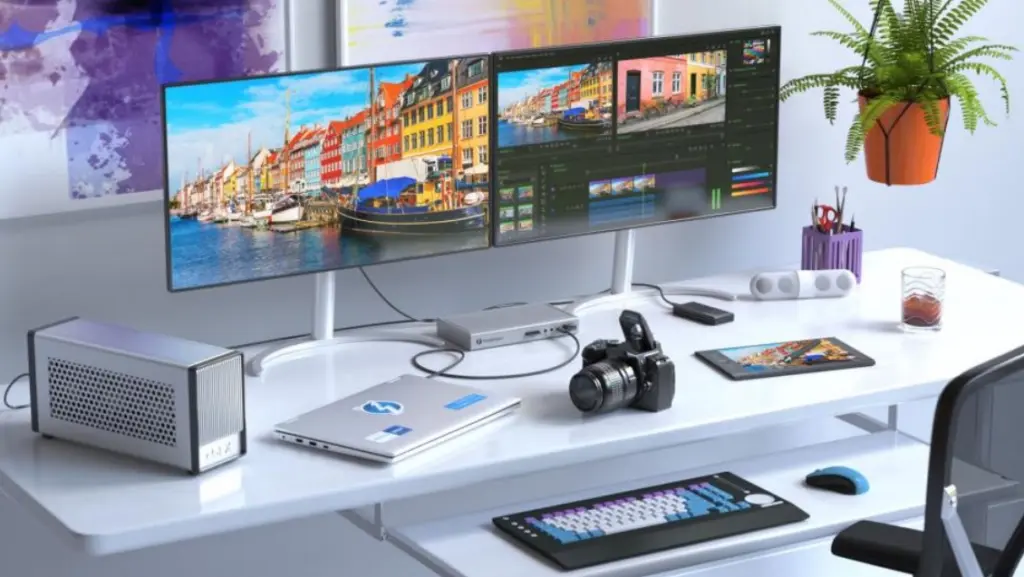 Thunderbolt remains primarily a laptop standard with less adoption on desktops, for example. Despite surpassing the bandwidth of DisplayPort there is still no clear strategy or emergence of acceptance for Thunderbolt 5 as a display connection. There's also the question of what happens with USB4 2.0 which promises a bandwidth of 80 Gbps. Intel has kept Thunderbolt locked down to its own ecosystem of processors and connectivity chipsets, but it claims to be open to licensing the standard to non-Intel platforms. USB4 is also cheaper to implement than Thunderbolt.
While not suitable for gaming applications, there is also Synaptics' DisplayLink. The technology can be found in a variety of devices, like USB-connected displays, docking stations, and projectors. DisplayLink is essentially a method for compressing display data and sending it over USB or WiFi. It's not expensive to implement, and it is a cost-effective way of adding multi-monitor support. The compression and decompression process of the display data adds potential latency that is not noticeable in everyday computing use, but would probably be an issue for gaming.
The New Thunderbolt 5
Thunderbolt was first introduced by Intel and Apple on the MacBook Pro in 2011. It used a Mini DisplayPort connector. Initially, it had data transfer rates between 1-10 Gbps. Over the years, USB has had multiple connector types, including Type-A, Type-B, Mini-A, Mini-B, Micro-A, Micro-B, and Type-C. USB4 and later iterations of USB 3.x predominantly use the Type-C connector. Thunderbolt has pretty much used the Mini DisplayPort connector in its first two iterations and now uses the USB Type-C connector. In fact, USB 4 started a sort of convergence with Thunderbolt with compatibility between systems.
Thunderbolt 5 has introduced several enhancements over its predecessors. It now supports DisplayPort 2.1, which can handle a maximum resolution of 10K, an upgrade from the 8K resolution supported by DisplayPort 1.4 in Thunderbolt 3. This new version also incorporates an advanced DSC 1.2a. This is an advanced compression standard that is integrated into DisplayPort 2.1. DSC 1.2a allows for visually lossless compression, which means you can transmit high-resolution video content without any perceivable loss in quality, all the while using less bandwidth. This feature becomes essential when transmitting ultra-high-resolution content
Another new feature, Bandwidth Boost, adjusts bandwidth based on the connected device's needs, especially with high-bandwidth displays. This feature is managed by the Intel Connection Manager utility, which automatically switches modes based on device requirements. So, in theory, when a high-bandwidth display is connected, the system will automatically switch to a bandwidth boost mode to accommodate the display's requirements.
Additionally, networking bandwidth in Thunderbolt 5 has doubled to 64Gbps, benefitting both networking between PCs and access to storage devices. This is twice the capacity of Thunderbolt 4. The support for PCIe Gen 4 in Thunderbolt 5 further means enhanced I/O performance for laptops. The new standard is also offering compartibility with is enhanced graphics processor unit (eGPU) enclosures. The primary reason for using an eGPU is to boost the graphical processing power of a computer, especially laptops which might not have strong built-in graphics capabilities. An eGPU typically consists of an external enclosure that houses a standard desktop graphics card. This enclosure also includes its own power supply and various ports for connecting displays.
| | | | | |
| --- | --- | --- | --- | --- |
| | Thunderbolt 5 | Thunderbolt 4 | USB 4 | USB 3/DP |
| One universal computer port | ✓ | ✓ | – | – |
| Required speed for Universal cables up to 2 meters in length | 120 Gbps | 40 Gbps | 20 Gbps | – |
| Accessories with four Thunderbolt ports | ✓ | ✓ | – | – |
| PC speed requirements | 80 Gbps & 120 Gbps | 40 Gbps | 20 Gbps | 10 Gbps |
| PC video requirements | Dual 6K | Dual 4K | One monitor (No Minimum BW) | One monitor (No Minimum BW) |
| PC data requirements | PCle 64 Gbps USB3 – 10 Gbps | PCle 32 Gbps USB3 -10 Gbps | – USB3 -10 Gbps | – USB3 -5 Gbps |
| Required PO charging on at least one computer port | Required up to 140W available up to 240W | Required up to 100W available up to 140W | – | – |
| Required PC wake from sleep when computer is connected to a Thunderbolt dock | ✓ | ✓ | – | – |
| Minimum PC port power for accessories | 15W | 15W | 7.5W | 4.5W |
| Thunderbolt Networking | 64 Gbps | 32 Gbps | – | – |
| Mandatory certification for all shipping computers, accessories and cables | ✓ | ✓ | – | – |
| Cable testing and cable quality audits for Thunderbolt cable manufacturers | ✓ | ✓ | – | – |
| Required Intel VT-d-based DMA protection | ✓ | ✓ | – | – |
| USB4 specification | Compliant | Compliant | Compliant | Compatible |
Technical collateral and development resources for Thunderbolt 5 developers will be available worldwide in the fourth quarter of 2023 so, don't expect any compatible laptops, docks, or accessories until well into 2024.