Marshall Electronics was showing a new 4K SDR monitor dubbed the V-R241-4K. It is 24" with UHD resolution and 4k connectivity is via QuadLink 3G SDI. No other details were available.
Borland Communications was at NAB showing 4K monitors, which they offer from 15" to 65". New for some of them is HDR support with the following menu options: ST 2084-300; ST 2084 1000, ST 2084 10,000; HLG. They were unable to properly explain what these setting actually did. There is support in various monitors for a 12G-SDI connection (new), dual 6G (new) or quad 3G for a 4K signal.
New 4K monitors with 12G support and 80% of DCI-P3 coverage include 24", 31" and 55" sizes. The 24" will be released this summer for $6,600. The company is targeting their monitors for master control rooms, production trucks and edit suits.
Panasonic was publicly displaying their TC-65EZ1000U TV in the booth at NAB. This is an OLED HDR TV that has been shown at several events since the last IBC and is only planned for general availability in Europe, Canada and some parts of Asia. There had been rumors of distribution of the TV in the US, but that appears to not be the case. Instead, the Panasonic was listing the displays as available for "limited professional distribution." The price will be $6K. It supports PQ and HLG EOTFs and the ability to load a custom 3D LUT. Planned is ISF calibration and CalMan calibration support. The display has reportedly been approved as a reference monitor by Deluxe, CO3, Encore and eFilm.
We had a chance to see Dell's new 4K HDR monitor in a 27" screen size at NAB. To be clear, the UP2718Q is not a DCI reference-grade monitor, but one aimed at HDR editing and on set review. (Dell Adds First HDR Monitor and UltraHD Workstation)
Key specs include a 10-bit panel, 97% coverage of DCI-P3 (76% of 2020, 100% of Adobe RGB and sRGB), 1000 cd/m² of peak luminance, a direct-type backlight, 0.05 cd/m² black level. Connectivity is via dual HDMI 2.0a, a DisplayPort 1.4 and a mini DisplayPort. There are four USB 3.0 ports with two supporting 2A charging. Dell says the monitor is HDR10 compliant, meaning it meets the specifications of a UHD Alliance certified HDR display.
Dell's UP2718Q supports HDR but is not DCI reference grade
It goes on sale at Dell.com in the U.S. on May 23rd for $1,999.99. Dell's standard 27-inch 4K monitor without HDR is a much more affordable $550.
Primeview Americas launched its brand-new line of broadcast monitors at NAB. The line offers a variety package of scopes, including a built-in quad multi-view, HDMI 2.0, 3D LUT color space calibration, waveform, vector scope, audio meters, time code, and multiple aspect ratios.
Primeview already offers a number of commercial-grade monitors and video wall products with HDMI and HDBT connectivity. The new broadcast thrust appears to leverage these products by offering SDI connectivity.
No details on the specifics of the line were revealed other than the release of a 55" UHD model with 24/7 operational capability. There was no mention of HDR support.
Sony was highlighting their full range of OLED and LCD professional monitors at NAB and introduced one new model: the LCD-based LMD-A240/A220/A170. This means it will be offered in 24", 22" and 17" versions. This is an SDR HD resolution monitor series, but it can accept HDR signals encoded with BT.2020 coefficients. They can cover 98% of the DCI-P3 color space and have a peak luminance in the 200-300 cd/m² range. Other features include a false color mode for looking at over and under exposed parts of the picture and a flip mode for low-held steadycam signals. All the camera's metadata can be displayed and there are SDI and HDMI connectors. It should ship in the September time frame.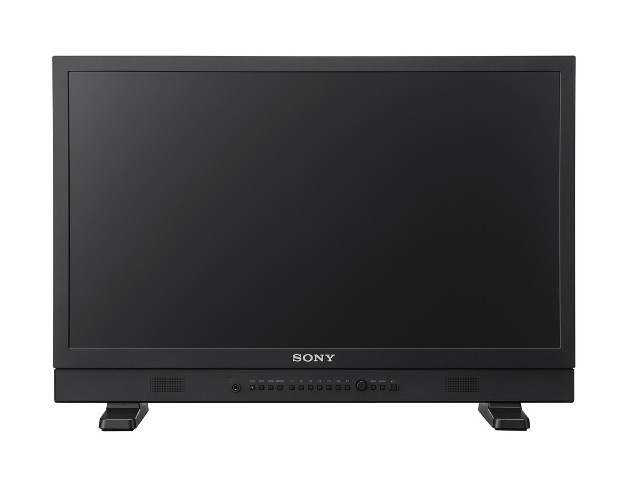 Sony also highlighted it OLED professional monitor range including the BVM-E25/E171 models at 25" and 17". These are SDR monitors that became available in January, 2017. At NAB, Sony announced the BVM-E171 HD OLED master monitor will support HDR through a new HDR monitoring license, BVML-HE171. The licence gives users an option for implementing HDR according to their production needs and budget limits. Sony's BVM-X300 and PVM-X550 monitors are already HDR-ready for any resolution up to 4K, and now the addition of HDR to the BVM-E171 brings HD HDR monitoring capabilities to new users including OB vans, where space is limited. – CC