Blackberry's Leap smartphone (Blackberry Shows new Smartphone and Prototype with Curved AMOLED Display) can now be pre-ordered in the UK, USA, France and Germany; residents of Canada have been told to 'stay tuned', so pre-orders are also likely to be available there soon. The phone will be released on the 27th April for $275.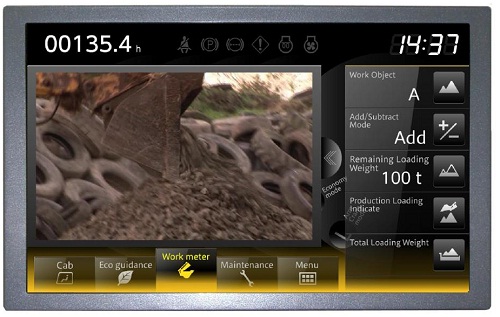 The Data Display Group is now stocking a new 7″ Mitsubishi LCD module: the AT070MJ01. Resolution is 800 x 480, but brightness is very high: 1,500cd/m². The display will operate in -40° – 85° temperatures and has 160°/140° viewing angles. It features an LVDS interface. And will withstand 6.8g of vibration.
KOE Europe's 'Rugged+' TFT-LCD module, the TX09D200VM0BAA, is an industrial unit with an IPS panel and a full metal enclosure. It is a 3.5″ unit, operating between -30° and 85°. It weighs 72g and is designed to be resistant to ESD, mechanical shocks and vibrations. The module has 320 x 240 resolution, with 600cd/m² of brightness and a 900:1 contrast ratio. Viewing angles are 170°, and it features a 50-pin CMOS interface. KOE is selling the module now; price is aon application.
The Magna, Spirit, Leon and Joy smartphones from LG, announced at MWC (MWC 2015 is Upon Us), are now being rolled out worldwide. Availability began in South America, and the phones are now arriving in Europe, Asia, MEA and North America.
Additionally, LG's G Watch Urbane smartwatch (Wearables and Smartphones Are The Focus for LG) will go on sale in the UK on the 27th April. Online retailer Clove has the watch listed for £190 ($280).
Microsoft's Lumia 640 and 640 XL (Microsoft Shows Lumia 640 XL at MWC 2015) will be available in Europe this month. The phones have Windows Phone 8.1, and will be upgraded to Windows 10 when the OS is launched.
From the 10th April, Samsung's Galaxy S6 (Samsung Unpacks Two New Phones) and HTC's One M9 (HTC Shows Smartphone and Fitness Band at MWC 2015) will be available in the USA. The Galaxy S6 will start at $685 with AT&T, $680 with T-Mobile ($780 for the S6 Edge) or $650 from Sprint. Verizon is offering a cheaper deal: $600 for the S6 or HTC One M9, or $700 for the S6 Edge.
Xiaomi is celebrating its fifth birthday this month, with several new products. In the mobile space the company has unveiled a pink Mi Note and a cheaper variant of the product with 2GB of RAM instead of 3GB. The new device costs CNY1,600 ($260). There is also a new Redmi 2 smartphone called the Redmi 2A, which has a 1.5GHz Leadcore LC1860 CPU instead of the Snapdragon 410 in the original. The new handset will cost CNY570 ($90).