MWC is about to get underway in Barcelona, running from 2nd to 5th March. Here, we present a round-up of various companies and products that will be at what is being called the world's largest mobile show.
Two smartphones – one running Android and the other Windows – will be introduced by Acer.
Kyocera and Sunpartner Technologies will show off a prototype rugged smartphone that is completely charged using Sunpartner's Wysips Crystal photovoltaic component. Based on a smartphone that is already available, the prototype has the Wysips component installed underneath the touch panel.
HP spin-off Leia will demonstrate real-time video chat on its holographic display prototype. Leia's technology involves a 'multiview backlight', using a new light guide plate using nanoscale gratings. These gratings direct light in a more controlled fashion; up to 64 different images can be sent to an LCD display at once, producing a hologram. Some resolution is lost, but CEO David Fattal says that the technique is suitable for mobile displays. Leia plans to release a small display module in Asia this year.
New mid-range phones will be unveiled by LG. Four models (Magna, Spirit, Leon and Joy) will be revealed, of which two (Magna and Spirit) are curved to a 3,000mm radius.
All four models will be available in 3G and 4G versions; metallic rear covers distinguish the 4G models. Features from LG's premium phones, such as Gesture Shot (now extended to 1.5m) and Glance View, will be built in to the new units.
The Magna has a 5″ display with in-cell touch and a quad-core SoC. It is designed with imaging in mind, with 8MP rear and 5MP front cameras. The phone also features a 2,540mAh removable battery. The Spirit is similar, but smaller (4.7″). LG's Leon has a 4.5″ display and the Joy – the smallest model – a 4″ screen.
A worldwide roll-out is already underway for these phones.
Pixelworks will show its True Clarity enhancements for mobile displays. Designed to 'radically' improve mobile displays, the enhancements also enable lower power consumption. (See the recent Display Daily Pixelworks Improves Mobile Display Quality While Reducing System Cost for more info.)
At MWC, Pixelworks will show demonstrations of internet video, cinema mode, backlight management and gaming applications.
Whoops! – Sony accidentally leaked several features for the Xperia Z4 tablet the week before MWC. Due to be announced on 3rd March, the tablet will have a '2k display', 'ultra-fast processor' and 'industry-leading battery performance'. There were also several screenshots of the Xperia Z4 smartphone, confirming earlier rumours about a dual-SIM model. The images also show Android 5.0 running on the phone.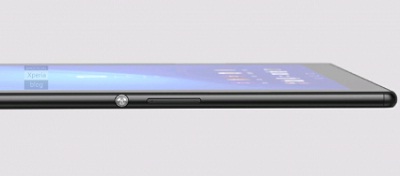 Mobile-centric developments using DisplayPort will be presented by VESA. Among them is the new eDP 1.4a standard (eDP v1.4a Sets Stage for 8k Notebooks), which will enable higher resolution and lower power for mobile displays. eDP 1.4a uses Display Stream Compression (DSC); VESA began work on an version (A-DSC) last year (VESA Seeks Input on DSC Revision). DisplayPort Alt Mode, for the new USB-C standard, will also be demonstrated.
A 5k display at 60Hz, using a single DisplayPort cable (v1.3), will be shown, as will the standard's Multi-Stream capability. Multi-Stream enables several displays to be connected to a video source device using a single port, via a daisy-chain or hub configuration. DP 1.3 can support two UltraHD displays at 60Hz.
ZTE will show its infrastructure and terminal products. It will discuss its pre-5G roadmap and will show the end-to-end 'Elasticnet' solution, its latest SDN/NFV product. The company's terminal division will show the products launched at CES, including the Spro 2 projector and Star 6 and Blasde S6 smartphones.