Mark Hüsges is an executive from Loewe and he started Loewe's press event by restating Loewe's commitment to quality. The company recently introduced the Bild 7 and has been very successful with that product, he said.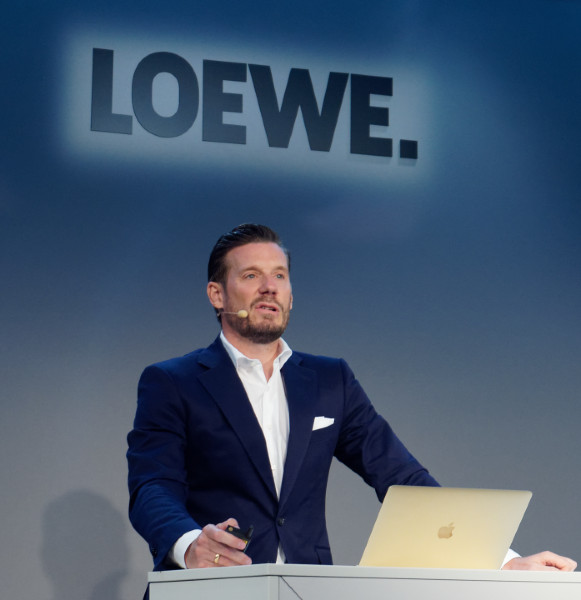 In the future, almost all sets at 55″ and above will be OLED because of the image quality, he continued. LCDs can be excellent, too, but for the best image quality OLED is currently best. Smaller sets will also be OK with LCD and Hüsges said that it has a very strong TV product range at the moment – probably the best in its history. In a reseller survey published by Markt Intern, the company was ranked highest for product quality and delivery reliability. Overall, Loewe is second in the survey (we believe this was the survey that Metz claimed to lead – Man. Ed.), but Loewe is ahead of Sony, Samsung and Panasonic. Last year, the position was fifth, so a move to second is a big boost.
Loewe's market share in the specialist TV channel is second only to Samsung and the company has over 200 resellers, but the company wants to continue to boost its channel presence.
Loewe has been able to generate 60% growth in the last year and it's the strongest growth brand in Germany, Hüsges claimed and Loewe is "getting back to where it wants to be". Since the company was restarted 3.5 years ago, 149 new jobs have been created and the company is almost back to 600 staff.
Image and sound quality has always been important to the firm and the best image quality is currently OLED and most products have an integrated soundbar. The company believes that having its own OS and platform remains important to deliver the best customer experience.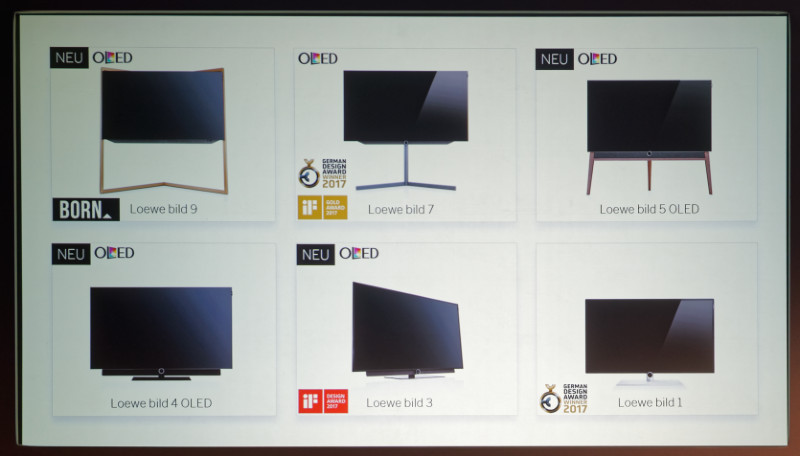 Loewe's TV Range is all OLED at 55″ and above. Image:Meko
The Bild 7 has had very good reviews that highlight the design and image quality and it has won 11 awards including the 'Born' award.
At the top of the range is the Bild 9 and that came out in the spring after a preview at IFA last year. It was designed with a famous designer and feedback from the lifestyle press has been enthusiastic.
The Bild 7 OLED TV is now shipping and it is seen as a 'pure' product with 'cinematic' quality.
Moving down the range, the Bild 5 also uses OLED but is a modular design and that makes it more customisable,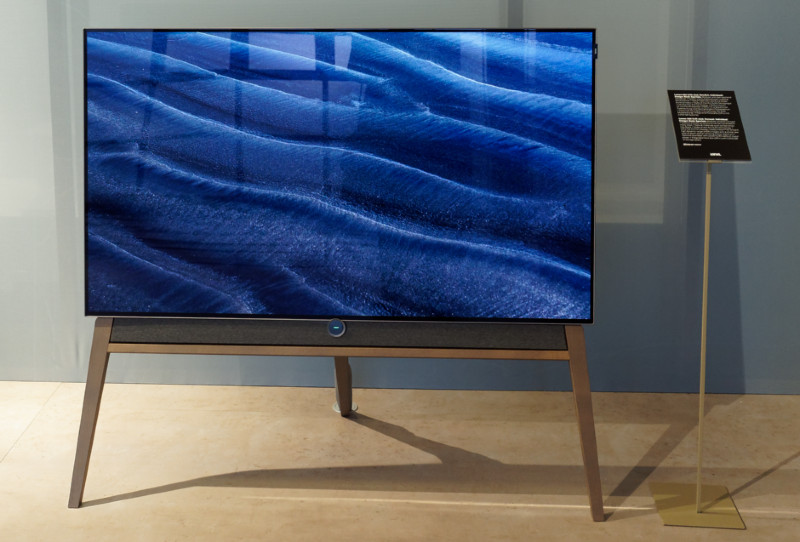 Loewe's Bild 5 55 OLED Image:Meko
The Bild 4 is intended to be a simple product and there is a Bild 3 UHD range that includes OLEDs and with LCDs at 43″ and 49″.
Loewe is developing support in its products for the Amazon Alexa technology, as Loewe's customers are clearly interested in that technology and it will add support for the technology.
Hospitality business is important for Loewe and it can offer not only premium design, but can also use its own platform to customise for customers in the hospitality industry.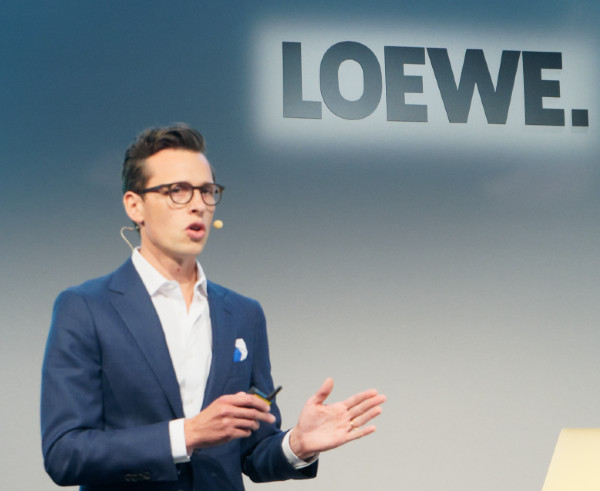 Next to speak was Loewe's CXO, Jonathan Herrle who said that the qualities of OLED have really fitted Loewe's values and now five of the six ranges have OLED options.
After going through the features of the Bild 9 and Bild 7 (55″/65″ and 77″) Herrle said that they would cost from €4990. The back of the set has a textile cover that can be customised.
The Bild 5 range uses wood, glass and metal and it is very flexible (in 55″ and 65″) and can be bought without sound bar from €3490. It is available in Silver Grey or Black.
The Bild 4 is an 'entry level premium' product that is an OLED set at 55″ only, from €3490.
The new Bild 3 replaces the older design with this name. Some customers are down-sizing in Germany and small sized sets are still popular so 43″ and 49″ sizes are available with LCD, but still including the textile cover. City livers that want a 55″ can get an OLED unit and pricing of the Bild 3 is from €1790. A range of mounting options is available for the Bild3.
Loewe Adds an App
Loewe has a relaunched Loewe App that can duplicate the remote control functions with smartphones and tablets. Now, the app can access media content on the network and stream to the TV. The App also allows control of the set remotely to set recording on the integrated DVR.
Herrle said that to make the TV more convenient, Loewe will integrate Alexa voice technology.
In audio, there is a new Klang 9 speaker system, which no longer needs a sub-woofer. It has big reserves of power with maximum power of 310W. The company has also developed the Loewe Klang m1 – a Bluetooth speaker with 20W of stereo power and 12 hour battery life. It was launched at IFA last year and sells for €149.
Loewe likes to look ahead at design trends and the company has made a movie of a new design idea, using a slim frame that stands away from the display and to hold it. The design concept looks as though it uses the 'Wallpaper' TV concept (see the images below).
There were a number questions about relationships with asian companies, but the firm is 100% owned in Germany and all sets are made in Germany. The company has close collaboration with Hisense and with LG Display.
Booth Tour
The booth tour reinforced the model information described in the press event. The newest TV is probably the 77″ OLED Bild 7 model, which sells for €14,990 Euro (the 65″ is €6,990 and the 55″ is €4,990). All Bild lines (3, 5, 7 and 9) have OLED models now. Many support HDR10, HLG and Dolby Vision as well. Color performance is said to be 100% of DCI-P3.
What was different in the booth were several design concepts called Bild X Concept. These used Wallpaper displays with an added backing in a series of different, but related design concepts. The contol and input boxes are, as they are on the LG Wallpaper design, separate.