Sony's press event was very over-crowded, so we ended up watching it on a stream from the press centre as it wasn't even going to be possible to get good photos.
In TV, the first announcement was that Sony will release its 77″ OLED TV in Europe in around a month's time.
The company also has a new tiny camera, the RX0 which will cost around $700 but is a high quality stand-alone camera for video that can also be used in multi-camera setups. The image quality is said to be close to the RX100 as it has a 1″ Exmor CMOS sensor and 24mm F4 wide angle lens. It can also be used as an action camera as it is waterproof to 10 metres and can be dropped from 6.5M. The RX0 can also be used with drones as it has a very light weight.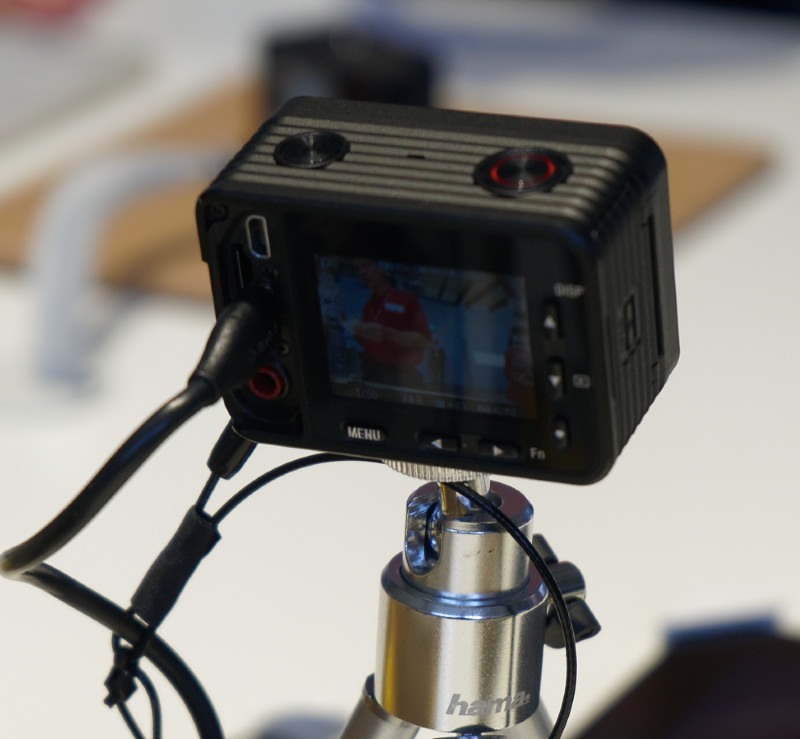 Sony's RX0 camera is very small
There are new noise-cancelling headphones that are adaptive and change their performance depending on the situation. For example, when you are moving, they allow some sound to avoid safety issues.
The Xperia XZ Premium phone was released earlier this year and Sony said it has won very good sales. Now two new models in this family are being introduced. The XZ1 (5.2″) and the 4.6″ XZ1 Compact models have Sony motion cameras with super slow motion as well as other enhanced camera quality. They also have very high quality audio, Sony said.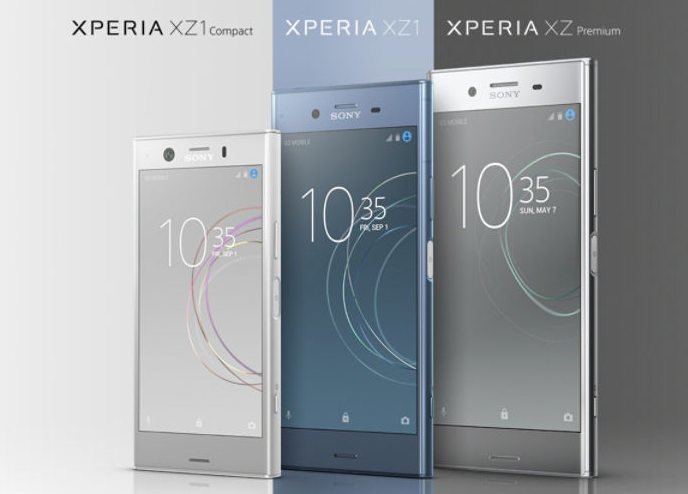 Sony added lower models to its XZ Experia phone range
A new 3D creator function gives a new function to scan a person (including yourself) or an object in 180 or 360 deg to create an avatar that can then be used for playing in AR. The 3D scans can also be used to create 3D objects with 3D printers.
Both phones use the Snapdragon 835 processor with high speed LTE and will be among the first phones to support Android 8.0, "Oreo".
The XZ1 Compact has a superwide 8MP front camera for group selfies while the XZ1 has a 13MP camera. The display on the Compact is a 4.6″ 720 x 1280 HD display with Sony's Triluminous extended gamut technology and with Gorilla Glass 5 protection. The XZ1 has a 5.2″ FullHD IPS LCD and the phone supports HDR10. The phones are waterproof to IP68.
THE XZ1 will ship from the week after IFA, and the XZ1 Compact will ship in September.
Sony Booth Tour
The highlight of the Sony booth was the new 77″ version of their OLED-based A1 TV as well as a new home cinema projectors.
Three new projector models were launched: the VPL-VW260ES, 360ES and 760ES. All use a trio of native 4K SXRD (LCOS) panels and are HDR capable. HDR image quality with projection depends on the light level, contrast and screen size, with smaller screens able to deliver high peak luminance values. The 260/360 models are lamp-based (1500 lumens) while the 760 uses a laser phosphor engine (blue laser and yellow phosphor and 2000 lumens). HDR10 and HLG decoding and support is included in all three as well as a dynamic iris.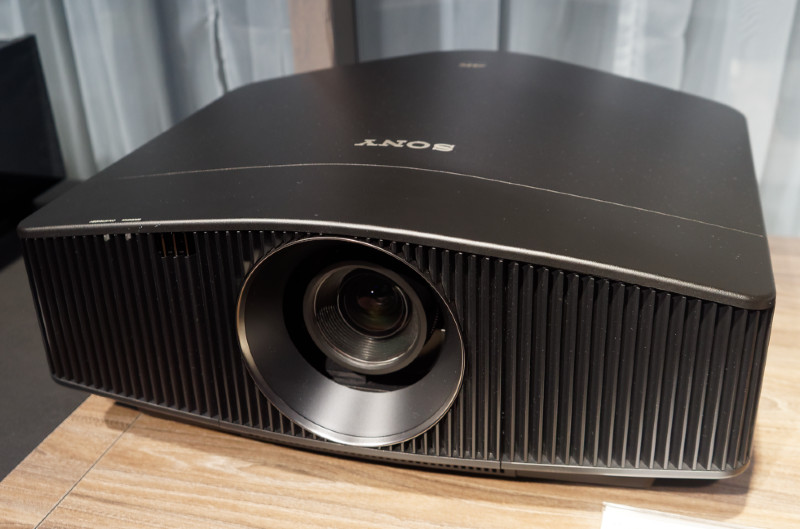 The Sony VPL VW760ES has a laser phosphor light source. Image:Meko
We saw the 260 playing back some HDR content on a 100 inch screen. The brighter bits of the image had good punch and were nicely elevated above the mid gray levels. However, the black level was a bit high so the dark tones were a bit muddy.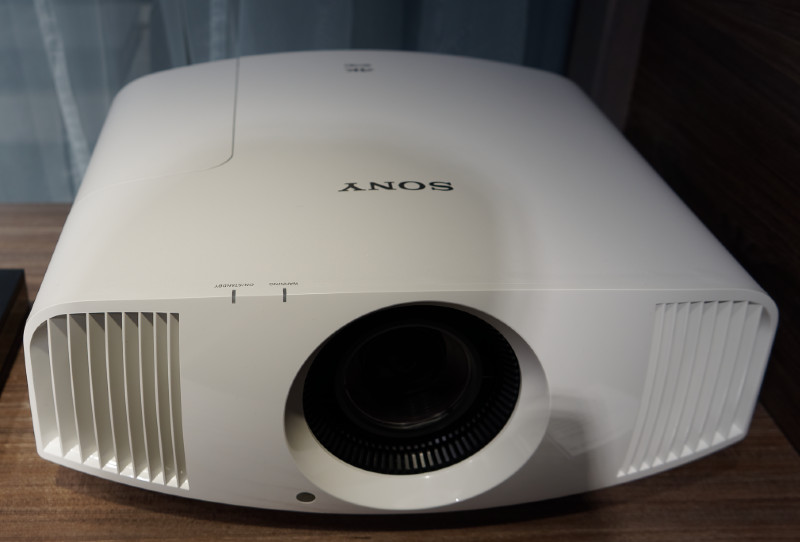 Sony's VPL VW260ES has good image quality and true 4K resolution. Image:Meko
The Bravia 77″ OLED A1 4K HDR TV was showcased in the booth and is quite similar to the 55″ and 65″ versions in the line. The series supports HDR10, HLG and Dolby Vision (via a firmware update planned for later in 2017). Sony confirmed at the show that it would roll out Dolby Vision on some of its older high end sets, but not on the Sony UltraHD Blu-ray player.
Sony also incorporates the Acoustic Surface technology whereby the display itself can act as a speaker. New purchasers of any 2017 Bravia Android TV will also receive a Google Play bundle which includes a 3-month Google Play Music access, a special booster pack from EA's Real Racing 3, and the choice one 4K-UHD movie from a blockbuster selection including Spider-Man: Homecoming. The 77″ A1 model is available for pre-order now for around $18K.
Sony's 77 inch OLED looked very good – Sony knows how to show its products well! Image:Meko
The RX0 camera was being shown in a number of configurations including one with a small dedicated controller (about the same size as the camera itself) that allows extra functions. There was a cluster of 22 cameras designed to give 360º capture as well as a two sided three by three array that might be used for lightfield capture. The camera was shown with a small controller add-on, that allows remote control but we weren't able to find information on this unit after the event.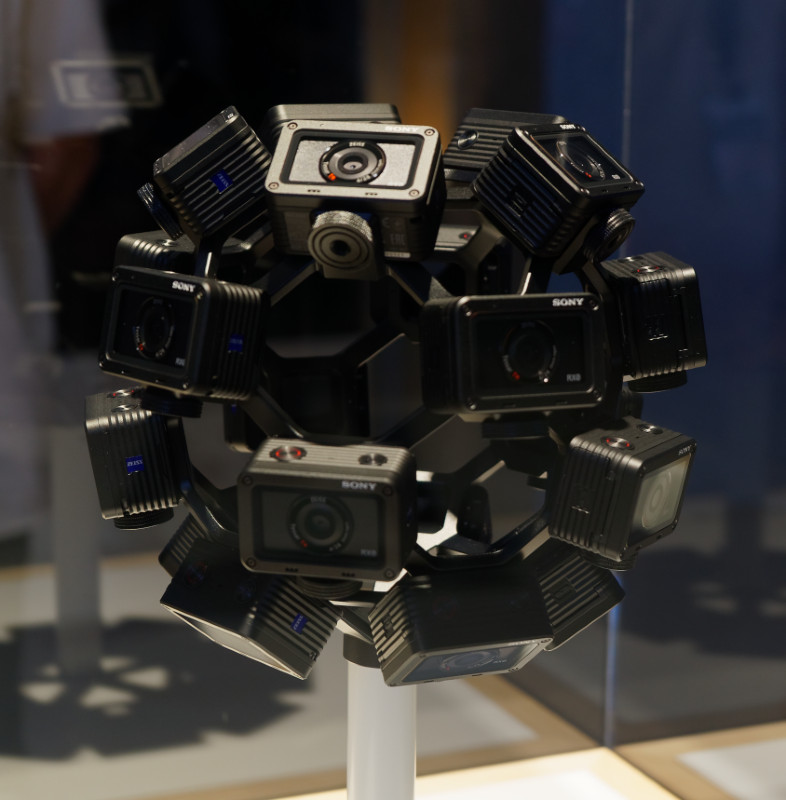 This cluster of 22 RX0 cameras allows 360 degree capture. Image:Meko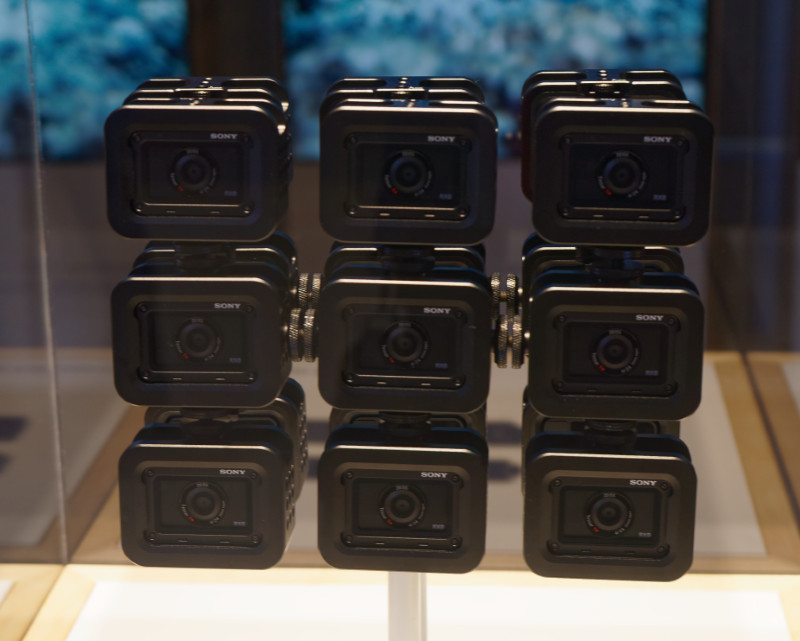 RX0 cameras used for lightfield capture. Image:Meko
Sony had an area devoted to technology innovation and once again it showed the idea of an overhead projector and camera system that could be used with mapping technology to allow interaction between the projected image and real objects such as decks of cards or, as in the picture below, with a book. Staff were able to 'drag' animated characters from the page.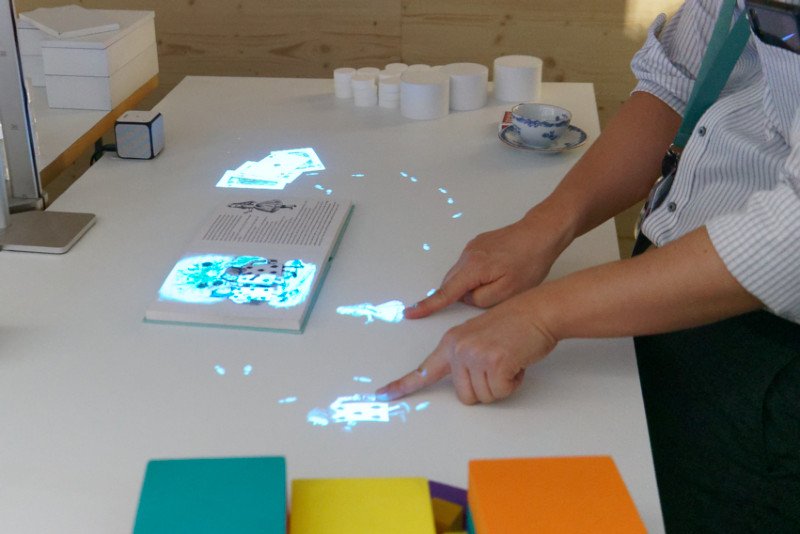 Sony's Mapped projector demonstration is still just a 'technology demo'. Image:Meko
Another start up project shown was of a Huis remote control that used an addressable E Ink display. The remote controller is still only available in Japan, although it is now a mass production product.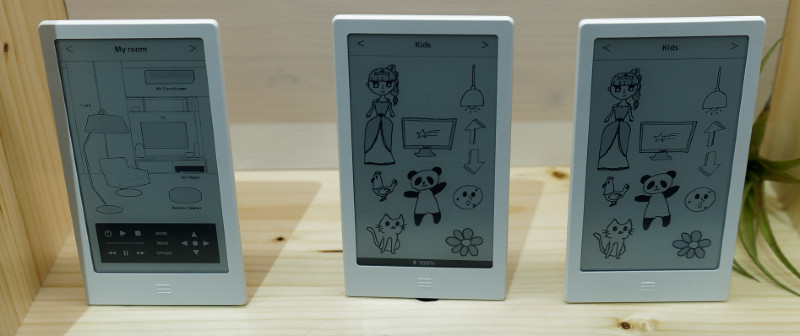 The Huis remote control uses an E Ink display and is sold only in Japan. Image:Meko