After TCL's audio overload, we were looking forward to some moderation from Philips, but no, it started with an audio blast – although not with quite the body blasting bass of the Chinese brand! (spoke too soon and it got even louder when the TVs were shown!). The presentation used a big curved LED display with six Panasonic projectors covering the sides of a semi-circle presentation area..
Egbert van Acht from Philips opened the event which was shared by Philips, Philips Lighting and TPVision, the joint venture between TPV and Philips for the Philips TV brand. Of course, health and well-being is the focus for Philips these days. From the outside, Philips may be seen as a device maker, but internally it sees itself as a software and data company and has more software developers than other types of engineer.
For good health you need two way data exchange, Acht said, and that means you have to trust the partner and Philips believes it has that position of trust. The press event focused on five areas.
Care Orchestrator is a cloud-based system for working with patients with long term sleep and breathing problems. Health care providers and doctors can access and share all the data from the patients for better tracking and condition management. The company has 2.5 billion nights of sleep data and has used 5 million connected devices over ten years to collect data for analytics.
The Avent uGrow 'medical grade parenting app' helps new parents to measure and track feeding and sleep patterns as well as providing a smart thermometer and an air purifier for use with infants.
Pollution is a big problem and air quality can be worse indoors than outside. Philips has air purifiers which are smart and can automatically adjust to different pollutants and allergens.
Cleaning teeth helps keep teeth strong and Philips has a new solution called Breath Care
There is also a new Lumea Prestige light-based hair remover,
Next on stage was Kostas Vouzas from TPVision and he started by saying that the company had a new marketing campaign using the line "Philips TV. Looks Better".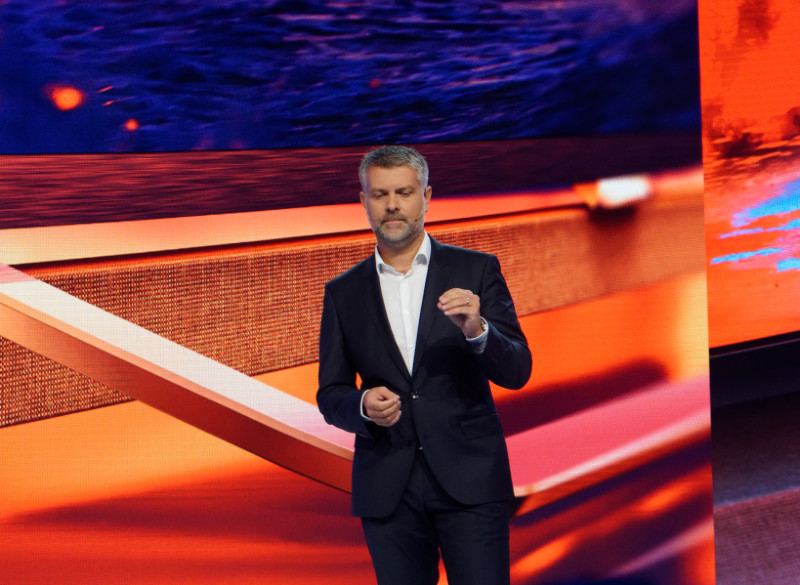 Philips used an LED background that was very colourful. Image:Meko
There is a new P5 picture processor and a continued use of Ambilight with a 65″ OLED TV. Philips has won many design awards over the years and that continues. Vouzas said that Ambilight is not new, but has been 'dramatically improved' over the years. Buyers say that once you are used to Ambilight, you don't want a TV without it.
The new P5 engine performs the upscaling for UltraHD and for HDR as well as improving motion quality and the chip is said to be especially good at improving streamed content.
The 8602 is new QD-based LCD TV, the first with Ambilight and the P5 processor and has an integrated sound bar The 901F was launched last year and it has won awards as the best image quality in the market. The 9002 is the latest version, has already been launched and won the Best Buy OLED TV award from EISA as well as a RedDot design award.
The new 9 series 65″ OLED has Ambilight and is the new 'flagship' design. It has also won a RedDot design award, runs Android TV and is certified to the UltraHD Premium level.
Philips said that once viewers get used to Ambilight, they don't want TVs without. Image:Meko
Philips Developing IoT from Lighting – and Using Gaming to Control Lighting
Chris Worp is from Philips Lighting and showed how the Philips Hue system could work to deliver variable lighting. The Hue brand of ip-controlled lighting is five years old and is the leader in smart lighting in the home. Philips believes it is successful because of the wide range of compatibility which allows fitting of Hue devices to 80% of all light fittings. It is said to be easy to set up and is kept up to date with over the air updates. It is also the most connected system, working with Alexa, Apple HomeKit, Google Assistant and DingDong (a Chinese version).
New accessories will be added to support HomeKit from Apple. The Hue Tap switch can control not only the Hue lighting, but can also control a home thermostat, the window blinds and the locks in the home. There will be new entry level Hue packs and multi-packs for full home use coming.
A new feature launch is to integrate with entertainment. The Hue lights will synchronise with gaming and other entertainment content. It will be released to unlock the functionality to all existing Hue devices. The Hue Entertainment concept is being developed with a number of content providers in gaming, movies and music.
"Its like 'surround sound' for the eyes", Worp said.
Booth Tour
The highlight of the Philips TV area in its expansive booth was the new 9 series 65″ OLED TV with an integrated soundbar. It features the new P5 processor and a much improved three-sided ambilight. Peak luminance is specified at 900 cd/m² with 99% of DCI-P3 coverage. It is an Android-based TV and Philips/TPVision intends to add Google Assisant to the platform later this fall. It features a 6.1 sound system plus UHD Premium certification. There is HDR10 and HLG support, but Philips is "watching" Dolby Vision. They seem inclined to now take up HDR10+.
Philips likes to add an additional measure it calls "picture performance index (PPI), which seems to be undefined. Therefore, their 3800 PPI rating is called incredibly high, but without a definition and ability to compare to other sets, it seems like a meaningless number to me (CC). It is scheduled for availability by the end of the year or early 2018 with pricing to be announced.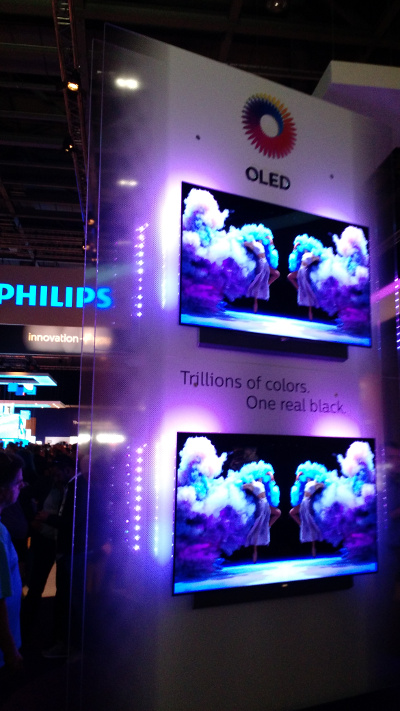 Also new are two quantum dot TVs in the 8602 range at 55″ and 65″, the first from Philips to use QD technology. We understand that Philips will not use the QLED name for these sets. These feature the P5 processor, three-sided ambilight, integrated floating sound bar, android OS and HDR support – so the same features as the 9 series OLED TV. Higher end real materials like a super-slim aluminium bezel and Visible Sound via a cleverly integrated, front-firing sound bar encased in European Kvadrat cloth, as included as well. Peak luminance is specified at 1100 cd/m² with color gamut coverage of 98% of DCI P3. The 8602 TVs should ship by October and is UHD Premium certified.
The new P5 processor chip "offers 50% more performance, 25% more calculating power and 25% more algorithms." Particularly upgraded was source detection, and as noted in the press conference, there was a focus on improving streamed sources. Other upgrades includes noise reduction and sharpness enhancement. Philips also improved the architecture for better flow, which was facilitated by moving from a 3-chip solution to a single-chip solution. The pipeline now includes 14-bit processing, but the color booster and processing section is 17 bits.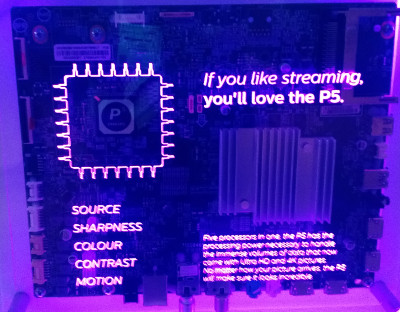 The P5 engine also offers a significant improvement in contrast performance thanks to the inclusion of Hybrid Log Gamma (HLG) processing, a new local contrast enhancement system and a new 'sparkle & darkle' contrast enhancement feature detection algorithm plus improved HDR up-scaling.
Motion sharpness is improved in LED and OLED panels thanks, said the firm, to the 4 billion pixels processing power of the Perfect Natural motion technology that is intended to ensure that even the fastest moving Ultra HD images are reproduced as fluid motion while maintaining sharpness.
Philips also plans to release an app for 2017 Android and later TVs that allows the programming of the AmbiLight TV feature from a smart device. Users will be able to change the mode of operation or set custom colours. The Android version is expected next month with an iOS version following on.
Consumer and Commercial Monitors were Shown
Philips didn't mention monitors in its press event, and we heard that this was because there was a feeling that there was not enough that was 'really exciting' – I suspect that it also might mean that MMD (which runs the Philips monitor business in Europe) probably didn't have to contribute to the cost of the event, either! (BR). However, we saw plenty that was interesting.
The company was highlighting its 'Momentum' sub-brand for entertainment monitors – which Philips wants to market both for games and for video watching. In the Momentum line there will be two 43″ UltraHD monitors – Philips was a pioneer of the size – and the two models will have different support for HDR. The BDM4376U monitor has support for 1,000 cd/m² of output and will use the HDR1000 logo. The monitor will ship from the end of Q1. The 436M6VBPAB adds the AmbiGlow feature that colours the area around the monitor and will support USB Type-C with notebook charging.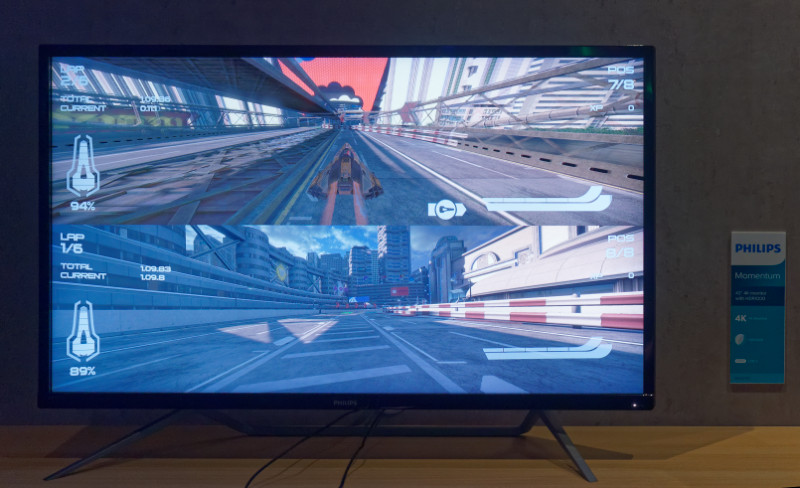 Philips BDM4376U will support HDR1000 when it comes to market. Image:Meko
One of the innovations was the showing of a new 49″ 32:9 aspect ratio curved monitor (492P8), similar to the one that Samsung has, but whereas Samsung is promoting these monitors for gamers and uses QDs for wide colour gamut, Philips is aiming at commercial users and showed two of the displays used together for a 'control room' application. The monitors support USB Type-C as well as DisplayPort and HDMI and have resolution of 3840 x 1080 and with an 1800mm radius on the VA panels. Brightness is 'up to' 600 cd/m² and colour gamut is sRGB. However, the monitor won't be seen for some time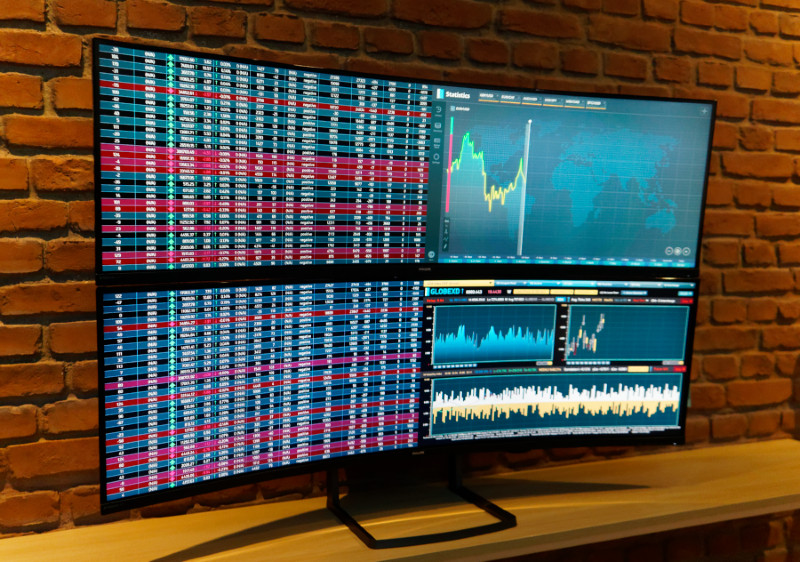 Philips showed its 492P8 49″ monitors in a control room application. Image:Meko
The second monitor we looked at was a new '8K' monitor that has a 31.5″ diagonal IPS panel and has support for the 'HDR400' level of HDR performance. Colour gamut is 100% of AdobeRGB and more details will be available near release which will be during the first half of 2018. To support the high resolution, the monitor will have dual DisplayPort 1.3 inputs. The monitor will have a four side borderless design.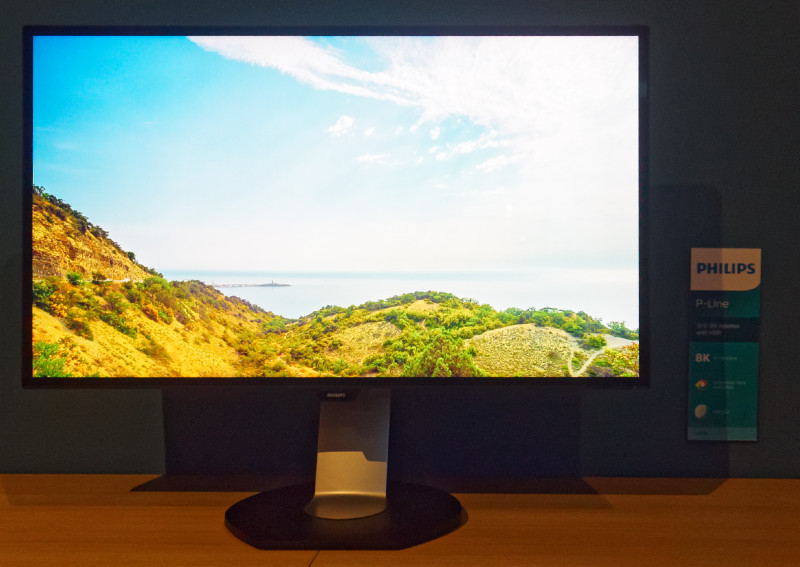 Philips will ship this 8K monitor in 2018. Image:Meko