Staff at LG Electronics were rejoicing. The main OLED display area (with the curved, double-sided display) was right next to the Epson booth and Epson had arranged to have the overhead lighting reduced to improve the look of its projection products. This meant that LG's OLEDs were not having to compete with high ambient light, so were looking very good.
A new use of the very thin OLED was an 'In Glass' display which sandwiches a double sided OLED in glass, and making a very eye-catching display for high end retail. The company told us that a museum in New York City was due to have a big range of OLEDs, 'soon'.
LG was highlighting the range of different OLED solutions that it has. There are specific video wall OLED panels, the 65EV5C, which have two narrower borders to allow assembly into configurations with slim bezels in one plane. One of the joys of A/V is that there are always applications for technology that we hadn't thought of. One that LG highlighted is that it's 'wallpaper' OLEDs are so thin and light that they have been identified as ideal for ceiling-mounted applications and have opened up this possibility in places where this wasn't an option before. LG also told us that it is seeing the adoption of OLED in hotels for TV and other applications from this year.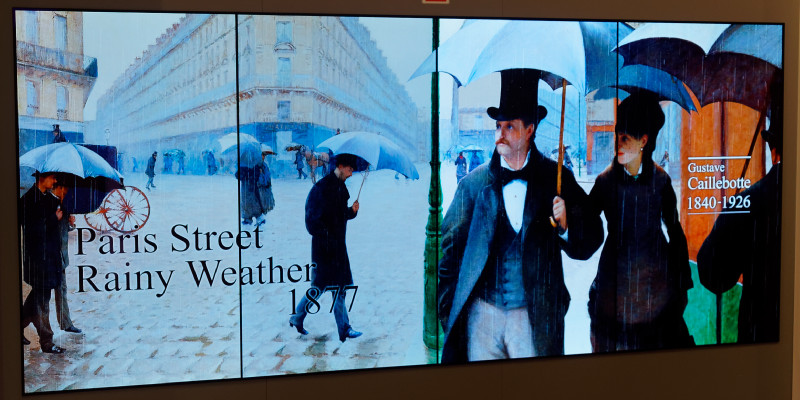 We reported the new LED 'film' from ISE and from the PTE show in Rotterdam. However, Infocomm was the 'official launch' of the technology and LG told us that it had got a great response from partners and contractors who could see a huge range of opportunities partly because the film can be easily used where there is existing glass. LG told us that it had already got orders for retail applications.
LG was also showing off its high brightness (1,500 cd/m²) 55″ video wall panel, the 55VX1D which has a 3.5mm bezel width. The company has done particularly well locally and has won a big project for Orlando Airport and we got to see the wall on our departure.
For outdoor display applications, LG, of course, sells systems from LG MRI but is also developing its own solutions and has a 75″ outdoor system that is currently in development.
New at the show were a couple of interactive displays that represent the first entry of LG in the US into the education and meeting room markets. There is a new 75″ monitor with PCap touch. There is also an 86″ with 'In Glass' touch – which means technology from Flat Frog. LG has worked with Cisco, Extron,Crestron and others to ensure compatibility. Details of the displays were scarce as this was not a formal launch and they will be available 'later'.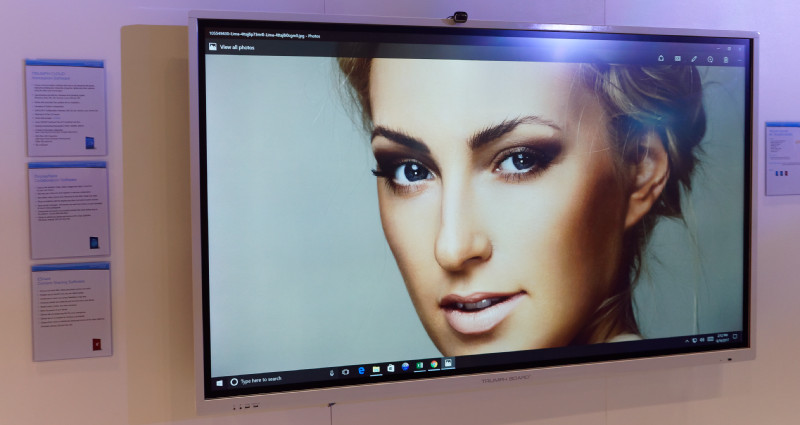 This LG interactive display uses Flat Frog infrared technology. Image:Meko