As well as TVs, LG had plenty of other products on its stand. There were not so many professional products on the booth this year, but in the middle was a 'pillar' made of six convex OLED displays with 77″ diagonal, used in portrait orientation. Each of the displays covers 60º to create a complete circle. The panels for this were also shown by LG Display, but staff on the booth had no more information on availability or pricing. There were also 88″ 'stretch' displays.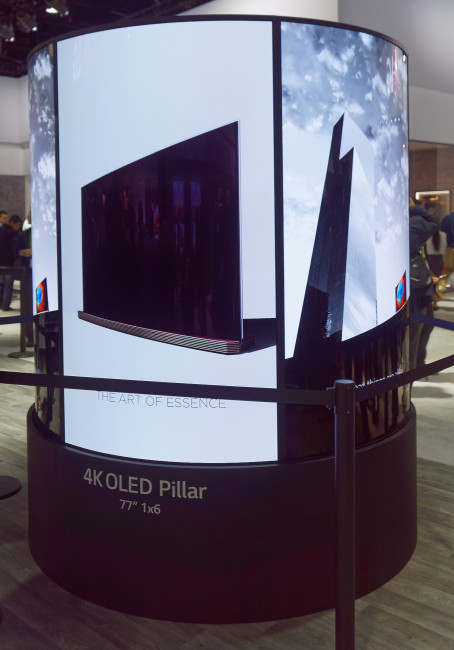 There was no info on the LG OLED Pillar. Image:Meko
The first product that we looked at was the V20, new in the US, but announced last August. The 5.7″ QuadHD IPS phone is now available in the US and features a quad DAC audio system and dual rear cameras (one 16MP and one 8MP) and running Android 7.0 (Nougat).
Also being shown was the LG Gram 13Z970 notebook that now has the latest Intel 7th generation Core i5/i7 and that weighs 2.07lb (0.94kg) and has a 13.3″ FullHD IPS display. There's a second version, the 14Z970, uses a 14″ FullHD IPS touch display with weight increasing to 2.13lb (0.97kg). The third version is the 15Z970 sees an increase to a 15.6″ panel, with the weight going up to 2.41lbs (1.09kg), in what LG calls a '14"-sized body'. All three models have Type-C connections.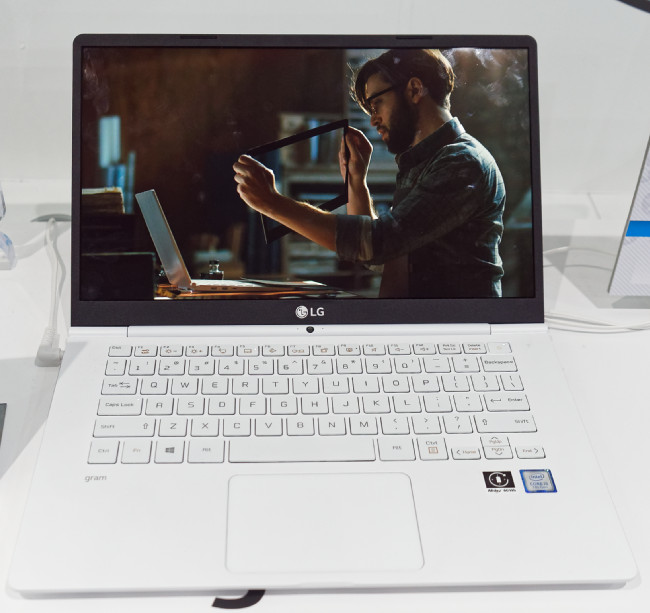 LG's 14Z970 notebook uses the latest Intel processors and is very light. Image:Meko
The company announced the fridge with a 29″ transparent touch display in its press conference, but there were no clear details on shipping dates or pricing. The transparency makes the fridge more useful than the Samsung model shown last year, which was not transparent. Seeing what is in the fridge is useful, but there is also an integrated camera so that you can look in the fridge remotely, for example when in the supermarket.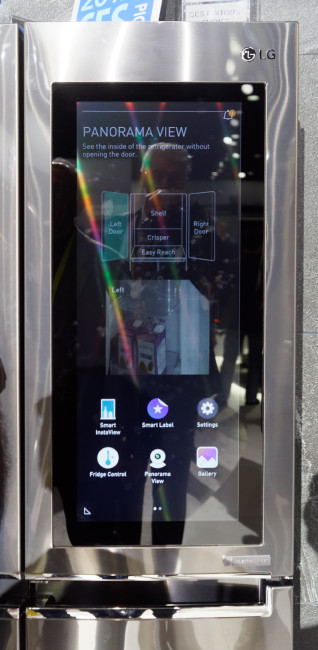 Turning to monitors, LG was showing the 21.5″ DCI-4K (22MD4K) and 27″ 5K (27MD5K) monitors that it has developed to go with the Mac Book Pro.
The company announced the 32UD99 32″ in December and was showing it in a triple portrait configuration. The monitor has UltraHD resolution with 95% of DCI-P3 gamut and 350 cd/m² (500 cd/m² peak) and is the first LG monitor to support HDR (HDR10). The monitor has narrow bezels and can be colour calibrated. It has a USB Type-C that can charge notebooks (60W) and there is also a DisplayPort (supporting FreeSync) and dual HDMI ports. There are dual 5W speakers and the monitor has 110mm of height adjustment.
The 32UD89 has many of the same features but the colour gamut is 99% of sRGB.
The 27UD69 is a 27″ IPS UltraHD monitor with 99% of sRGB and is '3-side borderless' that will be coming later this year. The DisplayPort (with FreeSync) and dual HDMI configuration is carried over from the 32″ models and the company said that the unit features low latency for gaming. It can be colour calibrated, but other details were not available, yet.
The 34UM79M was announced a while ago, but this was our first chance to see it. It is a 21:9 format 34″ with a 2560 x 1080 flat panel. The monitor includes integrated Chromecast, so it can be used to view OTT video content and has a "Dual Controller Plus" feature that allows a smartphone or PC to be controlled with a keyboard and mouse connected to the monitor. Features include 1ms motion blur reduction and FreeSync. There are dual 7W speakers. The 38″ monitor that was launched at IFA was also on show.
In a corner of the booth was a projection area. We were surprised to see the HF80JA, a laser/phosphor FullHD projector with 2000 lumens of output with a compact format and intended for home cinema use. Lifetime is 20K hours and the projector can create an 80″ image at 8.1ft (2.47m). Like the monitors, it can support wireless connection to Android devices to allow viewing of OTT content and it supports Bluetooth sound out (although it also includes dual 3W speakers). There are dual HDMI inputs as well as USB and RJ45. The projector runs WebOS 3.0 to give SmartTV functions and it has dynamic contrast of 150,000:1. The projector is expected to sell in the US for around $1,500.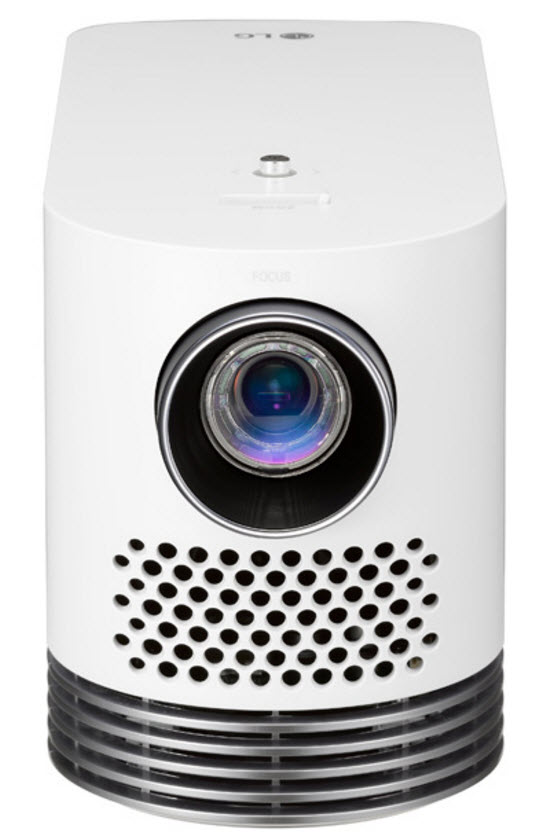 The FullHD LG HF80JA has an L/P light source and costs $1,500