Absen had a very nice looking booth with a big curved LED screen above the booth providing a "sports book" atmosphere. This display featured their 2.9mm LEDs and exhibited no screen door effect from the show floor.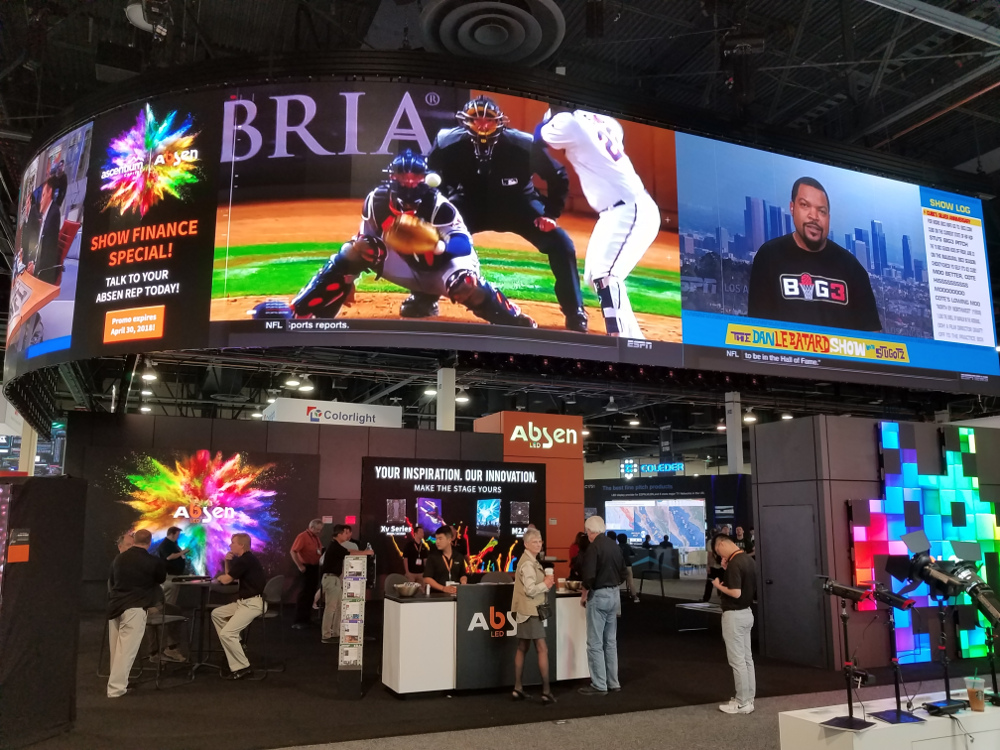 Absen also highlighted the newly launched Acclaim line, a fixed indoor series with pixel pitches ranging from 1.2 to 3.8mm. These are aimed at houses of worship, broadcast and other high value installs. These are packaged as 27.5" cabinets so a 2 x 2 configuration makes a convenient 55" display. They also include redundant power supplies for mission critical applications. Brightness is 700 cd/m² with 14/16 bit grayscale and 1920/3840 Hz refresh rates.
The company also told us about some new financing options they have with partner, Astirium. Because of the new U.S. tax laws, end users can now write off 21% of the cost of the display solution for projects under $1 million, so they are pushing that and financing options to close deals.
Also new is the Polaris Cobalt series with the 1.9mm being highlighted at NAB. Cabinets are 500 x 500 mm square and with the 1.9mm pitch yielding 256 x 256 pixels per cabinet. Brightness is 600 cd/m² with 13 bit grayscale and a refresh rate of 1920 or 3840 Hz. This series is intended to be more rugged for indoor use and features the company's first Chip on Board line with "NanoShield" technology, which we presume is a heavy epoxy coating. This was being shown as a tech preview. (for more on Absen's COB technology, see our ISE report Absen Develops CoB LED Technology)
Aoto was showing their standalone FHD resolution display composed of four LED modules. This is a very nice unit with its own packaging to looking like a big TV using 1.2 mm pitch RGB SMT LEDs. It is front and rear serviceable and has DVI input, so not quite optimized as a TV. The unit is called CLD108 and it measures 2400 x 1350mm (94" x 53"). No pricing was disclosed.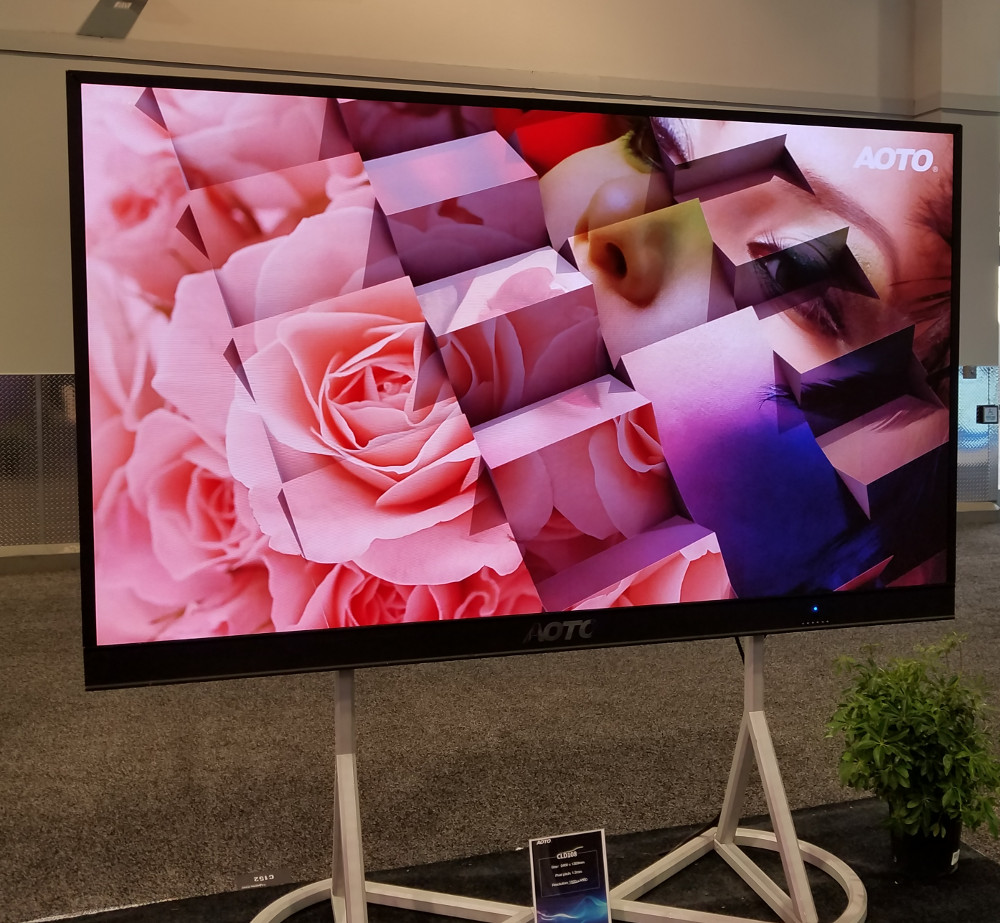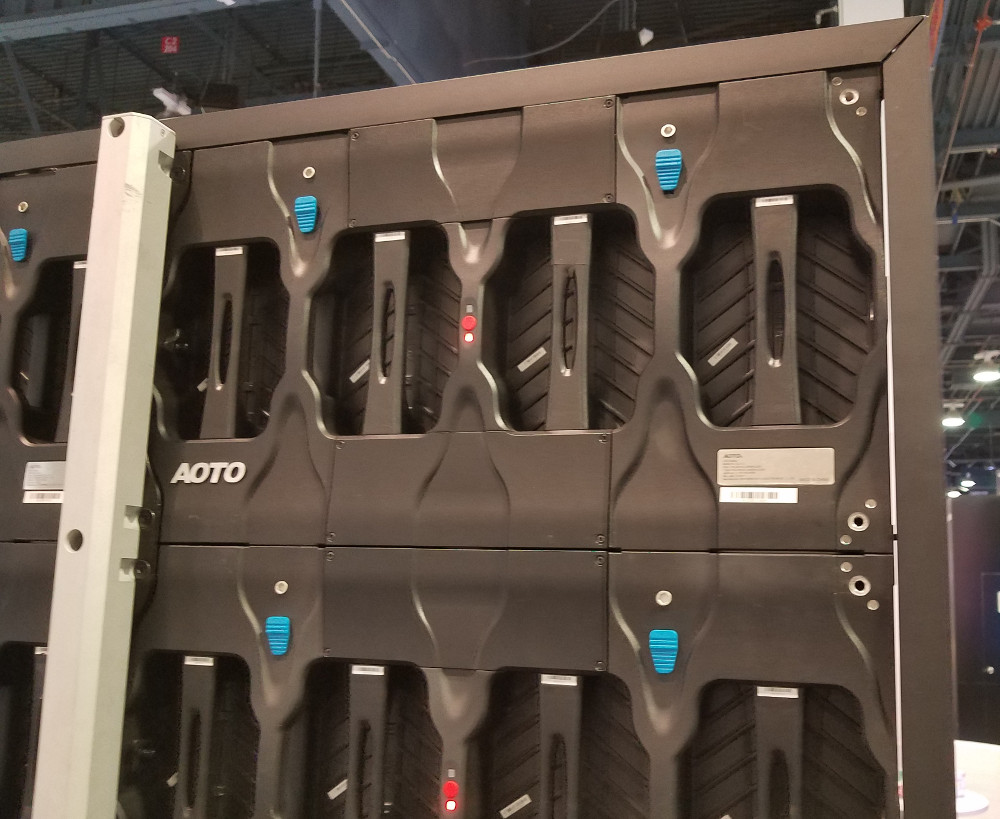 Aoto representative say they are working on a 0.7mm module in R&D. They also showed us a new line from their recent purchase of GTek. These modules can be curved in concave or convex shapes. (see report from PL&S – AOTO Exploits GTek Acquisition for Rental)
DeepSky is a Hong Kong-based development company that was at NAB to show their latest microLED-based display. For two years, since we first reported from IBC in 2016, the company has been developing its Chip on Board (CoB) LED manufacturing technology along with their own driver ASIC. A year ago, they showed their first engineering samples made with their lab-grade equipment. Since then, they have been working to improve manufacturing and migrate to commercial grade equipment. This process is coming along nicely, we were told with robotic operations now in place.
Their design is different than their competitors as they integrate an ASIC with each CoB module. The V1 product is now production ready, but their repair machine is not yet fully operational. However, once the module has been tested and accepted, it is encapsulated to "protect and warranty it for life."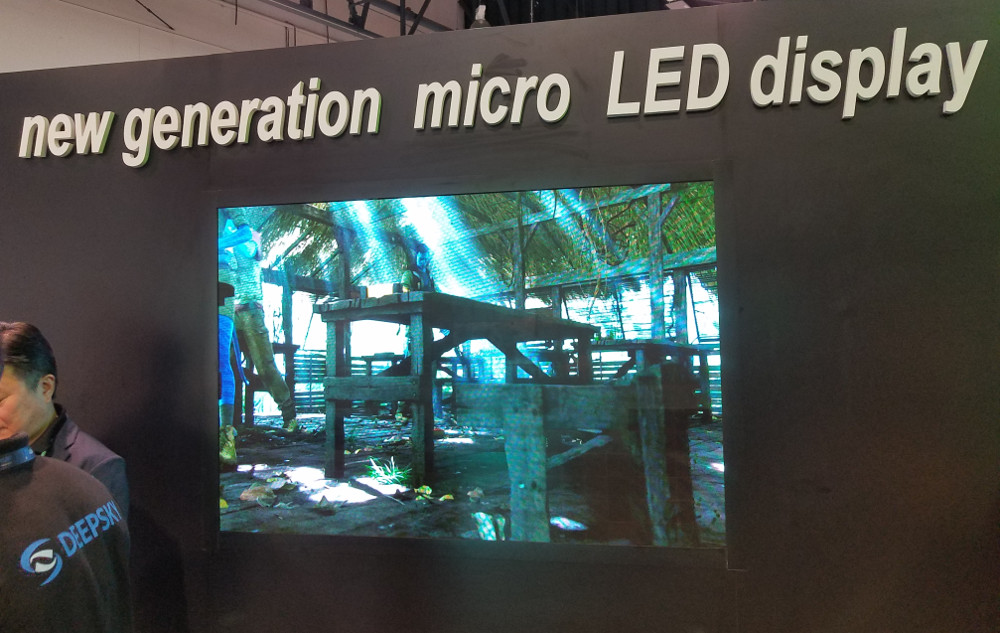 In terms of performance, the modules are rated at 2,700 cd/m² and are HDR compatible. The LED die are in the size range of 50 to 150 microns and are commercially available. The ASIC does an 8:1 multiplex of the signals. The nominal pixel pitch is 0.9mm, but it is not a conventional architecture. RGB microLEDs are arranged in a triad configuration they call "Delta-Enhanced". The horizontal spacing between sub-pixels (0.75 mm) less than the vertical spacing (1.125mm). DeepSky is also using some form of sub-pixel rendering to create more resolution than a count of the sub-pixels would suggest. This was evident when viewing the display as there were clear structures visible at distances where no structure would be visible with a more conventional 0.9mm RGB LED module.
The color gamut was quoted as 79% of BT.2020, which sounds like it is a bit short of DCI-P3 (depending on where the primaries are – they are off on the blue, we were told). Pricing is said to be equivalent to a 1.2mm LED module.
Officials were quick to also point out an advantage of their driver: they can change the current to the LED, not just vary the pulse width as with most drivers. This will allow a local dimming capability in addition to the ability to adjust brightness via PWM. This should allow for 12-bit gray scale and good control over the darker tones.
While DeepSky is pursuing a CoB approach, they also acknowledged there are challenges to this technology. In particular, CoB can have reduced viewing angle, inconsistent colors and black uniformity issues compared to the conventional SMD technology. Some of the colors can be less saturated due to the heavy black encapsulant to cover the entire module.
Liatronics was highlighting its new 1.2mm LED cabinets which they had assembled into a FullHD resolution wall. The display can support 16 to 18 bits total (to be divided between red, green and blue) and brightness is 600-800 cd/m². Quantization errors were visible. We asked about the color gamut, but this was not available.
The company also has a 0.8mm version that it says is now being offered for sale. This was shown in a 2160×1215 configuration.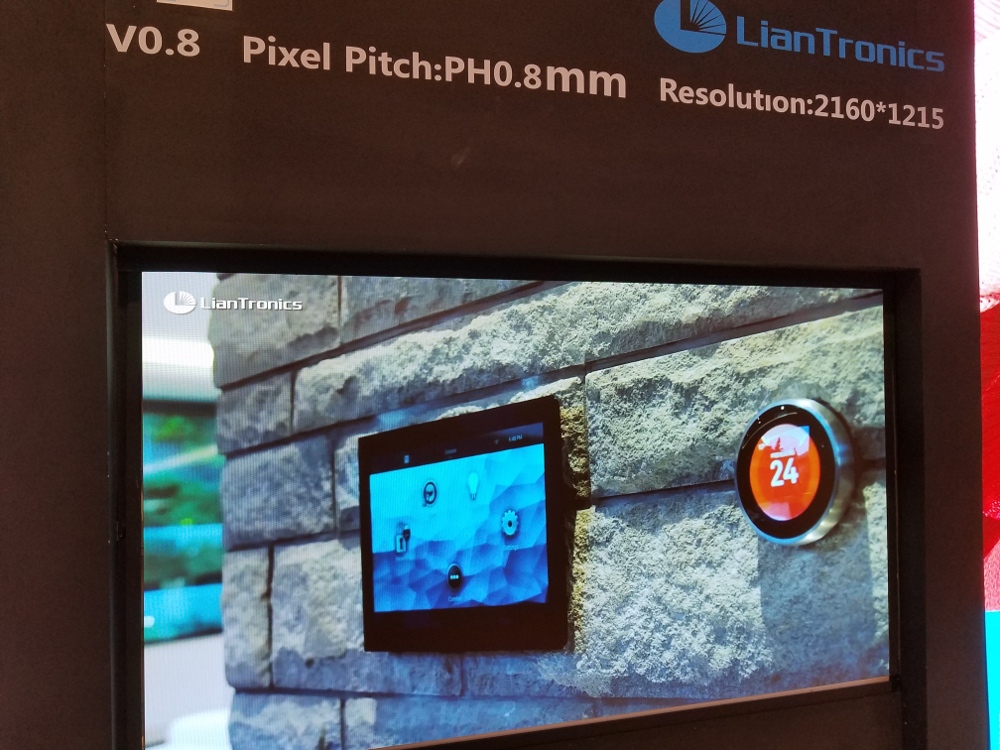 Planar, a Leyard company, did not show anything new at NAB, but instead, focused on showing its range of solutions. One of the more broadcast-focused products is its fine-pitch LED video walls. The TWS and TVF series are said to be particularly well suited for in-camera use. (see our report on the Leyard Barcelona showroom opening for more – Leyard Shows Us Around)
The Leyard TWS Series is available in 0.9, 1.2, 1.5 and 1.8 millimeter pixel pitches with a 27″ diagonal cabinet with a lightweight design intended makes them easy to handle, making it an attractive solution for applications where traditional, hanging or curved video walls are required. The Leyard TVF Series is available in 1.5, 1.8 and 2.5 millimeter pixel pitches with a similar 27" cabinet. Both are front serviceable and feature convenient interconnection and panel adjustment capability. Power and signal pass between cabinets on the edges so no external cabling is needed. Brightness is in the 600 cd/m² range.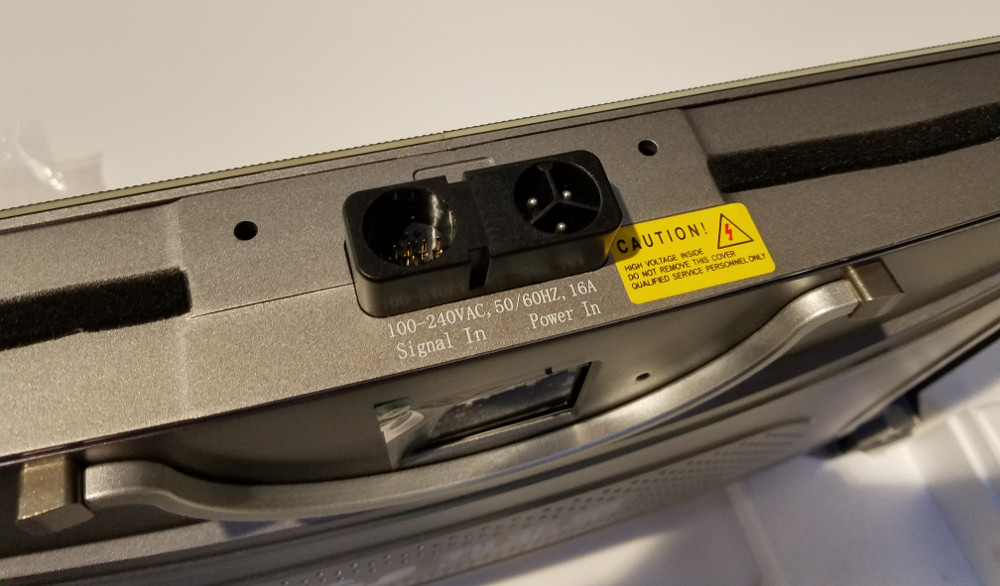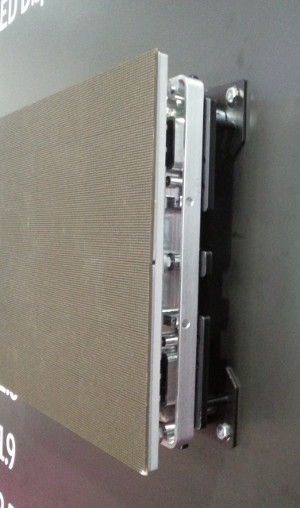 Also on display was the previously introduced Leyard LED MultiTouch seamless interactive LED video wall using PLTS (Pliable LED Touch Surface) technology and a sleek framing system to provide a dynamic multi-user experience. LED MultiTouch delivers an interactive experience with 32 simultaneous touch points, and is available in 108″, 151″ and 196″ diagonals.
The Clarity Matrix MultiTouch LCD Video Wall System combines interactive touch capabilities with what is claimed to be the industry's thinnest profile ultra-narrow bezel (1.7mm) LCD. Offered with up to 32 touch points, it enables multiple users to simultaneously interact with the video wall. Available in 46″ and 55″ sizes, the displays can be tiled together to form video walls as large as 350″.
We especially liked the Leyard Reality Solution which combines LED screens on two walls and a floor combined with an OptiTrack precision motion capture system and a tracking rocker camera. This set-up is accompanied by a suite of software and services for 3D simulation, spatial positioning and tracking, multi-channel 3D suture system and PBR real-time rendering. No green screen is required as the pixels are captured with camera. – CC
Unilumin was highlighting its Unano P1.8 module that has a unique 8:9 aspect ratio. Geared for the rental and staging market, integrators can simply butt two of them together and you get a 16:9 display. Each cabinet is 442 x 498mm (17" x 19.6"). It is also offered in 1.3 and 2.3mm pitches and feature removable power supplies on the back and front access via a magnetic handle to remove the panel. They can even be curved in a concave shape at 5 degrees. Brightness is speced at around 1000 cd/m² with a color gamut "close to 709".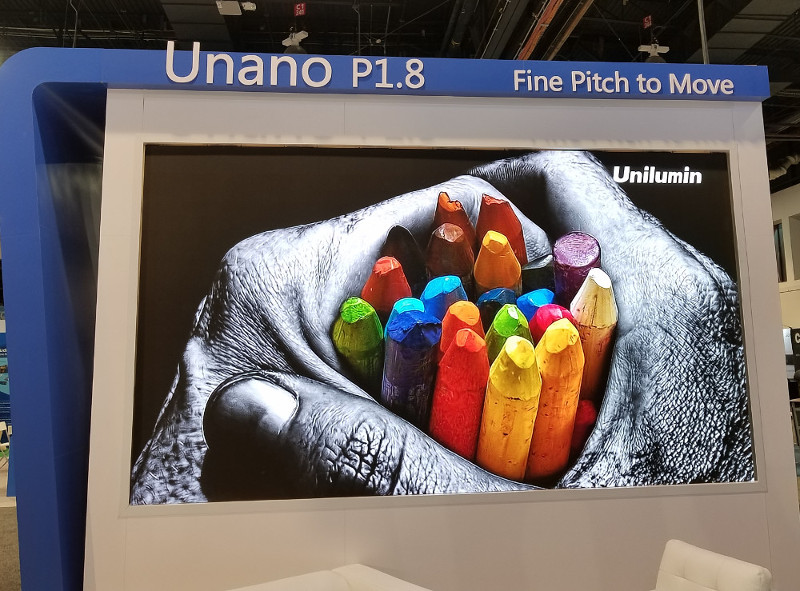 Unilumin was also highlighting its Upanel touch solution which uses 0.9mm pitch LED modules. This solution has a new touch surface coating which is essentially the same black epoxy used to encapsulate the LEDs. There is a touch film and a controller from Prysm. The surface had a nice tactile feel to it and worked quite well.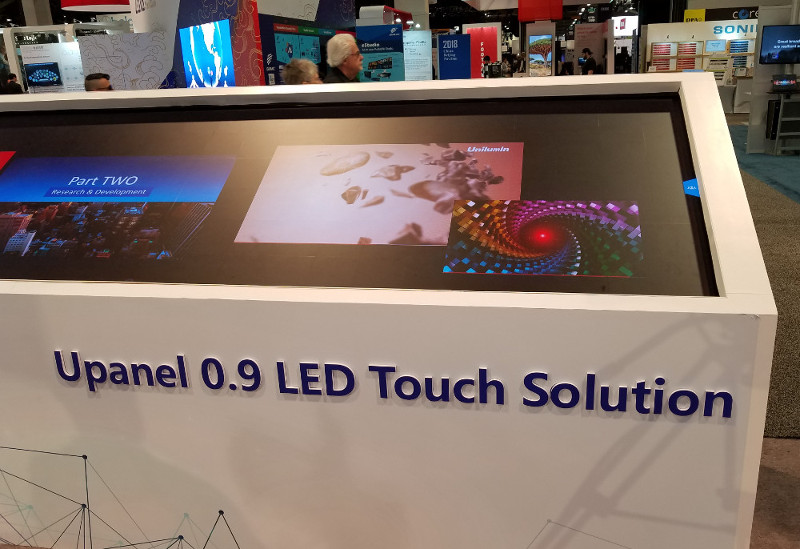 Unilumin says it is looking at jumping over the 'Chip on Board' manufacturing phase and going to flip chip or mini/micro LEDs. They hope to have a decision by Q3'18.
The company has 1.2 million sq. ft (111,500 m²) of manufacturing space and claims to be the largest Chinese exporter of LED screens (although Leyard is ahead in domestic sales).