Absen is one of the leaders in LED technology and the company maintained this early development position by showing a large LED display based on its own CoB (Chip on Board) LED technology, which it calls Cobalt (Chip-on-Board Advanced Light Technology). The key advantage of this technology is the robustness of the modules. LIam Winter, who is Product Director at Absen Europe, showed us how he could risk a lot of damage to the module, with actions that he simply would not do with a module using SMD LEDs because of the near certainty of damage.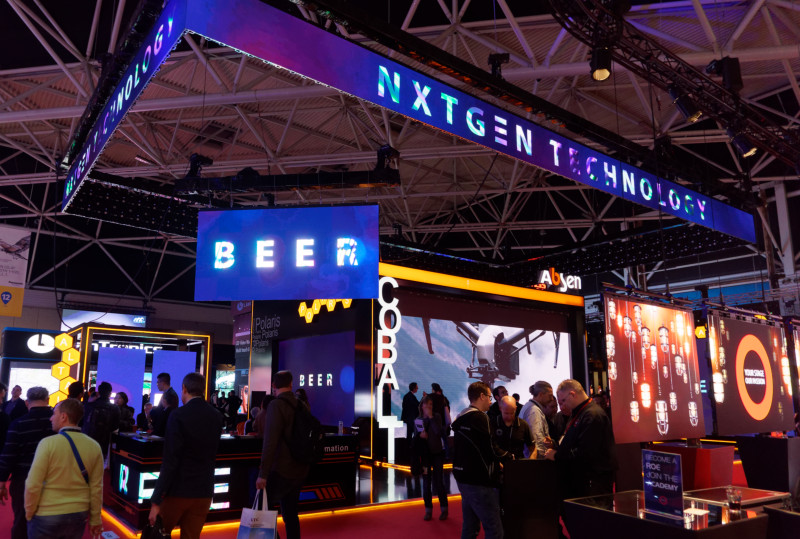 Absen's booth at ISE 2018 – was it the display or the message that was so popular? Image:Meko
The Absen CoB technology has reached production status and the large display that was being used to demonstrate at ISE has already been ordered by PSCo in the UK, which is part of the Midwich group and operates as a 'wholesale rental' company.
CoB has a number of advantages apart from mechanical robustness, which is partly because of the whole module encapsulation, rather than as single devices. The architecture allows more area to be used for heat dissipation, so Absen has seen a reduction from 7.5ppm failure rate to 2.5ppm, a not insignificant improvement and mainly because of the better heat distribution, although there are also advantages by reducing the effect of static electricity and humidity. The encapsulation also protects from contact oxidation.
The CoB concept, with currently available LED chips, has quite a high fill factor – that is to say that most of the area of the pixel is taken up by the surface of the LED. This has advantages and disadvantages. The high fill factor gives the images a very 'smooth' look and can make a very natural appearance with the right content. The high fill factor also means fewer issues with moiré in applications such as broadcast and Absen has already seen a lot of interest in that area. The flat surface of the CoB modules can mean that a range of AR processes can be used and may be needed.
Absen's COB panels have a flat surface after encapsulation. Image:Meko
The main disadvantage is that, unless you use MicroLEDs as Sony has done in its Cledis display, the black level is not so good so the contrast is not as high as in SMD devices and this was apparent in the display being shown by Absen at the show. That may mean that some that want the maximum 'pop' in rental applications may prefer to stick to SMD. For this reason, Absen has no plan to switch over to the new system, but will offer both.
The first CoB products will be offered in 1.5mm, with 1.2mm coming next. Costs are around 20% more than SMD at the moment.
After that interesting discussion, we got onto a discussion of common cathode driving. Up to this show, the only people we had heard talking about this driving scheme has been SiliconCore and it has patents in the area. Of course, SiliconCore is looking closely at how Absen is implementing the concept, but the company acknowledged that there is more than one way to use the technique, so it is possible that Absen is not infringing.
The main advantage of common cathode driving is improved efficiency and brightness, and that has enabled SiliconCore to make fine pitch LEDs brighter than most competitors. Now Absen is using the idea and is promoting it as 'High Brightness Black'. The company is using 'black' LEDs which helps the contrast and black level, but usually means that the brightness is reduced. The common cathode technique overcomes this to allow both good black and also brightness up to 5,000 cd/m² and Absen expects applications in both indoor and outdoor applications.
Monolithic displays are also an interesting development and Absen has developed, and had some sales success with, some 80″ standalone LED displays that can replace '6 sheet' posters in retail where high ambient illumination is a challenge and the LEDs have a brighness advantage. Pitch is 2.9mm, so resolution is not as good as LCD, but in some applications the overall visual impact is more important than detail.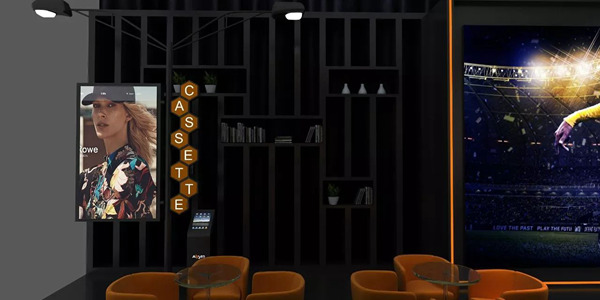 The company has developed complete 'cassettes' that fit into existing enclosures for illuminated boxes as power is usually available and the cassettes are rated for IP65 at the front, IP54 at the back. The LEDs are designed to allow front service and can also be used back to back where there is enough space.
The company was showing standard Acclaim series of 16:9 displays designed for HDMI plug and play use from standard media players.
Finally, we looks at the AltAir technology which uses carbon fibre frames to minimise the weight of the modules, which can take advantage of the HBB technology.