Hisense has revealed two new UltraHD TVs for the German market, just before the European Championship football tournament. Both the 65″ M5500 and 433″ M3000 support DVB-T2 and HEVC decoding. They use Hisense's Vidaa smart TV interface. Specifications were incomplete at the time of writing. Hisense has said that the M5500 has a 1,000:1 contrast ratio and ports for HDMI 2.0 (x2), HDMI 1.4 (x2), component, SCART, RJ45, USB 3.0 and USB 2.0 (x2). It also features two 15W speakers and a quad-core processor. The TVs are on sale now, for €1,460 (65″) and €605 (43″).
LG is now shipping its 55″ C6 OLED TV (LG's Signature is Pure and Gimmick-Free). It is listed on Amazon now for $3,245. Another TV, the E6, is expected to arrive soon for $7,000.
Samsung began a limited release of its UBD-KS8500 UltraHD Blu-ray player (Samsung Uses LED in Modular TV Concept) in February. However, supply is still short; Samsung currently lists a 2-3 week shipping time. Because of this, the player's European release has been delayed: from mid-March to late April, or even early May.
Samsung also revealed prices for its 2016 SUHD TVs this week (Samsung Uses LED in Modular TV Concept). These begin with the KS8000 (starting at $1,500 for a 49″) and KS8500 ($1,700 for a 49″). Both will also have 55″ and 65″ models available. From here is the 55″ KS9000 ($2,300) and KS9500 ($2,500, curved) and finally the flagship KS9800, which will go on sale in June. This TV will start at $4,500 for the 65″ model.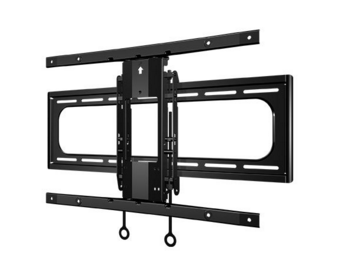 US mounting bracket brand Sanus has designed a swivel mount aimed at curved TV owners – 'to get the most out of their TV'. The VLC1 holds 40″ – 88″ TVs and will swivel up to 10° left and right. It costs $180.
Sanus's mount highlights the issues with curved TVs – namely, that the optimal area for viewing is smaller than it is for flat screens (TA).
The 55″ – 75″ versions of Sony's XD85 (X85D in the USA) (Sony Hopes to Challenge OLED) are now being shipped. The 85″ model will follow soon. They cost $2,500 (55″), $3,500 (65″) and $5,000 (55″).