Sony CEO Kazuo Hirai, after the now-traditional 'Sony is great' video, began the press conference with some CES facts. Last year the show covered more than 2 million ft² (185,800m²) and was attended by over 150,000 industry professionals, from 150 nations. More than 17,000 photos were shared on social media – proving that "We have huge reach".
After some company background, Hirai announced that Sony has now sold more than 35.9 million Playstation 4 consoles, 5.7 million of them in the recent holiday season. To put that in a Las Vegas perspective, there is one slot machine for every eight residents of the city – but there would be 15 PS4s for each resident!
'Kando', Sony's principle of emotional involvement, is a core value of the company. Hirai said that kando is still Sony's core commitment and goal. "Emotional value is why we exist, why we care, why we innovate, and what keeps us moving forwards".
Mike Fasulo, president and COO of Sony, followed Hirai to present new cameras. Sony will have another new 4k Handycam (for the third year in a row), which will again be smaller and lighter. It will have a 20x optical zoom and a sensor that reduces the light needed in low light conditions. On the still camera front, Fasulo showed the A7R Mark 2, which has very impressive dynamic range and low light capabilities.
Sony has previously introduced several short-throw projectors in the Life Space UX brand, and Fasulo said that these products would be launched in the USA this summer. However, most of his talk revolved around combined audio and lighting units.
Lucas Watson of YouTube was introduced. He described how the platform's reach is growing – it now has more than 1 billion users per month – and the shift that is being seen amongst consumers. Mobile is now a primary content consumption device, with the average mobile session now exceeding 40 minutes: a 50% YoY increase. There is also a move towards watching YouTube videos on TVs in developed markets.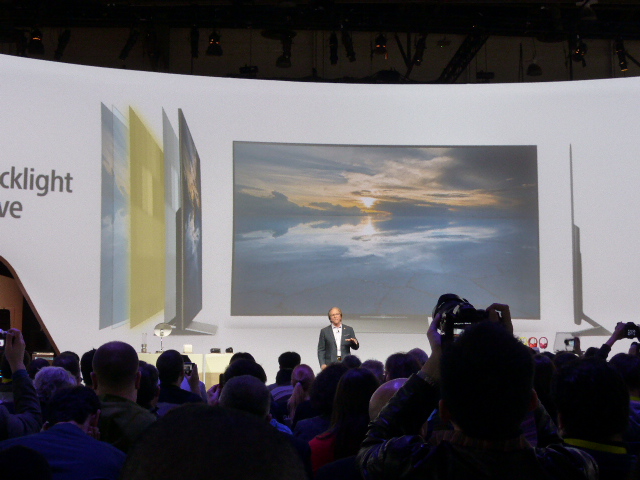 Watson announced that, this year, YouTube will be launching 8k and HDR videos. HDR, we learned later, will be supported through the second generation of Google's VP9 codec: VP9 Profile 2. No launch date has been announced yet, and we are unclear if displays that support VP9 today will be able to be updated to Profile 2.
Last of all, Fasulo talked about TVs. However, there really wasn't much to be said! Only one new set was announced, and there were no surprises.
The X93D is a very slim TV, with premium features such as Sony's Triluminos colour enhancer, HDR and the X1 Reality Pro processor. A new proprietary backlight technology, called Backlight Master Drive, uses 'precision backlight boosting technology' to achieve deeper blacks and up to 4,000 cd/m² of peak brightness.
UltraHD content was an overarching theme of the show, and Sony was doing its part, announcing a new app called Ultra. This can be used to stream Sony's UltraHD content to its UltraHD Bravia TVs. At launch, there will be between 40 and 50 titles available.