We haven't previously reported on Irdeto, but something their PR company told us must have been persuasive and we met with Richard Scott, SVP Sales & Marketing from the company this time. The firm has 45 years experience in conditional access (CA) technologies and has also been developing software CAMs (that might have been the 'hook'!). The use of software CAMs allows the development of STBs and TVs that can access encrypted content from PayTV services without the need for a CI Slot. (SES mentioned at their press event [SES Still Sees Growth for Satellite] that Technosat of Germany had developed such a set).
Irdeto claims 40 major customers for its CA technology, with 20 million devices supplied.
DRM is changing and Irdeto has developed a cloud-based interface for DRM and has fifteen customers including Liberty Global for "Multi DRM support". The company is DRM-Agnostic and can be used to secure content across different platforms. Irdeto is an approved Apple FairPlay supplier.
The firm has been working on breaking the complex world of DRM/CA software into separate modules. That allows more flexibility. Traditionally, CA services have been from the STB maker, but Irdeto has been able to develop a "Keys & credentials" service that give more control to the operator. This new scheme has allowed, for example, the addition of Netflix support to existing STBs, which helps operators deal with the commercial threat from OTT.
As well as this, in talking about the issues of piracy, Irdeto has a special scheme for movie studios that like to release early content to some special groups, for example children in hospital. At one time, to ensure security, staff from the studios would literally visit the hospital ward with a special Blu-ray disk and carry it away afterwards. Irdeto has developed watermarking so that pirate content can be tracked back to the place and time.
Software control of security is also becoming more popular as more TV firms are developing Android on smart TVs.
Upstairs on the booth, Irdeto had a "piracy lounge", showing content providers how good pirates have got in delivering services and content to consumers. It was said to be "hair raising", although we didn't have time for the demo!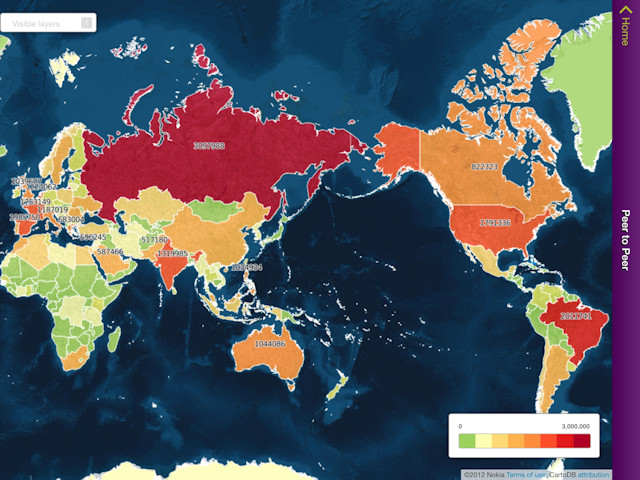 Irdeto showed this heat map of piracy around the world