The first keynote of IFA was by Intel and the firm started with a video highlighting the latest generation of PCs with "6th generation" Core processors (Skylake). The first speaker was Kirk Skaugen, head of the Intel PC group who started by looking back at some milestones in mobile PCs, from Intel's point of view.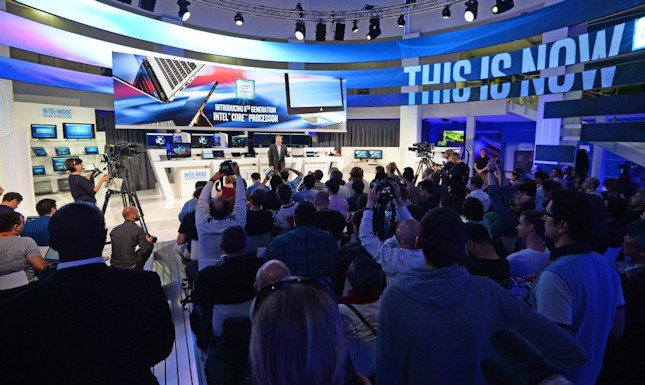 IFA was the official launch of the 6th generation core and Skaugen said that 800 products will be launched in the next few weeks and that Intel has 50 different chip versions in the new range. He said that today is a "once in a decade" moment. There are over half a billion PCs installed that are four to five years old and are ready for replacement and a billion that are three years old. New PCs have 2.5X CPU performance, 30X graphics performance and with three times the battery life as well as being lighter and thinner. Skaugen compared a new Lenovo system with a five year old PC – the difference was obvious.
There are new Core M processors for fanless systems and tablets and these will support 2-in-ones – which Intel sees as a key category. The Core M is also being used in a compute stick as well as being included in a new version of the Intel NUC which Skaugen claimed is growing in sales at 20% per year.
Turning to gaming, Skaugen said that notebooks can now be overclocked as well as desktops. Intel is also introducing Xeon-based workstations that are large notebooks with the same performance as the 28Kg workstation PCs of just three years ago.
There is a new Intel Inside logo and Intel is trying to help consumers to understand the difference in performance between Core i3, i5 and i7. A wide range of different specification mobile chips are included in the Core M (for fanless systems) family. V Pro security will be available on even the thinnest and lightest systems by Q1, rather than only on large systems. The lack of this security has been an issue for corporates that want V Pro, and so have had to mandate heavy systems.
The world of video is moving to 4K and Intel has added a lot of dedicated hardware for video processing including decoding. 6th Gen Core processors are said to "optimally" process video. Skaugen demonstrated a 360 degree video with 4K resolution being rendered on a Toshiba notebook. Next he gave a demo of a "selfie stick" which used six 4K Go Pro cameras (!) and Intel believes that 360 degree video will "go mainstream".
Intel has always liked "heavy duty" processing tasks, as it allows its CPU strengths to be demonstrated. H.265 (HEVC) coding and encoding is a computationally intensive process and so was an ideal application for a demo of the Core 6th generation chips running an HVC decode process.
Globally, there are 1.8 billion gamers, Skaugen said, with 1.2 billion PC gamers. 711 million of those (one tenth of all the people on the planet) describe themselves as "active PC gamers who buy something every month", which means global revenues, Skaugen said, of €81.5 billion Euros – €3.2 billion in Germany alone. There are rumours of gaming "stadiums" being built in China and broadcasters are jumping into the area. Intel was able to get a huge response to its Gaming Masters series.
Because of this, graphics is a big push for Intel's new range. The new processors all support DirectX 12. The Iris professional graphics will be available in versions with power budgets down to 15W for mainstream notebooks and Iris and Iris Pro graphics will be available in Q4 2015 and Q1 2016. ED RAM will be supported across the range for the first time (EDRAM is used for caching, but is apparently not available with socketed Skylake chips according to gaming specialists – Man. Ed.). Skaugen showed a Gigabyte mini PC that can support high end graphics.
The next demonstration was of triple 4K monitors – shown playing World of Tanks (which is played by 100 million people worldwide, apparently). Racing games are good as well and Intel introduced a "professional racing simulator driver" (amazing the professions there are these days!! – Man. Ed.).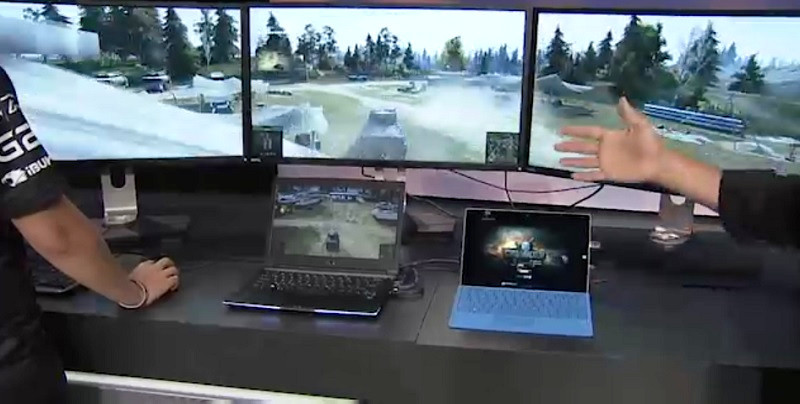 Windows 10 is said to have been optimised for 6th Generation processors, with very fast start up and sleep modes. Windows 10 has features for two-in-ones and now there is a Continuum feature which automatically switches between tablet and desktop modes depending on the keyboard configuration. Again this was demonstrated on a Lenovo Miix. The new OS also has features including game recording using a single key for replay and sharing.
"Modern Standby" and "Instant Go" are new features for Intel and Microsoft and these features allow 300ms to 500ms start times. Skaugen said "why buy a tablet if you can get a two in one?".
Intel is trying to get away from passwords (the average person has 28 passwords) and many people use 20 different logins during a day. Intel True Key technology allows single login once you are logged into your PC. Two identical twins were shown logging in to a PC, exploiting the Intel RealSense camera which could differentiate between them.
The firm also wants to get away from cables, which is a key irritant for the market, and Thunderbolt 3 is a step along this path. The connector is the same as USB-Type C – providing docking, display, data and power on a single reversible connector. Acer, Asus and Dell (Alienware) will all support Thunderbolt 3 and it will move down to two-in-ones including a slim new Acer machine.
Intel expects to increase to around twelve design wins for WiGig wireless docking – about double the number so far. There was a good demonstration by Skaugen of docking with multiple UltraHD monitors on a notebook using WiGig.
Intel has also been working on mobile charging. By 2016, consumers with two in ones will be able to replace their keyboards with new keyboards to support inductive wireless charging. Wireless charging will start to appear widely next year.
Intel Unite is a conferencing and meeting technology to allow display and content sharing which can support resolutions up to UltraHD.
We have written a lot about the user-facing 3D cameras that Intel has shown under its RealSense brand. Now there is a new version, the R200, that is outward facing. Again the Lenovo Miix was one of the demo machines for the camera.
At IDF, last week, Intel announced that it was working with Electronic Arts to allow scanned users to be put as avatars in fighting games. Personal objects (such as children's toys) can also be imported into games using the scanner. Intel is working with Lego to integrate games with real objects and environments.
Intel Likes The IoT
Intel has said for a while "If it consumes electricity, it's going to compute. If it computes, it communicates". The company has been pushing more into communications (it acquired the Lantiq home gateway company and Infineon wireless businesses in Germany). Many of the technologies in the Core will be used in chips for IoT applications in cars, robots and drones. There are new robots being used in hotels that use RealSense to navigate to deliver, for example, towels to guests.
RealSense is now getting down to phablet size devices which can then be used for 3D mapping – very useful for real estate and other "real world" applications. The technology can also be used to map movement in the home – allowing homes to be used as environments for augmented reality games.
Finally, Skaugen introduced a new product from Intel's Basis subsidiary company, which has a new fitness tracker called the Peak for fitness and sleep tracking. It has a four day battery life. Basis also has a deal with Runtastic from Adidas and supports Apple Health and Google Fit. It costs €229 and will be available in a number of retailers around Europe.
Finally, Skaugen turned to "Curie", Intel's processor for IoT and the company now has a new development environment and reference design.
Analyst Comment
Edge to edge displays were emphasised many times by Skaugen during the talk, although touch hardly got a mention. We were impressed by the demonstration of the triple UltraHD displays with games being played. (BR)
An Intel spokesperson has said that the company is experiencing "supply tightness" of Skylake due to strong demand. Additional volume is expected to become available later in Q3. 'Senior distribution sources' have told PCR that the supply of 6700K processors is especially short. A lack of materials and low yield rates have been blamed. (TA)