Acer had a bigger than usual conference that was full with press. Clearly, the difficult financial times have not stopped the company from trying to market its message!
Jason Chen, who clearly sees himself as the "star of the show", started by saying that Acer will be the sponsor for the International Olympiad in Informatics which is a competition for science students.
Chen then introduced Xplova – a software and hardware company for GPS and sport tracking. Acer introduces products twice a year, once for "back to school" and once for the holiday season. At IFA, Chen announced some products for the holiday season.
Acer believes it's the top supplier globally of Chromebooks. A new model is the Chromebook R11 which has a 360 degree display hinge and also has a new texture on the case and a Wi-Fi 802.11ac wireless system. As well as Chromebooks, Acer has all in ones and desktop versions as well as, uniquely, a projector that supports the Chromebook functions.
2 in 1 detachables are a big category for Acer – with 81% growth year on year, Chen said.
The new "Switch 12" is a "2 in one" with a 12.5″ display that features optical bonding (Acer calls this "zero air gap") and Gorilla Glass 4. The system can support up to 4K resolution monitors and also external graphics. Chen then introduced Kirk Skaugen from Intel, but he didn't add anything to what he said at his own conference a couple of hours before. (Intel Launches Skylake 6th Gen at IFA)
Skaugen did say that PC gamers refresh every couple of years and are "Intel's most loyal customers".
Chen said that a year ago, he saw the small Revo product, which is a full scale PC in a tiny box and he was surprised by the look of it. Now Acer is introducing the "Revo Build" system which has add-on modules for voice support, external HDDs and power (this is similar to the concept that Lenovo introduced at CES of add-on modules). The power block can also be used to wirelessly charge a phone. Acer is looking for more concepts for new modules and Chen asked for ideas from the audience.
Chen said that Acer has had good feeback on Windows 10 since it came into the market and Chen believes it has the biggest line up behind Windows 10. He then showed a new version of the "Cloudbook" which will be available in 14″ diagonal and supports the MIMO Wi-Fi support in Windows 10.
Nick Parker of Microsoft then came on stage to talk about the relationship with Acer. He emphasised the Cloudbook for value – they start at $169 for the 11″. 72 million users have now upgraded to Windows 10, Parker said.
Playing on the XBox is important for Microsoft, and XBox play can be recorded for later review on a PC using the latest Windows 10 technology. Chen went on to look at the Continuum function as it applies to the integration of PCs and phones. The Jade Primo is a new "PC Phone" that will support a keyboard, mouse and monitor as well as charging when the phone is docked.
The Primo has a 5.5″ FullHD AMOLED display with 100% NTSC gamut and uses a Qualcomm Snapdragon 808 processor. (Surprisingly for a phone that is sold as a system device, it has no slot for memory expansion.)
Next, Chen turned to Acer's gaming initiative which was announced in the spring and uses the Predator sub-brand. Chen said that he is always asked "what is unique about Acer gaming". The V Nitro laptop is said to have been very successful in Germany, and Acer believes it is the top sales company for gaming PCs in Germany. Chen said that feedback from the German market is that it is "perfectly engineered".
There is a new version of the V Nitro with a better keyboard, with lighting, and with a new USB Type-C connector. For gamers, thermal issues are important. A development from Acer is the DustDefender with which, dust can be ejected from the system. There is also a new metal blade fan that improves cooling. CoolBoost is a software technology to control fans. Acer also has developed FrostCore – a fan that fits in the same space as an optical drive. By combining these technologies, Acer claims a 20% boost in cooling which allows more overclocking for gamers.
Chen believes that Acer is the brand with the widest product range for gamers.
The Z35 is a new monitor that is claimed to be the "fastest monitor in the world" and Acer is claiming that the monitor can be "overclocked" to 200Hz with G-Sync. Radius is 2000mm for a tight curve and more immersion. Aspect ratio is 21:9 and resolution 2560 x 1080.
The Predator G3 is a new desktop PC and there are 15″ and 17″ G6 Predator notebooks which have a special keyboard with different colours in the keyboard.
Finally, Acer introduced two gamers who talked about how they liked the Acer products.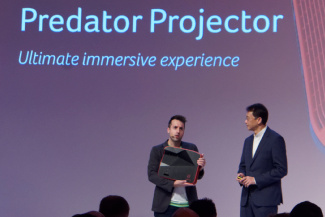 A new product is an ultra-short-throw system from a new laser gaming projector that can throw a 120″ screen from 0.5m. The projector is called the Predator Projector.
The Predator 8 was announced a while ago and the gaming tablet will be shipping in the next couple of weeks.
The Predator 6 is a new gaming phone with a Mediatek 10 core processor with 4 GB of RAM. It has haptic feedback like a gaming controller and is intended to round out the gaming-optimised products.
Booth Tour
We met up with Acer in its booth. The company was showing the Z35 and we got clarification that the "200Hz overclocking" is something of an aspiration – the base panel is rated at 144Hz and the monitor will start shipping in November. The company also told us that it has been very impressed with the ability of special retailers to sell dedicated gaming monitors and other PC products. Acer had a big area of the booth devoted to gaming and the PCs, especially the ones with three curved displays, seemed occupied every time we went past. The Z35 is being quoted at €1,099.
We asked about the Predator projector, but it seems that this was a very late addition to the press conference and so it's not much more than a concept at the moment.
Sticking with the gaming theme, Acer had a couple of new Predator notebooks which use the Intel Core i7 chips with Nvidia GTX980M graphics.
There was an area devoted to projectors where the models that were launched at Computex were being shown (Acer's Projectors Compensate for Ambient Light).
Turning to mobiles, where Acer has had limited success in Europe, Acer announced six new Liquid smartphones; four running Android 5.1 and two with Windows 10 Mobile. The handsets feature curved chassis with upgraded front-facing cameras, wide-angle lenses and enhanced audio. The Liquid Z630 (€199) has a quad-core 1.3GHz MediaTek MT6735 processor, a 2GB RAM, 16GB of memory and a 5.5″ display. The LCD is FullHD and uses a bonded IPS module. The rear camera is an 8mp (FullHD) unit. The Z630S uses an octa-core processor, 3GB of RAM and 32GB of ROM.
The Z530 (€149)uses Z530 has the same processor as the Z630, but the screen goes down to 5″ and there are a number of memory options. There is also an S version with octacore and the same memory as the Z630S.
The Z330 (Android- €129) and M330 (Windows 10- €129) are entry level phones with 4.5″ displays and Snapdragon 201, while the Z320/M320 move down to the Qualcomm MSM8209.