We hadn't expected Intel to provide a CeBIT highlight, but it turned out that one of the most interesting products was shown there.
We started on the Intel booth (which was staffed by many of its partners including Fujitsu, HP, Dell and others) by looking at WiDi Pro. First, we wanted to understand how it fits in alongside consumer WiDi and also Miracast. Intel told us that the technology had started as an Intel initiative, but once Miracast had been developed, it seemed sensible to exploit it, so WiDi was re-aligned to exist as an extra layer on top of Miracast for Intel platforms. In the same way, WiDi Pro sits on top of consumer WiDi as an extra layer covering security and session handover.
We had a demonstration of WiDi Pro which is about meeting display control. The first machine (which has to include Intel's VPro chip technology) creates a session by connecting to a WiDi receiver (Intel was using a device from Actiontec, connected to the display). The session software can identify other devices with Wi-Fi in the room and can then control which of them has access to the display. A request is sent from the controlling machine to the new user, who then confirms that they want to display on the main screen. The display stream then switches across. The controlling system can also take back a display connection at any time.
There is also a second mode which was described as "peer to peer", where each user can pass to the next, without a controlling system. If no machines in the meeting have VPro technology, then each can make an individual connection to the WiDi receiver, but no control system can be used.
Staff told us that latency could be as low as 30ms or 40ms, although the demonstration system looked to us as though it was a bit slower. However, hand over from one system to another was fast and smooth.
HP' Wireless dock supports dual displays over WiGig
Next we looked at Wireless Docking. It seems that HP has launched its first wireless docking station which it is calling the "Advanced Wireless Docking Station". The dock takes advantage of the 802.11ad 60GHz WiGig wireless connection technology to stream display data and networking across to the dock, which was launched recently and costs €199 ($239).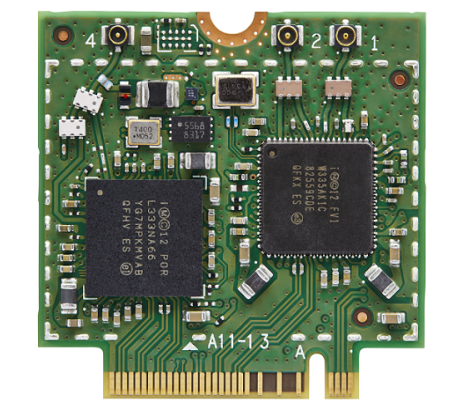 Intel's Tri Band Wireless AC 17265 can be fitted in client PCsAt the moment, the only PC that connects is the new HP Elite x2 1011 G1 which includes the required 60GHz technology as an option, but Intel told us that it has a new PCIe card (Intel Tri Band Wireless AC with WiGig Combo card) that includes 60GHz and can replace existing Wi-Fi and Bluetooth radios, so it expects quite wide and rapid adoption by higher end notebooks.
The Elite x2 is a convertible, and the radio card is included in the display/tablet part, so the wireless docking becomes a real benefit if the device is being used in tablet mode. It can be used as the input device for dual desktop displays.
The dock includes dual DisplayPort outputs (to support up to dual FullHD displays using the Intel transmitter), 4 USB 3.0 ports (1 powered), an RJ45 for Ethernet and a VGA port as well as audio and microphone connectors.
Range can be an issue for 60GHz technology and HP is quoting 1.2 m as the standard, warranted range, although this also requires "line of sight". We heard that just putting your body between the tablet and the dock could break the connection, but that where there was clear line of sight, in practice, distances of up to 3M were possible. Extending the range would be possible by using higher power, but this would compromise battery life performance.
WiGig uses beam steering to help to optimise connectivity and we heard that there are a number of factors, including user movement and changed orientation of the notebook, that cause re-alignment of the beams to be needed. That can have an impact on overall data rates. Nevertheless, the docking station function seems to work well.