Sony and Dolby both showed HDR comparison demos at the SMPTE conference. For example, Sony showed two new OLED professional monitors as well as a new HDR format converter box, all of which was debuted at IBC (Sony Looks to Services and Renews monitors).
The new OLED monitors are the 17" E171 and the 25" E251 monitors for $13K and $16.5K. These are HD resolution monitors with the 17" offering 100 cd/m² of peak luminance for SDR mastering and the 25" offering 600 cd/m². The E251 does not have HDR support now, but this should be added by next April. These replace previous models but at much lower price points (previous models were $26K and $18K respectively). Both support the DCI-P3 color space and will accept content encoded with BT.2020 coordinates. What is unclear is how the monitor handles out-of-gamut colors. Does it clip or perceptually map them?
Sony also showcased a new format converter box aimed at HDR production. Called the HDRC 4000, it can take incoming HDR content in Sony's S-Log3 format and convert to PQ or HLG with BT.2020 color coordinates for an HDR workflow, or it can convert to BT.709 and gamma 2.4 for an SDR workflow.
Details on the capabilities of the unit are few, but it appears it can take in content in
4K HDR S-Log3 format and do format conversions (PG to HLG or HLG to PQ)
4K in SDR S-Log3 format and do tone mapping to wider luminance ranges, gamut expansion and formatting for HLG or PQ
2K in SDR S-Log3 format to do resolution scaling, tone mapping to wider luminance ranges, gamut expansion and formatting for HLG or PQ
On the output side, the unit can support 4K HDR in PQ or HLG, 4K SDR or HD SDR. On display in their booth was a conversion from HLG to PQ with both images shown on side by side monitors, and looking nearly identical.

This converter allows the use of Sony cameras in either workflow so content can be consistently switched in a live broadcast environment. The estimated price will be around $20K and delivery isn't expected until next March.
Meanwhile, Dolby Laboratories was showing several HDR demos in its booth. In one, it showed four TVs running content mastered two ways. The left two TV showed content mastered with HLG on a TV with 1000 cd/m² peak luminance and below that on a TV with 600 cd/m² of peak luminance. On the right side, the top TV showed the same content mastered with PQ and shown on a TV with 1000 cd/m² of peak luminance and below that on a TV with 600 cd/m² of peak luminance.
The demo was done to illustrate how HLG and PQ grades handle display on lower luminance TVs. On the PQ side, the overall brightness was lower on the 600 cd/m² set, but that was mostly reflected in the highlight reduction. On the HLG side, Dolby was pointing to the loss of skin tone fidelity at 600 cd/m². They say that the PQ curve is better matched to human visual perception so does a better job when scaling up or down in luminance. HLG changes the gamma at these lower luminances so the skin tones look darker.
A second demo pitted a TV showing HDR10 images vs. one showing the Dolby Vision version of the content. These two images looked very different – so much so that viewers were questioning the validity of the test. Indeed, the two TVs were not identical, so this may not be a fair test.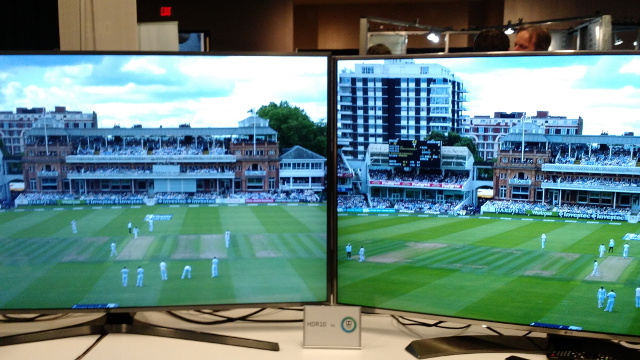 According to Dolby, the Dolby Vision content includes dynamic metadata that allows each scene to be optimized for the capabilities of the display. In the content that was shown, some scenes were graded with a peak luminance of 4000 cd/m² while other scenes were graded with a peak of only 1000 cd/m². When packaged as one piece of media, HDR10 must assign a single peak luminance value to the whole range of content – 4000 cd/m² in this case. That means the 4000 cd/m² segments were displayed OK, but the 1000 cd/m² segments were not (creating a low contrast image). With dynamic metadata, this issue is avoided. While this is true, is it realistic to assume that someone will assemble HDR content from clips mastered at different luminance levels? – CC
(The cricket demonstration content was also shown at IBC, with nowhere near as much difference. (Dolby Working On Broadcasters) Below is the picture I took: BR)