Dolby had its usual place on the show floor and was showing both its Dolby Vision developments and its Atmos audio, although we focused strongly on the video side when we went on the booth. However, we were mightily impressed with the full scale Dolby Atmos system set up for the Ang Lee keynote (Ang Lee Shows the Future of Cinema Display).
Dolby has been working for a long time on its HDR/WCG Dolby Vision solution with Hollywood and from a technical point of view, it is, more or less, 'job done' for packaged media, Dolby thinks, although more market acceptance and content would be welcome. However, there are concerns about the reliance of the Dolby solution on metadata in the broadcast environment (and as we have reported, metadata is really important once you have content that depends on it), so Dolby still has work to do to convince broadcasters.
At the show, the company was showing a live HDR feed of a PQ signal from a Grass Valley camera and there was a demonstration of an HDR workflow. However, no broadcaster will be 100% HDR for a long time, so there is a need to automatically create good SDR content from PQ-based content. Dolby was showing how this could be done and is working with BT and Sky, among others, to develop the technology. The company told us that the SDR content was being derived without any metadata from the camera and was being sent over 10 bit SDI connections. (An example of the complications of HDR is that SDI cannot carry information about HDR or metadata, so if you have this kind of connection, you have to have another way of sending this data between a source and sink device).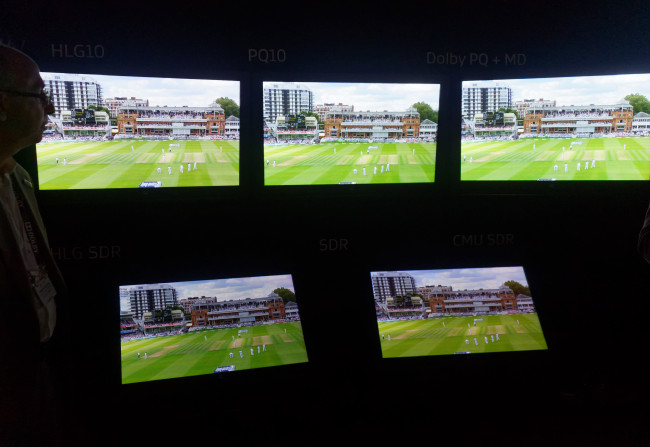 Dolby's PQ vs HLG demo showed the superiority of PQ, but then it would! Image:Meko
The demo did show improved performance in the version with PQ and metadata, but without a side by side, the difference would not have been clear, in our view.
Dolby has got good support for its VS10 playback technology, which helps with format conversion and has been adopted by HiSilicon and Marvell. It is already being implemented in STBs and Blu-ray disk players.
On a separate note, we had a quick look at a demonstration by SoftAtHome, which is working on IoT and 'convergent services for the digital home' and was showing Dolby Atmos surround sound combined with control of Philips coloured LED lighting. Think "ambilight for the whole room"!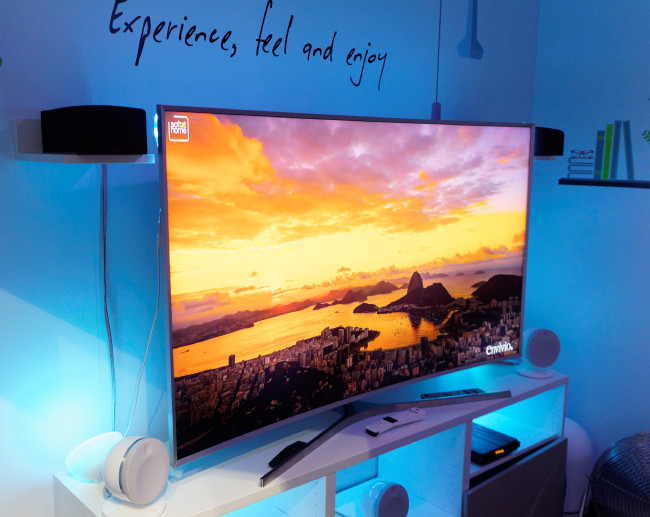 The SoftAtHome Demo – the lighting wasn't matching the display when we went by! Image:Meko