Ever since I read Chris's NAB summary for Display Daily, I have been looking forward to IBC as I knew that there was a plan to go even further in pushing the envelope on quality 3D in the cinema. Chris had raved about the Ang Lee movie excerpt from "Billy Lynn's Long Half Time Walk", a movie that is for release in a couple of months in the US. At IBC, the Dolby Atmos system for audio (for the first time in public) was used. The result was, in my opinion, amazing.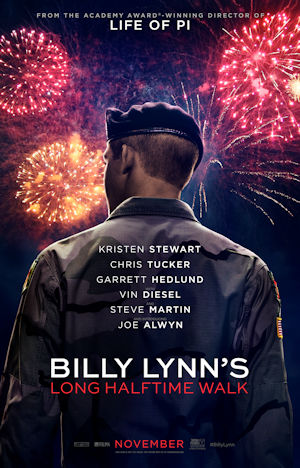 Movie director, Ang Lee (Brokeback Mountai/Life of Pi etc), is famous for his use of technology. When approached to make this film (he had spent a year trying, but failing, to make a film about boxing), he decided that he wanted to make the most of the current camera technology to create it with a high frame rate of 60fps, in 4K and in 3D. However, as the project moved along, it became feasible to capture the movie (as Lee said, 'film' is not really the word now) in 120fps with that resolution. Even better, it is now technically possible to display it in 120 fps and will a full 4K experience in 3D. That's how I saw it this week at IBC.
At IBC, the 3D was very bright, using Christie's Mirage 4LH projectors and was, without question the best 3D I have ever seen. Over a long segment of the movie, I was not once conscious of any discomfort or aware of any artefacts in the presentation, despite a lot of motion and some fast cutting during scenes from a battle in Iraq that is a key part of the film. I cannot remember any presentation where I have felt this before, as usually I find movement disconcerting in 3D.
Making the movie was a challenge. It was shot, I was told by Scott Barbour, Head of Production Technology for Sony Pictures Entertainment, in an interview after the event, on Sony F65 cameras and the production used 360 degree shutters to capture 'everything'. 7.5 terabytes per day of data was created in RAW format from the cameras.
Lee said that the crew worked with RealD's Trumotion technology to allow the movie to be cut into 72º slices which can then be combined to create different looks and the version for 120Hz uses a 216º (3 x 72) 'virtual' square shutter to reduce strobe, but retain detail. This flexibility means that the movie can be rendered in a number of different formats at 24, 60 and 120 fps in 2D and 3D and with both 2K and 4K resolution. There are also different brightness grades (delegates at the event were encouraged to go to see the movie as many times as possible, in as many formats as possible!).
Lee said that there is a kind of 'chemistry' at different frame rates and resolutions that give a different look. The 2K 120Hz version (which is showable at many digital cinemas) is quite different, in his view, to the 4K version, although he doesn't like 3D at 24 fps.
Production was something of an experiment as it wasn't possible to monitor in 4K at 120 Hz in 3D, so most review and monitoring was done in 2K at 6Hz and in 3D. That meant that sometimes the final result was worse when seen in the final resolution, but Lee said that he was surprised how many takes turned out to be better than it appeared at the time! The incredible level of detail meant that acting techniques had to be quite different and lighting had to change. The actors could not wear make up at all, as this became very obvious.
The projectors used were not designed for HDR but this didn't matter as Lee didn't show the HDR version as the HDR version has not been graded, yet. It's hard to imagine it could be even more visually dramatic!
Ang Lee Image:IBCI found this a very, very compelling experience. The battle scenes were really involving and harrowing. The Dolby 3D glasses still suffer a little from reflections, but the presentation at IBC was extremely good. The immersive audio was very good and added to the experience. However, there were moments of traditional cinematography (with focus pulling etc) that actually pulled me back out of the scene. Clearly, the new grammar (or 'chemistry', in Lee's phrase) of this new medium still needs some work and understanding.
Unfortunately, even the press was banned from taking computers, phones or cameras into the event, so we couldn't get our own pictures. – Bob Raikes
Later Edit & Correction
I wrongly said in the first version of this article that the projectors used were from Dolby as I had understood that the projection system was also used for the Dolby Vision HDR presentation of Jungle Book on the Saturday evening. However, the projectors were changed between the events.
The projectors used for Ang Lee's presentation were the Christie Mirage 4KLH (laser) projectors which, Christie tell me, are the only projectors in the world that can support the 4K/120Hz combination. The Dolby projectors can only go to 120Hz at 2K at the moment, rather than 4K. They were used for a very impressive HDR 3D presentation of Jungle Book. The Dolby projector is capable of 31 fL (108 cd/m²) in 2D and 14 fL (48 cd/m²) in 3D
The Christie Mirage projectors are not intended for cinema applications, as they do not support DCI security etc. However, as evidenced at the event, the performance is extremely good in terms of resolution, colour, contrast etc. They are more commonly found in simulation, visualisation and theme park applications. They can use up to 12 laser modules, but at IBC, they used 9 for on screen brightness of 28 fL (96 cd/m²) in Dolby 3D (five times brighter than a typical cinema)
Harkness Screens provided a 17.00m wide x 6.69m high Matt Plus screen featuring a 4K Digital Perforation Pattern with reduced moiré fringing (BR)