HDMI has formally released Version 2.1 of the HDMI specification that includes a new Ultra High Speed HDMI cable that will support uncompressed 8K video with HDR. The outline of the specification was released at CES last year (HDMI 2.1 Spec Released)
HDMI Specification 2.1 features Include:
Higher video resolutions to support high resolutions and faster refresh rates including 8K60Hz and 4K120Hz. Resolutions up to 10K (10240 x 4320) are also supported for commercial AV, and industrial and specialty usages.
Dynamic HDR support on a scene-by-scene or even a frame-by-frame basis.
The Ultra High Speed HDMI Cable supports the 48G bandwidth for uncompressed HDMI 2.1 feature support. The cable is also claimed to feature very low EMI emission and is backwards compatible with earlier versions of the HDMI Specification and can be used with existing HDMI devices.
eARC (Enhanced Audio Return Channel) is intended to simplify connectivity and provide greater ease of use, and supports advanced audio formats and high audio quality. It aims to ensure full compatibility between audio devices and upcoming HDMI 2.1 products. It will support 32 channel uncompressed audio and object-based audio.
Enhanced refresh rate features ensure an added level of smooth and seamless motion and transitions for gaming, movies and video. They include:

Variable Refresh Rate (VRR) reduces or eliminates lag, stutter and frame tearing for more fluid and better detailed gameplay.
Quick Media Switching (QMS) for movies and video eliminates the delay that can result in blank screens before content is displayed.
Quick Frame Transport (QFT) to reduce latency for smoother no-lag gaming, and real-time interactive virtual reality.

Auto Low Latency Mode (ALLM) allows the ideal latency setting to automatically be set allowing for smooth, lag-free and uninterrupted viewing and interactivity.
The test specification will be rolled out over the first three quarters of 2018.
HDMI published this useful feature table. Click for higher resolution.
The connectors on the new cable can be existing HDMI Type A, C and D can be used and the cable can support the HDMI Ethernet channel. (Cables have already been announced – HDMI 2.1 Cable Goes on Sale)
Resolutions above 8K/60 will need Display Stream Compression and HDMI said that "a range" of different static and dynamic HDR formats will be supported. We've put a useful table of the resolutions for HDMI and the cable to use below. There is also a useful table of different bit depth support here.
Analyst Comment
Up to now, the variable refresh rate features of DisplayPort have helped to differentiate the standard, but HDMI will catch up.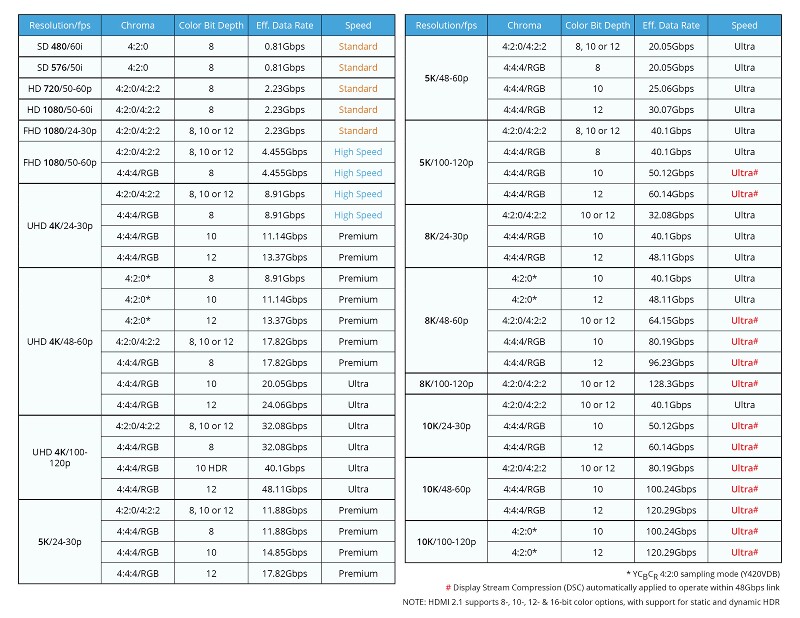 Click for higher resolution