HDBaseT and the developers, Valens, were at the Embedded World show to demonstrate two uses of the technology.
First, we looked at a new dongle-based transmitter that has been developed and which can easily be fitted to any HDMI output to allow support of an HDBaseT display. The company was also showing how HDBaseT can be daisy-chained – with up to 6 repeaters so that up to seven displays can be supported, each 100M apart. This kind of facility is popular in industrial applications where repeater displays can be very useful for monitoring and process control. USB data from touch displays can be returned over the system, which again can be useful in industry.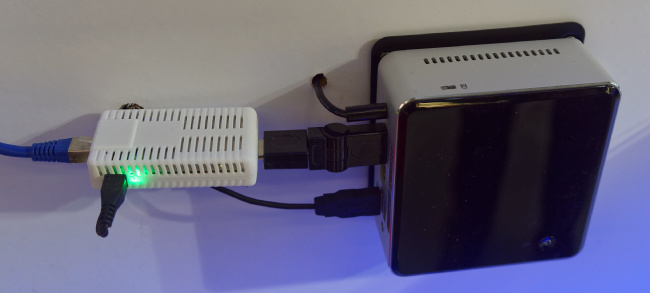 The HDBaseT dongle enables a NUC or industrial computer to connect to an HDBaseT display from HDMI
The main news at the show, though, was a development to expand the use of HDBaseT into the automotive area. In January, the company got a $20 million investment to support its push into this area. The version for automotive uses just one pair of cables rather than four pairs of the A/V version. It is designed for distances up to 15 metres (rather than 100), but can use BroadRReach connectors (already used in automotive cables to distribute ethernet and both already qualified and low cost). Bandwidth at this distance is said to be 6 Gbps.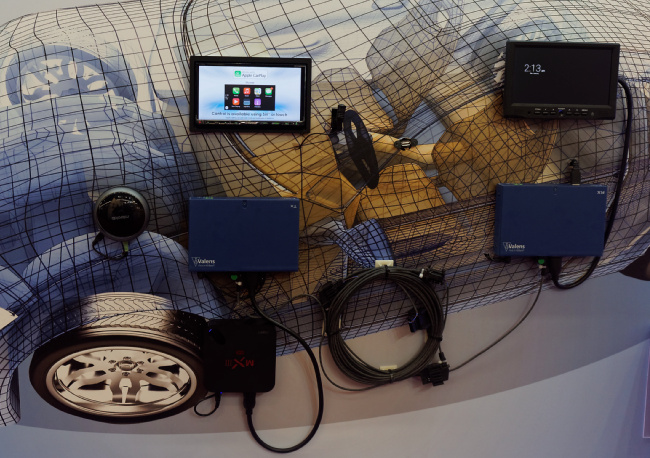 The system can support 2 MP cameras that are likely to be used in cars. In the case of automotive cameras, latency would be a real problem and Valens said that its latency is just 5us which is ideal for the purpose. The HDBaseT Alliance has seen General Motors join and the group is very positive about getting the standard into vehicles by 2019/2020. Other members in automotive include Daimler, Delphi, Harman, Nvidia and Leoni.
The company was looking for a new account manager in Germany to pursue the opportunity in automotive. Contact [email protected]