Alpha Display is Korea-based although it also has offices in San Jose and Sofia. It specialises in industrial and touch displays and was showing four models in 10.4″, 15″, 17″ and 19″ that are approved to EN50155 for transport. It also has products with E Marks for use in vehicles in Europe in the same sizes together with a 9″ wide and 21.5″ wide. The company is very proud of having its 32″ displays in the high speed (Alta Velocita) trains in Italy. The company also makes displays for gaming, industrial displays from 5.7″ to 32″ and panel PCs from 7″ to 19″. Features include support for HDBaseT and can support harsh environments from -30oC to +85oC.
For UltraHD, the company has its own controller card that can support frame rates up to 120Hz and has video wall monitors at 46″, 47″ and 55″. It can support brightness up to 2,500 cd/m² and totems up to 85″. Alpha told us that its products have been distributed by Rutronik in Germany since 2006. Touch is supported up to 65″ using metal mesh technology, although a 23″ touch monitor on display uses material from Cima Nanotech.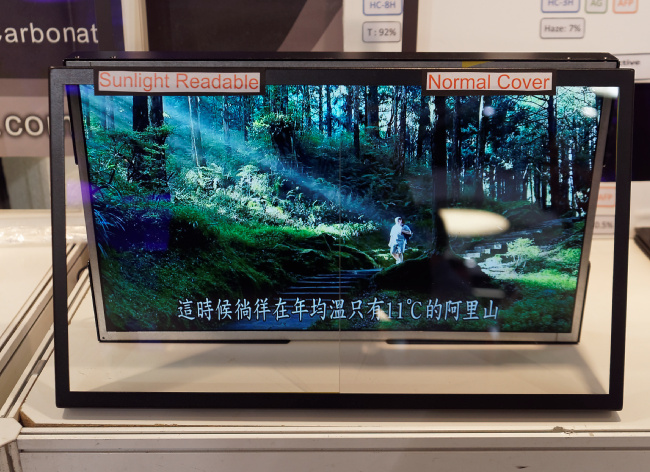 BHT (Both Harvest Technology Co Ltd) is a specialist in optical films and coatings and is from Taoyuan in Taiwan. It was showing its special coatings for low reflectivity which are typically based on plastic materials. The company told us that it can create four layer coatings that can cut reflections down to less than 0.5%. The company said that its plastic materials can be almost as hard as glass to make robust displays. The firm mostly makes finished displays up to 60″ for final product assembly.
Data Modul was showing a transparent OLED, but specialist staff were not available when we went by, so we said we would catch up when we see the firm at Passenger Terminal Expo in a couple of weeks when the display is due to be shown again. The company was slaos showing modular PCs and a 12.1″ monitor with an integrated USB-Link controller.
Plastic Logic, which is the part of the company that wasn't moved off to become Flexenable, and is making flexible displays based on E Ink technology at its factory in Dresden and was showing its flexible displays for a range of applications including wearables at the show.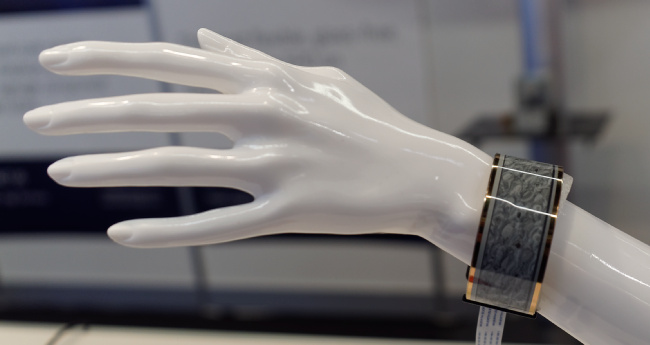 Plastic Logic was showing a range of flexible E Ink-based displays. Image:Meko
Renesas was showing its R-Car H3 SIP processor for automotive applications. The SoC is based on 64bit Arm Cortex A57/A53 cores and the PowerVR GX6650 GPU architecture from Imagination. There is also a special IMP-X5 parallel programmable engine for image recognition. The chip can support three simultaneous displays and up to eight video input channels. It can run LPDDR5-SDRAM at 1600MHz. The chip is available to sample now, with mass production due in March 2018, with plans to get to 100K per month after the first year of production.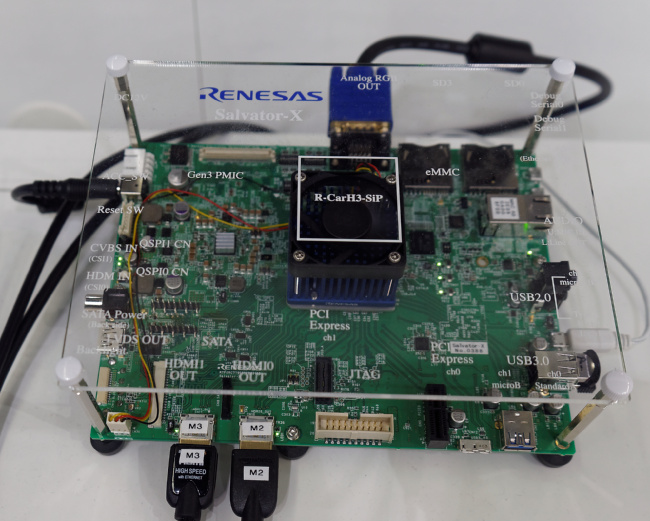 The Renesas Car CPU supports three displays
Solar View srls is from Assago in Italy (near Milan) and specialises in custom backlights and polarisers to develop transflective and bonded displays that are intended for use in areas that are challenged in terms of high ambient light. All of its products are custom-made, with displays up to 42″ being modified in Italy, while larger sizes (up to 84″) are produced by a partner company in Korea.
We reported on the small Tianma displays at MWC, and the firm was showing a convex curved 15″ LCD that could be used in a gaming machine at Embedded World. The monitor has 1024 x 768 resolution and 500cd/m² of brightness with 1,000:1 contrast. The panel uses GIP technology and uses eDP as the interface. The curvature radius is 700mm.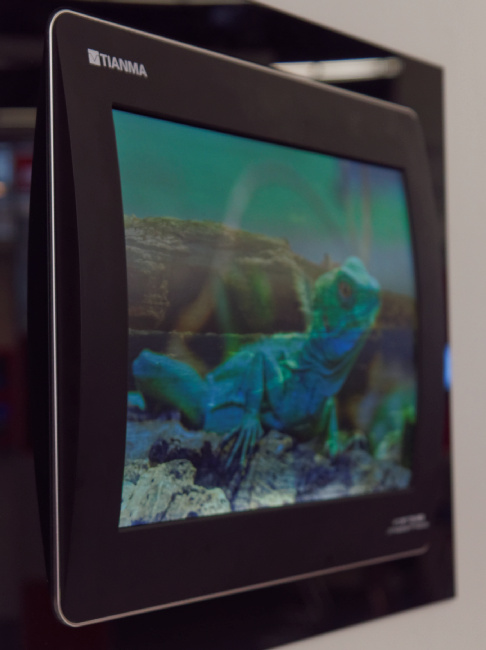 As we saw with other appliances at the event, display use is getting more sophisticated and on show from Tianma was a 6.2″ TN LCD that has procap touch and is being used in washing machines. The company also had a development 4″ round display with on-cell touch. The firm had automotive displays that we had previously shown us at SID, but we heard at this show that a display with cut away corners was "not needed" by car makers.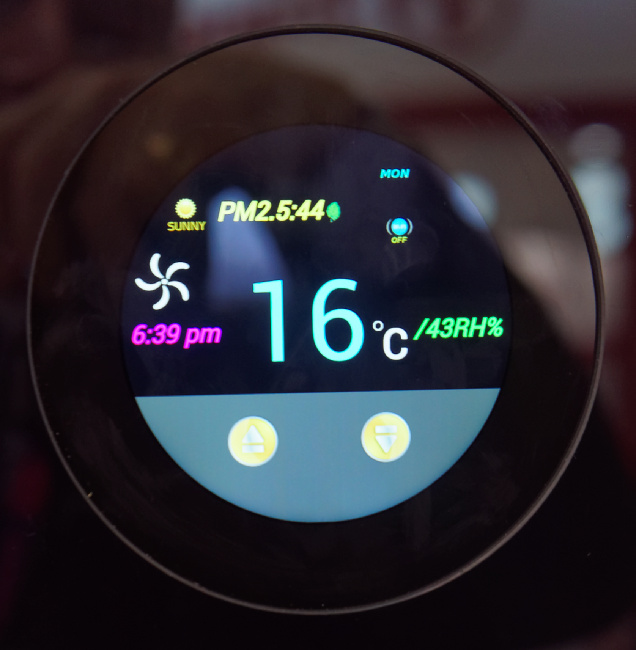 Tianma was showing this 4″ round display. Image:Meko