Gefen was attracting a lot of attention with its racing simulator – part of a partnership with Silicon Image – which attendees could compete on to record the fastest lap times. As well as showcasing UltraHD gaming, the demonstration used Gefen's EXT-UHD-CAT5-ELRPOL (Display Monitor Vol 21 No 15) to deliver high-resolution content at 60Hz, wirelessly.
A section dedicated to extenders demonstrated new HDBaseT 2.0 devices, which can handle UltraHD signals and reach a range of 50m. These products will be available in Q2 or Q3. Two were based on Cat-X cabling and another on fibre.
The EXT-HDRS2IR-4K2K-1FO was the fibre model, using a single cable and sending UltraHD (30Hz), RS232 and bi-directional IR. UltraHD signals can be sent up to 1,000m, or 1920 x 1080 (60Hz) up to 2,000m.
150m signal extension for 1920 x 1080 content is possible with the EXT-UHD-CAT5-ELRPOL, using Cat-5. UltraHD content, at 60Hz, can be sent up to 70m with Cat-5 or 100m with Cat-6. The receiver unit features an RJ45 port. RS232 and bi-directional IR are also supported, as is bi-directional power.
Finally, the GTB-UHD2IRS-ELRPOL extends video in the same manner and to the same distance as the EXT-UHD-CAT5-ELRPO. It also includes lossless digital audio, but does not have an RJ45 port.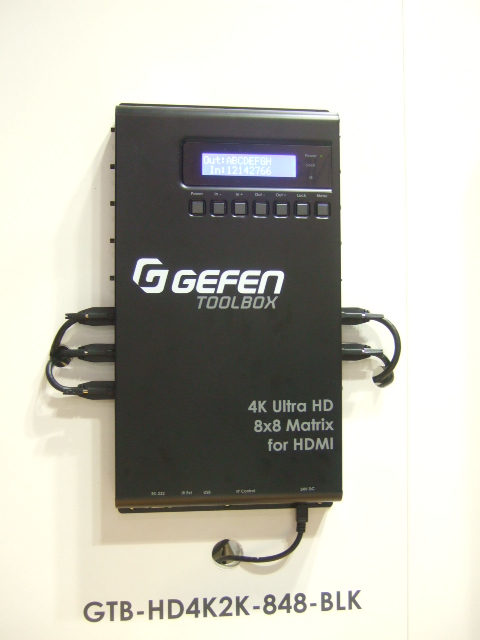 On the topic of UltraHD, Gefen is also working on HDMI and DVI KVM switches that can support the format. The GTB-HD4k2k-848 is an 8×8 matrix switch that can extend eight input signals to up to eight displays (Gefen claims that competing products can only reach three). It features fast switching technology and a locking power supply.
In addition to the new hardware, Gefen was showing its upgraded Syner-G software suite. Integrators can use Syner-G to discover, control, monitor, manage and upgrade Gefen products. Other features include EDID management tools; IP discovery and configuration; automated firmware updates; and advanced product configuration.