Fujitsu announced the launch of a new 5G vRAN solution combining Fujitsu's virtualized CU (vCU) and virtualized DU (vDU) with NVIDIA's GPU technology. Fujitsu will start offering the new solution to customers including telecommunications carriers globally in March 2023. The new solution was developed as part of the "5G Open RAN Ecosystem" (OREC) project promoted by NTT DOCOMO, which also supported performance verification and evaluation tests of the new solution.
The solution applies NVIDIA's GPU processing engine "NVIDIA A100X" to the physical layer processing at the base station. In this way, the new solution enables parallel processing of virtualized base stations and edge applications on GPU hardware resources in an all-in-one configuration that allows each function to be built on the same server. This enables telecommunication carriers to build a flexible open network with a simple device configuration that can be ramped up with a variety of functions. The solution further offers improved radio unit (RU) capacity and processing power, provides a high-quality communications environment, and is able to handle high-load data processing along with future improvements in antenna technologies.
With this new solution, Fujitsu aims to contribute to the global expansion of the open 5G network in cooperation with telecom operators including NTT DOCOMO.
Background
The construction of more effective and resilient systems represents an increasingly urgent challenge for telecommunications carriers that operate their own networks.
In addition, amid the global trend toward open base station specifications such as O-RAN, the introduction of vRAN systems – software-based base stations that do not require dedicated hardware – is gaining increasing attention as they enable flexible equipment procurement and cost reduction. 5G, which offers ultra-high-speed, high-capacity and low-latency communications based on multi-access edge computing (MEC) is further expected to contribute to the realization of new, cutting-edge services across various industries.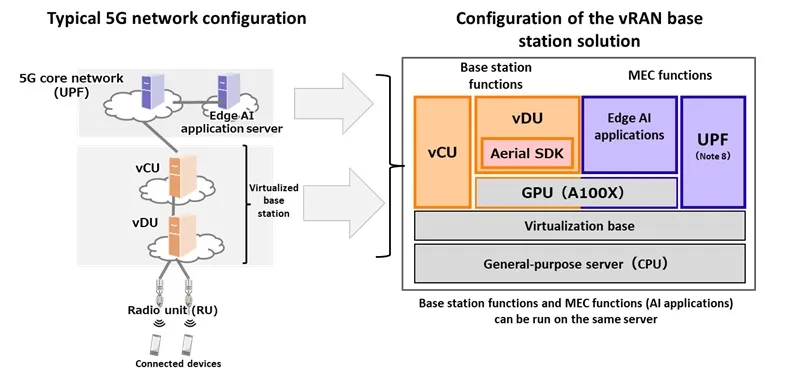 Features of the new solution
Fujitsu combined its vRAN technology launched in March 2022 with NVIDIA's GPU processing engine "A100X," NVIDIA's "Aerial SDK" for base station processing, and a comprehensive AI framework developed by NVIDIA to offer a solution that can be deployed for a wide range of use cases from carriers to enterprise customers.
Parallel base station and computing functions through GPU resource virtualization
By virtualizing the hardware resources of NVIDIA's GPU processing engine "A100X" in the virtualized base stations, computing resources can be distributed and processed. As a result, communication processing of wireless base stations and computing processing using technologies including AI can be performed in parallel on the same GPU. In this way, Fujitsu realized a system where various applications can be operated via 5G networks with a simpler all-in-one device configuration than before. The system will further support enterprise customers in providing new services including AGV (Automated Guided Vehicle) control at manufacturing sites and video distribution using augmented reality (AR) and virtual reality (VR) technologies by leveraging 5G's high-speed, high-capacity and low-latency.
GPU for more processing power for wireless communications and scale for future antenna technology improvements
By leveraging the computing power of NVIDIA's "A100X," Fujitsu succeeded in improving the processing capacity of the base station system, offering a wide number of users a high-quality communication environment. Leveraging the "A100X"'s high computing power, the system will only requite a simple software update to handle high-load data processing along with future improvements in antenna technologies including Massive MIMO.

Fujitsu will provide this new solution to NTT and other telecommunications carriers globally to contribute to the expansion of high-quality 5G network infrastructure.
Sadayuki Abeta, Global Head of Open RAN Solutions, NTT DOCOMO & OREC evangelist, comments:
"The industry is rapidly moving towards vRAN that can be scaled for more flexible, extendable, and intelligent Open RAN. We are committed to transforming the industry and accelerating wireless services around the world together with great OREC partners such as Fujitsu and NVIDIA."
Ronnie Vasistha, Senior Vice President, Telecom, NVIDIA, comments:
"NVIDIA is delighted to be collaborating with NTT DOCOMO, Fujitsu and industry ecosystem partners to realize the goal of software defined 5G vRAN and edge AI applications in an all-in-one, GPU accelerated, system. By combining NVIDIA's Aerial for 5G, XR for virtual reality and Omniverse for digital twins, in a single system we will showcase how the same GPU enabled server can power AI applications and provide an immersive experience of digital and real twins world, over a 5G network."
Masaki Taniguchi, Senior Vice President, Mobile System Business Unit, Fujitsu, comments:
"Fujitsu is delivering fully virtualized 5G base station software and multi-access edge computing (MEC) powered by AI and XR applications in an all-in-one configuration on the same computing resources, offering customers ultra-low latency services, highly optimized TCO and green performance. Moving forward, we will continue to work with NTT DOCOMO, NVIDIA and other global open ecosystem partners to contribute to the business development of telecommunications carriers and enterprise customers, as well as the advancement of digitalization on a global scale."