India's smartphone shipments declined 3% YoY in Q2'23 (April-June), according to Counterpoint's Monthly India Smartphone Tracker. Although this marked the fourth consecutive quarterly decline, it represented a significant improvement from the 19% decline in Q1'23. The market's contraction was mitigated by the base effect, pent-up demand, and improved macroeconomic conditions. Notably, the premium smartphone segment experienced impressive growth, surging 112% YoY in Q2'23 and contributing a record 17% to the overall shipments.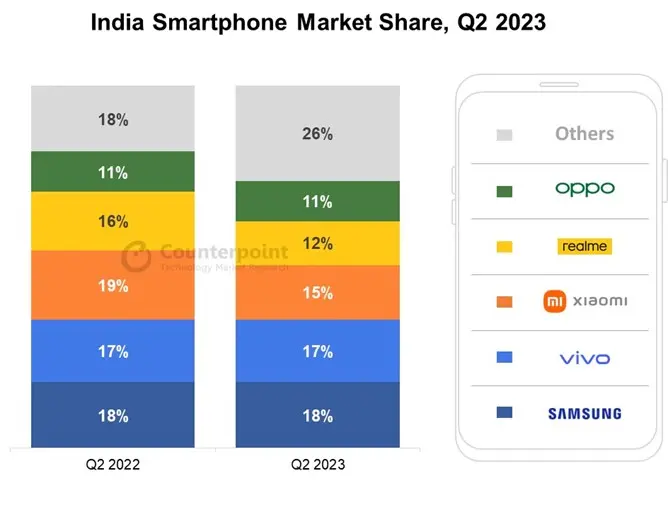 OEMs witnessed better inventory and demand conditions ahead of the upcoming festive season. Aggressive measures, such as multiple sales and promotions, were employed by OEMs and channels to clear existing inventory. Falling inflation and improved growth prospects have also facilitated demand recovery. The proliferation of 5G devices in the INR 10,000-INR 15,000 ($122-$244) segment played a significant role in driving 5G upgrades and fostering growth.
In terms of market share in Q2'23, Samsung maintained its top position for the third consecutive quarter, holding 18% of the market. Samsung also regained its leadership in the premium smartphone segment (>INR 30,000, >$366) after a year, commanding a 34% share. Apple, on the other hand, continued to dominate the ultra-premium segment (>INR 45,000 or >$549) with an impressive 59% share, further solidifying India's position among Apple's top five markets.
Vivo retained its second spot in the overall market and was the only brand among the top five to achieve YoY growth. This growth was attributed to its strong offline presence and the success of sub-brand iQoo in the online market. Oppo continued to expand its shipments in the higher-tier segments, focusing on the upper mid-tier range (INR 20,000-INR 30,000 or $244-$366) and claiming the top spot in this segment with a 21% market share. OnePlus emerged as the fastest-growing brand in India's smartphone market in Q2'23 with a remarkable 68% YoY growth. Other brands that experienced substantial growth in Q2'23 include Transsion (34%), Lava (53% YoY), and Nokia (6% YoY), reinforcing the competitive nature of India's thriving smartphone market.
Other key insights from Q2'23 include 5G smartphone shipments crossing the 100-million cumulative mark, growing 59% YoY during the quarter. Offline channel share also increased and is expected to reach 54% in 2023. The 4G feature phone segment witnessed growth, accounting for 10% of overall feature phone shipments in Q2'23, primarily due to the launch of JioBharat and itel Guru series. This segment is projected to grow further, with an estimated 18% share by the end of 2023, driven by growing demand for UPI and multiple OEM launches.