According to International Data Corporation (IDC), European spending on augmented reality (AR) and virtual reality (VR) technologies is expected to show significant growth in the coming years. In 2023, AR spending is projected to reach $1.1 billion, while VR spending is estimated to reach $3.4 billion. Although the forecasted spending has been revised down due to macroeconomic conditions and high inflation, the overall spending is still expected to grow by 32.0% this year.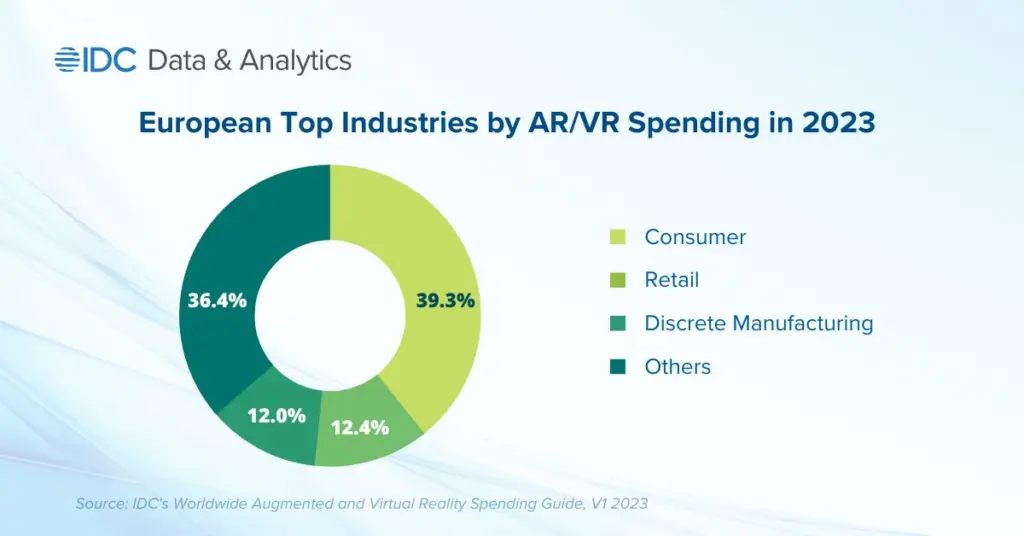 European companies are adapting their approach to IT investments in response to challenging macroeconomic conditions. While some large AR/VR deployments may be postponed, organizations are prioritizing ROI optimization and seeking productivity and efficiency gains. The trend of "remote everything" and a strong focus on employee safety are driving the increased interest in AR and VR technologies. These strategic technologies are seen as essential in supporting organizations' business goals and enabling a safe and immersive remote working environment.
Among industries, consumer, retail, and discrete manufacturing sectors are set to be the top spenders in 2023, accounting for 63.7% of the total AR/VR spending. In the business-to-business (B2B) space, resource industries are expected to experience the fastest long-term growth. These industries can leverage AR/VR to improve efficiency, productivity, and safety by facilitating remote support, problem resolution, and training.
The top B2B use cases in 2023 include training, online retail showcasing, and industrial maintenance. Virtual training is gaining popularity as it offers employees interactive and hands-on learning experiences in a safe environment. It is also a cost-effective alternative to traditional training methods in industries such as manufacturing and transportation. Online retail showcasing with AR/VR technologies enhances the customer experience by providing immersive product visualization. In industrial maintenance, AR/VR solutions enable remote support and problem resolution, leading to increased productivity and improved safety.
Looking ahead, collaboration emerges as the fastest-growing use case by 2027, with an expected five-year CAGR of 89.2%. The shift towards remote and hybrid working models has highlighted the importance of AR/VR technologies in addressing collaboration needs. These technologies go beyond traditional video and audio conferencing tools, providing more immersive and engaging experiences for employees and ensuring the continuity of critical team activities.