Display Supply Chain Consultants (DSCC) is reporting shipments of AR/VR panels will reach 119 million units by the year 2028.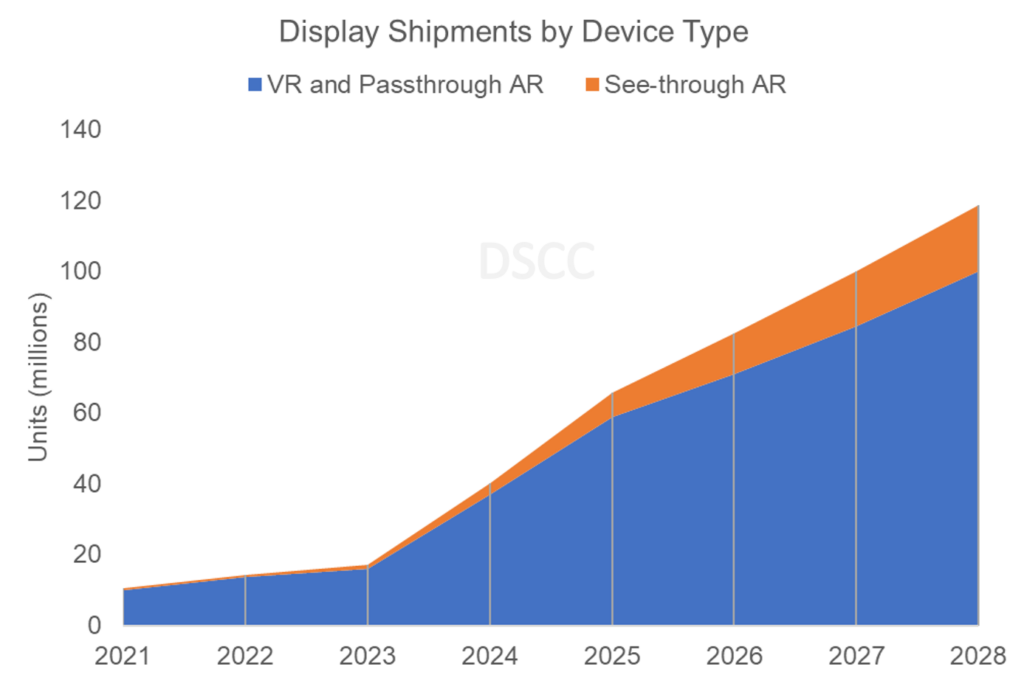 In summary, the report says:
The VR display panel shipments are expected to increase by 17.6% in 2023, reaching 16 million units, up from 13.6 million units in 2022.
The growth in panel shipments is lower than initially forecasted due to disappointing sales of new headsets like the Meta Quest Pro and the Pico 4. These devices use dual LCD displays, and it was expected that they would boost the panel shipments.
The success of Sony's PlayStation VR2 (PSVR2) is uncertain. It missed the holiday season for shipments and it's a relatively costly accessory for the PlayStation 5. Despite featuring high-resolution AMOLED panels, it can't be used with other gaming systems.
DSCC remains optimistic about the long-term outlook, predicting AR/VR display shipments to reach 119 million units by 2028. It expects significant growth in 2024, with new headsets powered by the Qualcomm Snapdragon XR2 Gen2. Meta's Quest 3 and Samsung's new headset are mentioned as drivers of this growth.
Apple is also planning to launch a headset, but the volumes will be initially low. The device will use high-resolution OLED-on-silicon (SiOLED, also referred to as OLEDos) displays or MicroOLEDs, a technology also used by Chinese brands in their Smart Viewers. These AR devices allow users to project virtual monitors to watch content.
The cost of using SiOLED displays in VR is higher due to the need for larger display sizes. However, Chinese manufacturers are investing to increase production capacity and reduce costs. Samsung Display is also starting production later this year.
DSCC is planning to host the third edition of the AR/VR Display Forum in September 2023, focusing on the latest advancements in manufacturing and commercializing AR and VR displays.