The global eSports industry is projected to grow at a CAGR of 21.7% between 2016 and 2021, which will see it transformed from a $327 million industry into a billion-dollar one, according to PwC. This is all thanks to growing global interest in eSports as a recognised, competitive sporting genre—not only has it been added to the roster of the 2022 Asian Games, the category is making a bid to become sanctioned by the most respected of all competitive gaming contests, the Olympics. By 2021, it is estimated that the eSports industry will be valued at between $874 million and $1.6 billion annually.
eSports can be lucrative for its players. Among the five top-earning eSports titles, DOTA 2, Valve's free-to-play multiplayer online battle arena game (MOBA), has earned its players over $137 million, according to esportsearnings.com. The top five also includes team-based first-person-shooter Counter-Strike: Global Offensive and real-time strategy StarCraft II, plus MOBAs League of Legends and Heroes of the Storm. Many popular eSports titles follow the free-to-play model, free games supported by microtransactions, which are becoming increasingly more controversial within the gaming industry for their inclusion in full-price titles. The highest-paying eSports event last year was The International 2017 in Seattle, Washington, which gave out a total of $24.7 million in prize money.
eSports is most popular in South Korea, China and the US, but is currently branching out into other regions including Japan, Canada and parts of Europe. According to PwC's predictions, China will enjoy the fastest growth at 26.3%, with the country's eSports industry projected to be worth $182 million in 2021. An eSports park is currently being developed in the Chinese city of Wuhu by Tencent, one of the country's largest online games developers. It will include the world's first eSports university, a safe, regulated space where players can be trained. Meanwhile, the Hong Kong government agreed to invest $12.7 million in the Cyberport business park in Telegraph Bay, transforming it into an eSports training and competition venue.
The US will apparently see the next-fastest growth, with a CAGR of 22.6% through 2021, while South Korea will grow at a rate of 13.9%. Even though Japan's eSports revenue is predicted to grow by 36.2% during the same period, this number is skewed by the country's relatively low market value of $5 million in 2016. Considering that Japan is home to video gaming giants including Sony and Nintendo, creators of the most successful home consoles and handhelds in the wider gaming industry, the country nevertheless lags behind the rest of the world when it comes to eSports, thanks to its strict marketing and gambling laws that limit prize money at less than $1,000 per tournament. Considering that 2017's highest-earning player won $2,436,667, it's clear that Japan's laws won't allow eSports to be as lucrative as the rest of the world.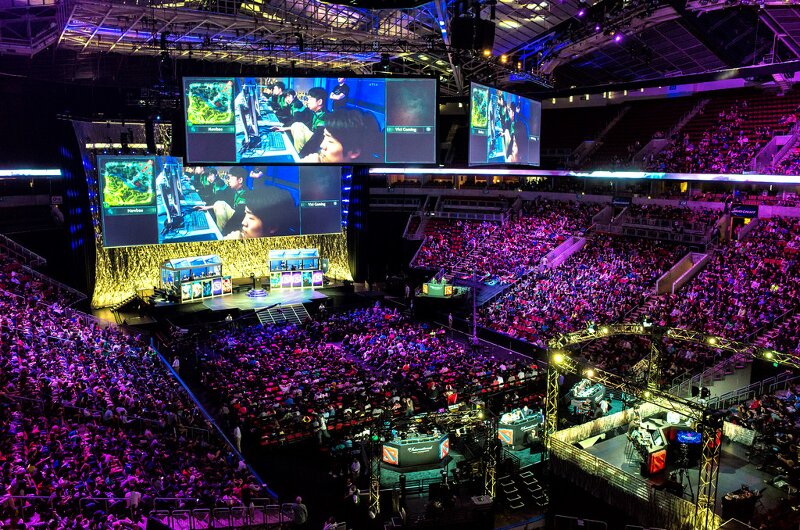 Investment bank Goldman Sachs has predicted that the global audience for eSports will reach 385 million per month by 2022. Amazon acquired popular live-streaming platform Twitch in 2014 for $970 million, which has since become one of the most popular ways to spectate eSports. Separately, BAMTech, a subsidiary of Walt Disney, inked a deal with League of Legends publisher Riot Games, paying them $300 million over six years for exclusive rights to the streaming of the title's eSports tournaments.
Analyst Comment
I have been, in the past, a very keen computer game player, although I suddenly stopped a few years back as I decided it was a waste of time – although this was not an intellectual decision, I just lost interest. However, I find it even harder to understand how watching someone else play a game is entertainment. However, there are lots of opportunities for the display business that come from the undoubted interest in this market. For example, it seems to me that the move to LED cinema could help cinemas become popular venues for eSports. Any digital cinema could be used, but the better brightness and dynamic range of LED should really help.