Elite Screens has announced the release of its new Yard Master Wireless Series, featuring battery-operated outdoor projection screens. These screens are designed to provide users with a more convenient alternative to traditional projection screens, as they do not require a power outlet for operation.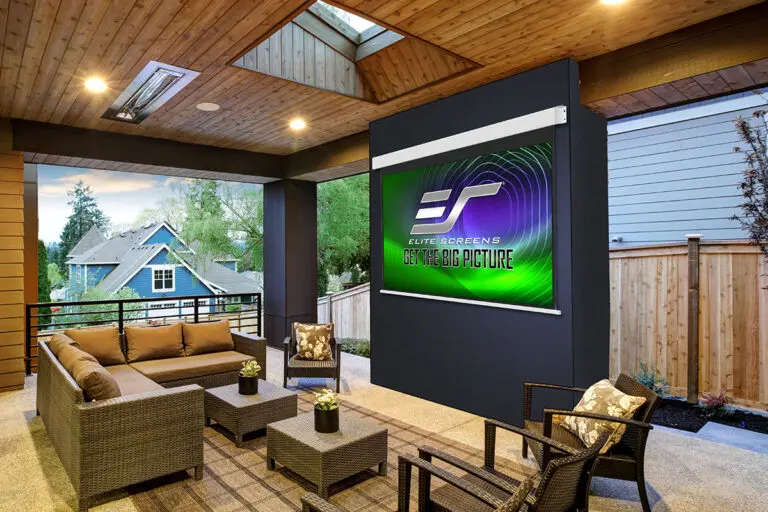 The Yard Master Wireless Series offers two designs: a standard model and a tab-tension version. Both models are equipped with a Radio Frequency remote control and have an IPX3 water resistance rating, making them suitable for outdoor use. The tab-tension model is designed to provide a uniformly flat and taut projection surface.
These retractable projection screens are designed for wall and patio installations and are compatible with Full HD and Ultra HD (4K/8K) resolution. Depending on the screen model, they can be used with standard, short, and ultra-short throw projectors.
Elite Screens has used its CineWhite 1.1 gain white projection material in the construction of the Yard Master Wireless Series. This material is ISF certified, which means it has been tested for accurate color reproduction. A built-in rechargeable Li-on battery, enclosed in a heavy-duty white casing, powers each screen. The company claims that the battery can last up to 200 cycles on a single charge.
The Yard Master Wireless and Yard Master Tab-Tension Wireless screens are available in a 125″ diagonal size with an HDTV 16:9 aspect ratio. The manufacturer's suggested retail price (MSRP) ranges from $1629 to $1999, depending on the specific series. Elite Screens also offers a 2-Year / 3-Year ENR-G Manufacturer's Warranty for its Yard Master Wireless Series.