Eizo Corp announced the release of the 27″ FlexScan EV2780, its first monitor with a USB Type-C terminal. With USB Type-C, a single cable can transmit video, audio, and USB signals and supports a super speed transfer rate of up to 5 Gbps between the EV2780 and connected devices. In addition, the FlexScan EV2780 can supply up to 30 watts of power for recharging notebook PCs and other devices via one USB Type-C cable, eliminating the need for separate power cables.
The monitor is intended for "free address" or "hot desk" offices where employees move around – usually with their notebook PCs – to collaborate with other employees as needed rather than work from an assigned space.
The cabinet is essentially bezel-less with a frame that is just 1 mm in width. This minimalist design combined with a fully-flat surface makes for seamless viewing. The cabinet is available in black or white with cable colors to match.
The 27-inch screen uses an LED-backlit IPS LCD panel with a native resolution of 2560 x 1440 and 178° viewing angles. The typical brightness is 350 cd/m² and the contrast ratio is 1000:1.
A built-in sensor called Auto EcoView automatically adjusts the screen's brightness in accordance with the ambient brightness to trim power usage while reducing eye fatigue. A preset mode called "Paper" mode reduces blue light for more comfortable viewing.
Newly-developed EIZO proprietary software called Screen InStyle lets users assign a preset mode to applications and adjust the circadian dimming and power settings. The settings can be applied to all monitors in a multi-monitor setup eliminating the need to adjust each monitor manually. A server app for Screen InStyle allows an administrator to control the settings of all EV2780 units in an installation from a central location. This is especially helpful for enterprises that want to ensure all units are adjusted properly and the power-save settings are activated.
Additional Features
One DisplayPort and one HDMI input terminal
Dual one-watt internal speaker and a headphone jack
Ergonomic stand with 155 mm height adjustment, 40° tilt (5° down, 35° up), 344° swivel 90° pivot for portrait mode
sRGB, Movie, Paper, and two user-adjustable preset modes
Flicker-free viewing at all brightness levels
23 watts of power during typical use and zero watts of power consumed when the main power switch is off
Overdrive circuit with 5 ms gray-to-gray response time for smooth display of moving images
Energy Star 7 and TCO Certified Displays 7 compliance
Five-year warranty and six-month guarantee against bright pixels from purchase date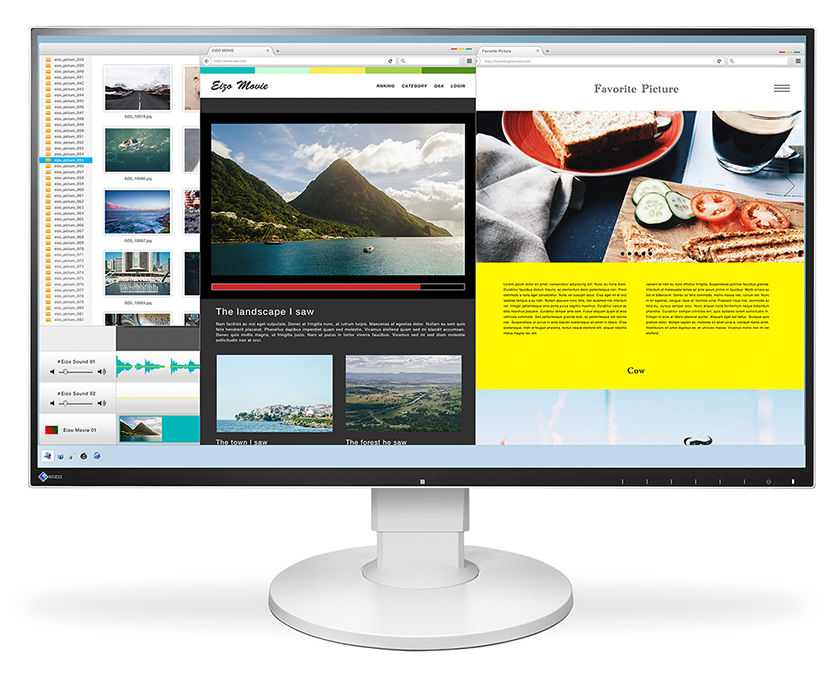 Analyst Comment
The 30W is a relatively limited level of power. A decision on how much power to supply is a tricky one. More power means quicker charging, but would add cost and weight. A significant factor is that power supplies at less than 75W sold in Europe do not need "Power Factor correction" (PFC). If you want to take more than this, you need a more sophisticated power supply. Having said that, the Eizo unit is rated at 96W maximum, although 23W typically. (BR)