Christie has partnered with Liancheng Digital to supply and install their GS Series 1DLP laser projectors in the VR laboratory at a prestigious national public research university in Shanghai, China.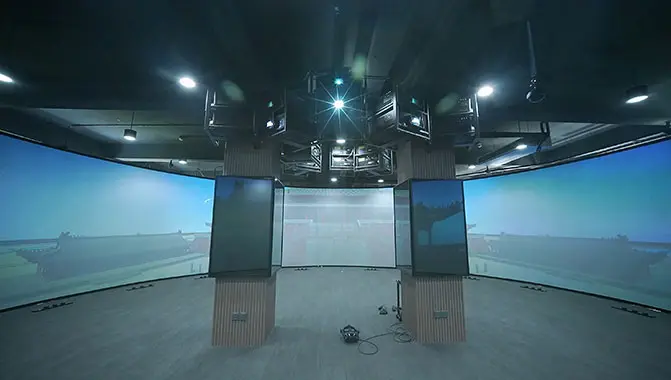 The immersive VR laboratory features 20 Christie DWU7062-GS laser projectors, which deliver 2D and 3D visuals on a surrounding screen with a 16K super resolution. These projectors were installed by Liancheng Digital. With 3D positioning and tracking functions, this first-of-its-kind setup in a Chinese university optimizes talent training and opens new opportunities for experiential learning.
Associate Professor Zhongding Jiang, who oversees the immersive VR laboratory, expressed enthusiasm about the transformative potential of the facility, stating, "This cutting-edge facility features advanced projection and 3D interactive technologies and is poised to transform the way our students learn and engage with virtual environments."
The design, installation, and commissioning stages of the laboratory involved close collaboration between Dr. Jiang's department and Liancheng Digital. The compact footprint of the Christie DWU7062-GS projectors allowed for strategic placement within the laboratory, ensuring optimal heat dissipation and accommodating the required two columns. Meticulous calibration of the projectors' internal optical path, brightness, and color consistency was performed during the commissioning stage, ensuring consistent image clarity and uniformity on the screen.
The establishment of this immersive VR laboratory showcases the university's success in independently constructing a 360-degree virtual reality system. It is the result of extensive research and development efforts, including the use of lighthouse laser positioning technology. The laboratory serves as a platform for students and educators from all disciplines to engage in virtual simulation teaching and hands-on experiences, fostering an environment for cultivating innovative and entrepreneurial talents.