ET News of Korea has published an interesting summary of the current expectations for Chinese LCD fabs, based on data from IHS Markit, triggered by the movement of the timing of the BOE G10.5 fab to the first quarter of 2018, rather than the original plan of the second half of the year.
The companies are looking at 8K to help to differentiate themselves from the Korean makers.
Analyst Comment
We've talked a lot about the number of big fabs coming and I was intrigued by the phrase ' LCD markets will quickly turn into Red Ocean' – that seems a good way to put it! I have been planning a DD on MMG technologies, where multiple panel sizes are made on the same substrate to achieve better glass efficiency but the biggest issue is the additional cost that comes from the process.
I'm less convinced that the Chinese fabs will quickly succeed with 8K. 8K on 75″ is the same as FullHD on an 18″ panel in terms of pixel density, but buyers of 8K sets will be at the high end of the market, I think. Eventually, 8K will effectively take over pretty well all the very large panel market, as UltraHD has taken over larger sizes now. However, buyers in this market will be very demanding and able to choose from a range of suppliers, so quality will need to be very good. I still hear that the Chinese makers are struggling to deliver the consistently high quality that LGD, SDC, AUO and Sharp/Innolux deliver. (BR)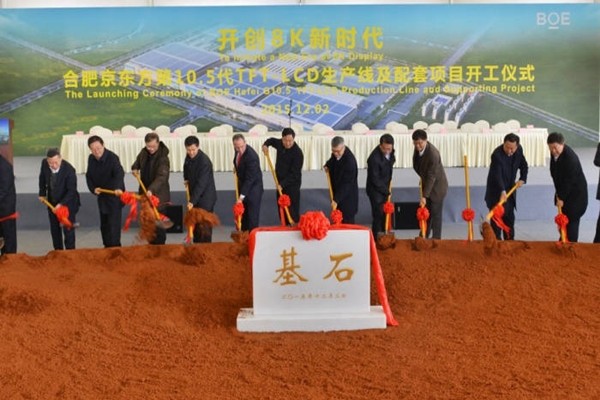 BOE's Ground breaking ceremony