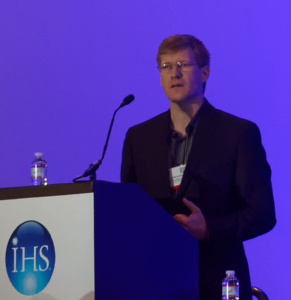 Roland Wooster is from Intel, where he is responsible for promoting PC and All-in-one (AIO) technology to boost device refresh. He started by discussing UltraHD and HDR.
In monitors, there was a boost for new high resolutions with the switch to LCD from CRTs – then the next wave was TV, which has more or less stabilised and the next wave was smartphones. Monitors have not seen the R&D that other areas have, but there are good reasons why monitors benefit most from the technologies developed for other applications.
The PC is critical to OTT video and streaming consumption – but there has been little development in resolution to support this. 50% of 50″+ TVs are now UltraHD, by 2018 all will be. By 2020 the UHD market will be 100 million units.
A premium media viewing experience is a big driver for consumers, although development has not been high in IT – it has happened because of the display in smartphones, TVs – why not in PCs?
In 2013, Intel said industry was moving too slowly to higher resolutions. Intel made a project with Samsung to develop 10 AIOs and monitors at Computex 2014 based on more affordable UltraHD.
The value of increased resolution is dependent on viewing distance, so there is a far greater benefit from higher resolution on the desktop, where you are much closer than for TV and there is a big value from UltraHD in 24″/27″ on the desktop, Wooster said.
There are four sizes of notebook panels available with UltraHD and seven for monitors, while every OEM has devices with UHD.
Turning to HDR, Intel joined the UHD Alliance as the requirements for PCs may be different from TVs. There has been work with silicon vendors to develop technology as well as content, content creation, gaming and business applications with HDR.
Wooster gave the industry a 'Call to Action'. Rec2020 is a target for colour although it will take some time to get to 100%. There is a need for true 10 bit displays. Brightness will need to go up to 1000cd/m² to meet the UHD Alliance logo requirements and that will mean a need for 2D segmented local dimming for edge lit panels – it's a challenge on the desktop, but possible. Energy requirements are tough to produce that much brightness. Intel is developing a reference design to help OEMs.
There is a need for TCons, scalers and drivers, but the critical area is in driving ICs which are not currently supporting EOTF 2084 – that's a real problem, especially as the scalers typically can support 2084, but there is no point if the drivers are not there. Cost is also an issue.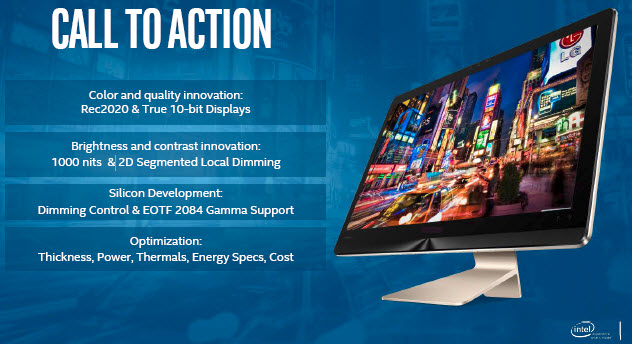 Analyst Comment
In questions, there was some discussion of the problems with fonts on PCs with UltraHD displays. It takes a long time for all software companies to upgrade their software (I recently heard in Germany that SAP software, a key for corporates, still cannot scale, so can't be used with UltraHD monitors). John Jacobs, now of Intel, and who was moderating the session pointed out that he had the same problem when FullHD displays first came to notebooks, but that this was not a significant market issue now at that resolution. (BR)