Barco had an area that it was sharing with its sister company, High End Systems, which specialises in lighting for events and staging. At the end of the day, the company had a party with a number of companies which included a stage lighting competition – something your reporter had not seen before!
We had heard that Barco had shown its new and very thin flexible LEDs at ISE and again at DSE, so we were intrigued to get more information at Prolight, but it seems that they have not been 'officially' announced, yet, so there was no more information. However, they look very sleek and could have a wide range of applications.
The main news at the show was about the HD-W30 FLEX laser phosphor (LP) projector which produces up to 30,000 Ansi lumens of output with 1920 x 1200 resolution from three 0.96″ diagonal chips. We heard at ISE (Barco Celebrates Fifth Year of HDX), that Barco would use the show to launch a solid state version. The Flex range is available from 10,000 lumens upwards and contrast is 1,900:1. The LP version uses the same chassis and casing as the existing Xenon lamp-based units which means that investment by rental companies in cases, mounts and lenses can continue to be preserved. In fact, Barco says that existing lamp-based units can be retrofitted with the laser phosphor engine which gives a 30% power saving (down to 3,200 Watts) and also gains the advantage of a 30K lifetime. Operating cost is said to be reduced by 50% overall.
The long life is helped by a liquid cooling system that is kept separate from the main unit. It can be located up to 8 metres away which means, for example, that in installations where cooling and fan noise might be an issue, the cooling module can be remotely located. The noise of the cooling system is not high, at around 50-56 dba, but sometimes even that level of sound is best avoided.
The projector supports horizontal and vertical edge blending, and can use lenses from any other HDX or HDF model; throw ratios can range from 0.73:1 (fixed) to 7.5-11.5:1.
DVI-I, SDI and dual HD-SDI ports are featured. Additional ports, including HDMI, DVI-I, 5-BNC and more SDI inputs, can be added as options.
The HDF-W30LP FLEX measures 707 x 1,025 x 548 and weighs 99kg. It will be shipped in the summer.
The projector was being shown with a motorised mirror option that can be used to beam the image around a space. Barco was also highlighting changes and improvements in its EC-200 controller system.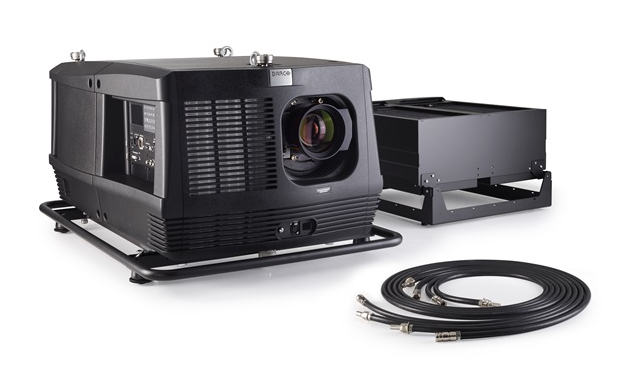 The separate external cooling unit can be positioned up to 8m from the projector.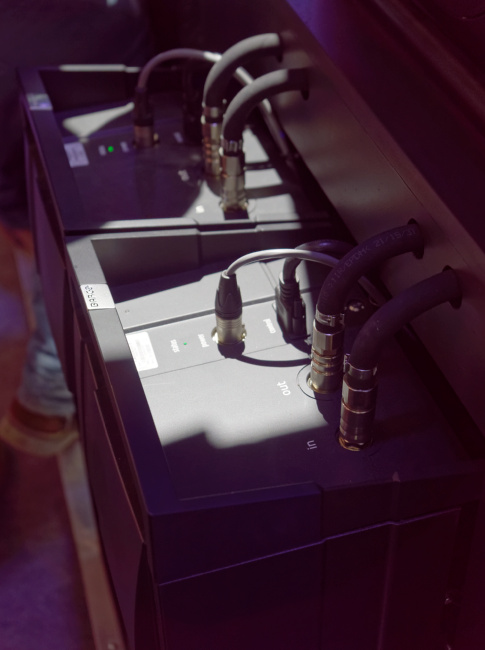 Barco's cooler helps to prolong life. Image:meko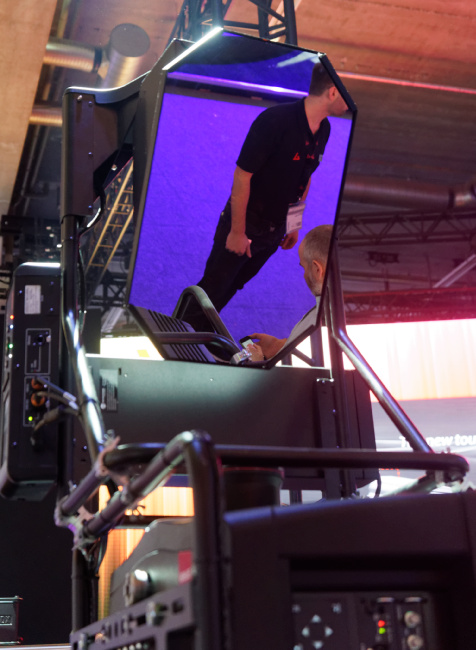 Barco used a motion mirror in its demo. Image:Meko