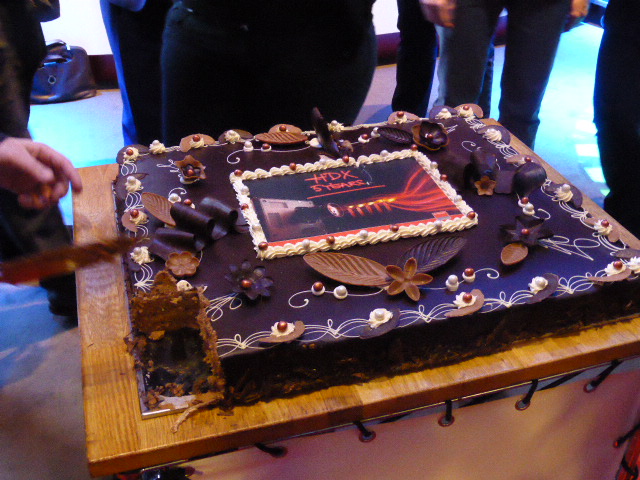 ISE 2016 was a special year for Barco of Belgium, as it marked five years of the HDX projector line – the company's most popular projector series. There was certainly a celebratory mood in the air, assisted by regular infusions of cake!
A new addition to the HDX products was being shown off-stand: the HDX-4K20 FLEX, which will be launched in Q3. A 3DLP unit, this projector will be available with UltraHD resolution, using pixel-shifting technology. Resolution can also be locked at 1920 x 1200 or 2560 x 1600. Because pixels are shifted from a high native resolution, Barco says that there is no latency.
Using a single lamp, the 4K20 has 19,000 lumens of brightness, and will be followed by step-down models – the HDX-4K12 and -4K14 – later in the year. Brightness can be locked at certain points between 10,000 and 19,000 lumens, increasing in 2,000-lumen steps.
Warping, edge-blending and scaling are built in. DisplayPort, HDMI 2.0, quad 6G-SDi and HDBaseT (x2) ports are featured – and an optional input board can support DisplayPort (x4) interfaces.
As an HDX model, the 4K20 is able to use all lenses from the TLD range. A new addition to this lens series was being demonstrated: a 0.8-1.16:1 unit with 120% vertical lens shift.
Also off-stand was an early prototype of a laser-phosphor projector called the HDF-W30LP: a solid-state version of the existing HDF-W30. This will be formally launched at Pro Light and Sound 2016, in Germany. Eventually, Barco believes that it will be able to offer solid-state modules as a retrofit for existing projectors.
On the show floor, Barco's main news was the launch of the F90 1DLP projector. This laser-phosphor model uses the same pixel-shifting technology as the 4K20, converting from a native resolution of 2560 x 1600. Brightness reaches 13,000 lumens.
New electronics enable advanced warp and blending features. The projector also features lens shift, 360° projection functionality and a variety of lenses, with throw ratios from 0.3-7.x:1.
DisplayPort, HDMI 2.0, dual-link DVI and HDBaseT ports are featured. Barco will launch the F90 in Q3.