The US ed tech conference season kicks off at the start of the year with a strong event, the Future of Education Technology Conference (now in its 37th year), held each year in Orlando, Florida. Always setting the tone for the rest of the year, FETC previews what's up and coming for educational technology in the U.S. market.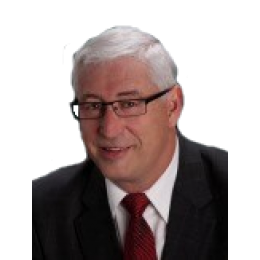 One of the interesting discoveries from the FETC 2018 event, was an effort by HP to explore educational customer acceptance of its new VR backpack.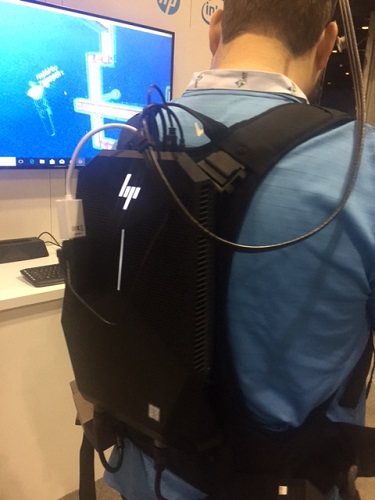 HP's mobile VR backpack
In this video, the product manager for this biggish wearable talks about the usefulness of the HP backup for the education market:
Of course, this is not altogether new-fangled, since Meko has covered this development via three different press releases (see our business solutions, HP promotions, and VR Portfolio press releases). From reviewing these previous releases, one can see their preferred positioning for this sizeable wearable was the business/industry training and gaming/entertainment markets. What is new, however, is the effort by HP to tease-test-explore-introduce (choose one) this mobility concept directly to rank-and-file educators.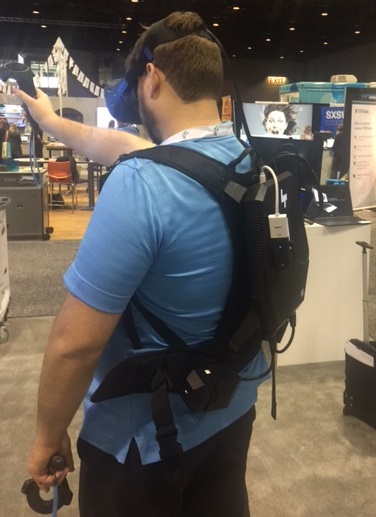 Of course, the backpack is not quite ready for prime time in education, by design: when asked, they said there was currently no literature available and no website that could be accessed in order to learn more. They just wanted to showcase it informally. And that they did. The backpack was featured prominently in their booth, and drew a fair amount of attention from passing educators. That's not a bad thing, really. I do assume, however, that the sticker shock for this product would be substantial for the often resource-deficient K12 market, although it might just fit the bill in the higher education market.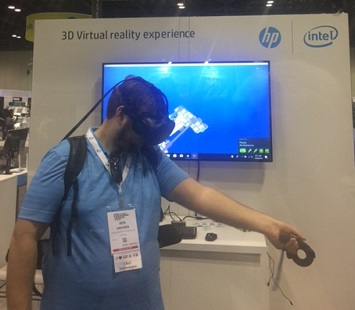 Still, there is one fatal flaw that these exhibitors must soon address, at least if they want to reach the education market. One of the advantages of this wearable VR-in-a-backpack solution for schools, according to the project manager, was something he called "roamability." Although there is no such word in the dictionary, the ability to move freely in a classroom space sounds both tempting and desirable, but is fraught with concerns for those that really understand the classroom.
Alarms immediately went off in my head with serious misgivings for student safety. There is ample evidence across the nation that mobile VR (any attempt at moving around with VR) has frequently resulted in student or teacher injury. (Imagine falling, crashing, colliding, or knocking against hard and unforgiving surfaces.) It has even happened to me. I know what it feels like. Mobility is an alluring notion, but requires written and clearly understood protocols and classroom safety measures. But, oh well, the exhibitors were just vamping us. We get it. –Len Scrogan